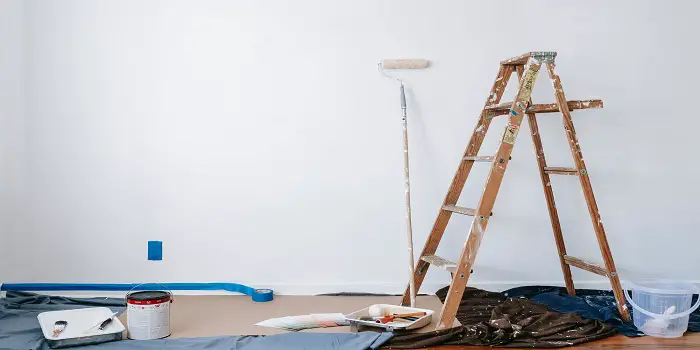 High ceiling homes are not very common these days. But if you have one, I believe you are lucky enough.
Not only does it make your home appear brighter and larger, but also it adds to the overall home value.
However, besides the various benefits high ceiling houses offer, one biggest issue with them is the cleaning and painting of the ceilings, which often requires various tools and extra effort.
A full-length ladder is an extremely useful piece for every homeowner who has high ceilings in their home.
However, many people are hesitant to buy full-length ladders due to limited space.
For them, extension ladders come in handy as it characterizes convenience when it comes to painting high ceilings.
It's like a multi-use tool and can be used in a variety of different working heights and locations.
And since it can be retracted to a compact size, there will be no storage issue as well.
Ladders for Painting High Ceilings
Ladder for house painting is now available in various designs and styles.
Particularly when painting high hard-to-reach ceiling areas, you need to consider the style based on your project and the requirements you have.
Some of the most common ones are: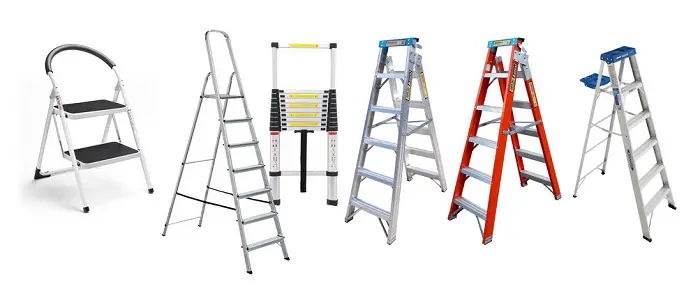 1. Step
It comes with features like a tool tray, automatic pail shelf, slip-resistant steps, rubber molded foot pads, and extra braces for stability.
This style of the ladder is available mostly at heights that range from 4 feet to 20 feet.
2. Platform
It's available in heights up to 14 feet, which makes them a good ladder for high ceilings.
It features all the benefits of a step ladder, plus it also has a large wide platform to work on or keep your painting supplies and tools.
3. Twin Step
This is the right option for you if you want to work with an additional person or a helper.
As it sounds, it features an additional step ladder that can be used simultaneously by another person.
The only disadvantage is it costs more and is heavier than others.
4. Extension
This type of painter's ladder features interlocking side rails that can be used for extending the ladder up to 40 feet.
Since it has good height, it is a more stable and convenient option for exterior painting, particularly if you want to paint a 2 to the 5-story building.
5. Step Stools
This is a small portable stool-like alternative that can be used if you do not want to reach very high – like for painting the ceiling over your staircase.
Available in about 4 feet or less, it's more stable and convenient for interior painting.
Besides the most common ones I have mentioned above, there are also telescopic loft ladders, multipurpose ladders (like the 5-way multipurpose ladder), and scaffold systems that can turn and twist.
These can be used to paint interiors as well as exteriors where you need to stay elevated for longer periods of time.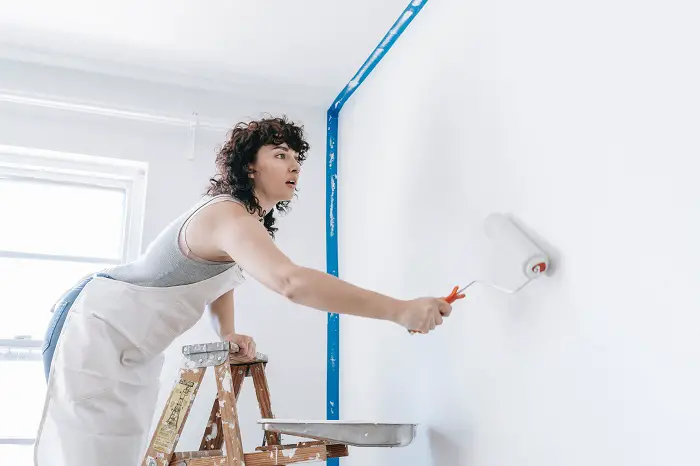 Safety Tips When Using a Ladder
Regardless of the ladder, you choose for home painting projects; your safety should be the number one priority when climbing on them.
Here are a few safety tips and precautions for DIYers which will help you keep safe when working above the ground:
DO's:
Always place the ladder on flat, stable surfaces to avoid serious injures
Read the instruction manual before you install and use your ladder for the very first time
Be very careful when you are around the electrical wires, especially the exposed wires near the ceiling
DON'Ts:
Do not use your ladder outside when raining – it can slip
Do not place items on the ladder that can fall and cause accidents
Do not overload your platform ladder – be aware of the weight limit it can hold or carry
---
Factors to Consider when Buying a Ladder
If you are considering buying a good painter's ladder for your home projects, like painting high ceilings or hard-to-reach exterior walls, here are a few things you will need to check before purchasing.
1- Stability
Safety first. That's why you'll want to make sure that you get a ladder that's as stable as possible.
Take it from us: you don't want to get in the air just for your ladder to collapse.
That can leave you injured — or worse — and keep your project from getting done.
So, what does it mean for a ladder to be stable?
The more stable a ladder is for painters, the less it falls, rocks, sways, or moves when in use.
Obviously, this means that having a stable ladder is a good thing.
Of course, you're not going to feel safe if your ladder is rocking while in use — so be sure to get one that's as sturdy as possible.
This can help you stay safe during both simple and complex projects and give you the confidence and peace of mind to get the job done.
2- Length of the ladder
Finally, don't forget to consider the length of the painter's ladder.
Depending on what you intend to use the ladder for, you'll need a longer or shorter ladder.
This may seem obvious, but it can be incredibly easy to "guesstimate" the size needed for your project and end up with a tool that just can't get the job done.
For this reason, be sure of the length of the ladder you need so that you can get your project done safely and in a timely manner.
3- The Material
Finally, when buying a good ladder for painting your house, you will need to choose the material of the ladder that it is made up of.
Some common options include:
a) Wood:
Since it is non-conductive, it's safe to use around electricity.
However, this option will be heavier than as compared to other options.
b) Fiberglass:
Its strong, corrosion-resistant, and stable.
Also, it's non-conductive and can be used safely around electricity.
c) Aluminum: 
It's stable and strong. Plus, it's also lightweight and corrosion-resistant.
This is not good to use around electricity, as it conducts electricity.
Depending on your project and the location where you will be using your ladder, it's important that you choose the right material.
4- Weight Capacity
IMO how sturdy your ladder depends on many factors, most obviously the weight.
Keep in mind that your weight will have a large impact on the safety and usability of your ladder.
Because of this, it's incredibly important that you look at the weight limit for your ladder.
This is especially true for those who may be a bit large, as this might put you in danger.
Even the safest of ladders won't hold up under the wrong amounts of pressure, so be sure to use your ladder wisely.
To do this, when purchasing your step ladder, be sure that you look at the weight capacity limit.
If your weight exceeds the limit or is close to it, consider getting a larger ladder. This can help you stay safe while you do your handy work.
5- The Brand & The Cost
Picking the right brand is also very important when you are in search of a good painting ladder.
It should come from a reliable company that offers a proper warranty and after-sale services.
Some of the most popular brands available on the market are Louisville, Flip-N-Lite, and Little Giant.
You can pick the one from these, and I am pretty confident that it will serve you for long.
I know there are many cheap options available, but investing in products like these can be highly risky and not worth your investment.
Finally, it should come as no surprise that one of the main considerations you need to make when choosing a ladder to paint your house is the price.
With a wide variety available at a low cost, you need not go beyond your budget.
Simply pick the one that comes with the features you actually need.
It's not worth investing more in features you do not need while painting your home.
---
Ladder vs. Scaffolding: What's Better for Painting?
Obviously, the first choice for most DIYers is to pick a ladder to paint their home interior as well as exterior.
Simply because –
Ladders are versatile
These are widely available
Are affordable to buy or rent
However, for homeowners who are planning to paint their whole house (that includes various ceilings in multiple rooms), it becomes tricky to carry the paint can and other tools up and down the ladder.
Ladders also become restrictive because it allows you to paint only one section at a time before you can start with others.
Plus, on days when there is wind outside, it becomes very tough for you to use the ladder outside for exterior wall painting – balancing and stability can be tough with ladders.
Scaffoldings for painting your house can be a life savior during these instances.
What is scaffolding?
Scaffolding is basically a foldable structure that can be easily set up for assisting workers in painting and construction jobs.
The most basic scaffold system comes with three different parts made of metal:
2 Side rails for climbing up
2 'X' shaped support bars/cross braces
Platform plank made of wood boards or metal – where you stand or walk
A few other additional parts that a scaffolding system can include are lockable wheels, swivel casters, trestle, guard rails, and outriggers (for additional support, usually in structures that are 6 feet tall and above).
Benefits of scaffolding
The major benefit of using a scaffold is it makes painting the ceilings and walls super easy without the need to step down in between.
The good thing is you can either use them alone or even with your partner during the paint job.
Few other advantages of using scaffolding over ladders include –
A scaffolding system can be purchased, borrowed, or rented
The structure is secured even during bad weather conditions
Lets you safely reach the areas that can be hard to paint accurately
Allows you to lay paint containers, brushes, rollers, and other tools by your side
Available in various heights that can go as high as 12, 20, to 40 feet. These are often used by professional contractors for repairing and repainting two-story houses.
Final Thoughts
Choosing the right ladder for your paint project doesn't have to be difficult.
By keeping the information above in mind, you can find the perfect ladder for your paint job in no time!
Make sure you choose the one that is OSHA-approved, versatile, easy to transport between workspaces, and comes with adjustable heights.
Share the post "What's the Best Ladder for Painting High Ceiling House?"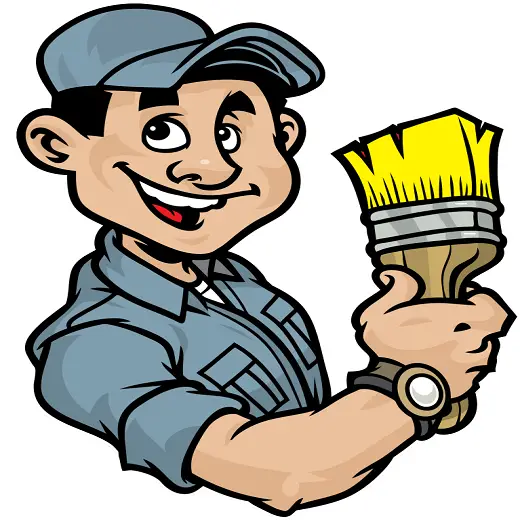 Douglas Becker (aka Painter Doug) has over twenty years of experience as a painter in Adkins, Texas. At present, he resides in Florida with his family.
From painting multi-storeyed houses, condos, and apartments to large commercial buildings and small offices, he had served various customers in areas not only in Adkins but also in Southwest Florida, Sarasota, Naples, and many more. To know more about him check here.