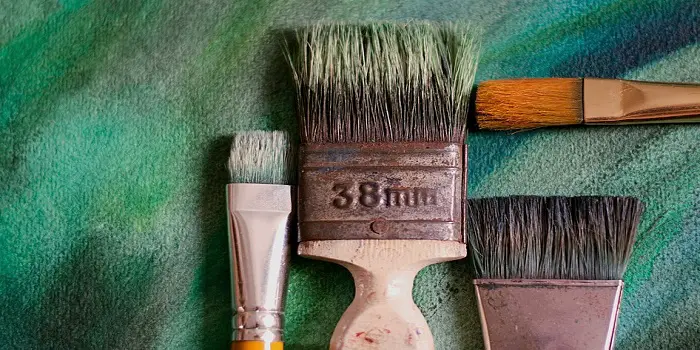 Paint brushes are valuable for any painter.
If you want to keep them for future use, a lot of maintenance and care are required to keep them clean and preserve their value.
Although there are many cleaning tools and cleaner solvents available on the market for paintbrushes, one tool that many haven't tried yet is an ultrasonic cleaner.
Yes, ultrasonic cleaner for cleaning paint brushes is much more efficient and can now be used for getting much faster results.
Particularly if you have more than one brush to clean and it's heavily gunked up with paint, these devices can help a lot.
You will, however, need to know how these devices operate and what solution to use to clean paintbrushes.
Worry not; I will be talking all that over here in a second…
What Is An Ultrasonic Cleaner?
Ultrasonic automatic cleaners are, in general, industrial and home devices that are used for easy, effective, and precise cleaning.
The cleaning device employs a suitable transducer to create ultrasonic waves into the solution, which helps clean delicate items like paintbrushes and many others.
The solution will separate the fluid or vacuum bubbles that fall in with immense power of high temperature and pressure.
Using ultrasonic cleaners offers many benefits and advantages.
With high speed and energy, the cleaner makes it easier to clear many things without dissembling them.
In most cases, the operating ultrasonic frequency of the units is 42000 Hz, and the vibrations produced at this rate are so intense that all contaminants are obliterated even from blind holes and dents.
The appealing feature of the digital model ultrasonic cleaner is its degassing function. It is used for degassing new cleaning solutions and HPLC solvents.
Degassing the cleaning solution enhances the cleaning activity of the bubbles with cavitation.
How to Use the Machine?
Below I've outlined a brief procedure on how you can use an ultrasonic cleaning machine to clean your paint brushes, woodworking tools, and other items.
Follow them best to ensure proper cleaning and longevity of your tools.
For using an ultrasonic cleaner device, first of all, fill the tank with a high-quality sonic cleaning solution meant for ultrasonic cleaners.
Now place your painting tools and instruments in the tank, ensuring that these are submerged completely in the solution.
You can use a provided basket (in a few models) for placing the smaller tools, which help in better efficient cleaning without getting them damaged.
Now close the lid and switch 'On' the machine. Run for about 2 to 7 minutes based on your cleaning requirement and heaviness of contaminants on tools
After the completion of the cleaning cycle, remove the tools from the tank solution and rinse them thoroughly with clean water.
Ensure that you change the ultrasonic cleaner solution and clean up the unit's tank thoroughly before filling it with fresh solution next time you want to use the device.
What Contaminants Can Be Removed?
When it's time for cleaning, most users get confused about the kind of debris or contaminants, they can remove by using an ultrasonic cleaner liquid.
Well, as these sonic cleaner solutions are highly efficient, they can help you clean a wide range of adulteration, no matter whether you are using a cleaner machine or not.
The kind of smudge you can remove with these liquids include:
Stains/dirt from the fabrics
Foul up and carbon on gun parts
Smirch on dental and surgical instruments
Dirt and fingerprints on optics and contacts
Grime and dust on valuables like jewelry, coins, etc.
Grit and debris on electronics, PCBs, vinyl LP records, etc.
Soiled and muddy carbs, engine components, tools, and other items
Tarnish, old paint, lapping, or polishing on metals like copper, brass, aluminum, etc.
Below is a video by UK-based company James Products where they demonstrated the cleaning power of an ultrasonic cleaner.
You can check it to know exactly how you can remove the paint from your paintbrush.
---
The 3 Best Ultrasonic Paint Brush Cleaners
An ultrasonic cleaner is a multi-purpose cleaning equipment that does its job without a mess.
Besides home purposes, they are being used in many different areas including medical, electronics, food processing, aerospace, disaster recovery, and much more.
No matter whether you want this paintbrush cleaning machine at home or the workplace, this is a great device to serve your purpose well.
1- Magnasonic Ultrasonic Cleaner
Magnasonic MGUC500 is our top favorite best ultrasonic cleaner that has lately received tremendous popularity and positive reviews from consumers.
This powerful ultrasonic cleaning machine gently punches the items' surface (that needs cleaning) with 42,000 Hz of ultrasonic energy waves.
MAGNASONIC professional ultrasonic jewelry cleaner is extremely easy to operate, and it comes with the latest features like:
Digital display
Cleaning basket
Auto shut off for protection
5 preset cleaning cycles (90, 180, 280, 380, & 480 seconds)
Above all, the device includes an easy-to-understand instructions manual for the simplicity of the users.
The company also offers lifelong customer support in case you need any help regarding your machine.
With this automatic cleaner, you can clean various dirty tools, jewelry, eyeglasses, watches, utensils, stationery items, key chains, and much more. 
Its stainless-steel tank with 20 oz. (600 ml) capacity is good enough to clean your various valuable items in one go.
I personally use it for cleaning my necklaces, bracelets, earrings, and other body jewelry. Also, it cleans our printer heads, toothbrushes, combs, and watchbands with great ease.
We are pretty sure that you will just love to own and use a Magnasonic ultrasonic cleaner device for all the cleaning you need.
However, if you want to check more buying options, just read below…
2- iSonic Digital Ultrasonic Cleaner
Looking to clean your fine paint brushes, jewelry, dentures, tattoo equipment, eyeglasses, watches, and other such things?
iSonic Digital Ultrasonic Cleaner is a powerful cleaning system that works fantastically to remove the traces of dirt, dust, and grime from prized objects.
Not only your paint brushes but also watches, eyeglasses, and jewelry can become a brand new in no time with this automatic DIY cleaner.
The 3 minutes cleaning cycle time and the auto shut-off feature to make the mechanism breeze easy are provided. Press the button 'On' to start the cleaning procedure.
The product features a quiet operation and solid-state circuitry to ensure consistent cleaning results.
The product comes equipped with a 16oz of stainless-steel cleaning tank where you can submerge the large and small jewelry pieces easily for thorough cleaning.
You can just use tap water to clean the items. And you will see that the objects submerged in the basket shine brightly without using the chemical solution.
It also cleans various items like bracelets, combs, toothbrushes, shaver heads, waterproof watches, and eyeglasses.
It is an iron-gray color device with a capacity of 600ml and an output power of 35 W.
3- Kendal Digital Ultrasonic Cleaner
Kendal Digital Ultrasonic Cleaner with Adjustable Power & Stainless-Steel Tank is another powerful device that is worth considering for cleaning your paint-brushes, watches, and other valuables at home.
This powerful ultrasonic cleaner can also be used for watch movements; the band and bracelet come with three different energy levels, which can be used as per the type of items you are cleaning.
Where on the one hand, more delicate items can be well cleaned with lower energy levels, the less delicate items can be cleaned with higher energy levels on the other hand.
The best features of the machine include:
Digital settings with cleaning periods (set up as per your required cleaning task)
Includes removable water tank, detachable cover, and handle for easy carrying while filling and emptying the tank
Large stainless-steel tank for small as well as large (and wide) objects
A powerful machine that is easy to operate and compact in size
Just use warm or cold tap water without the need for harmful chemicals
Additional basket, watch and earrings holder, and CD/DVD stand for comfortable cleaning
Besides paint, watch, and jewelry cleaning, these ultrasonic cleaners can also be used for making Liposomal Vitamin C easily.
So, if you are looking for a device that makes the liposomal vitamin c easily at home, you can just consider these devices.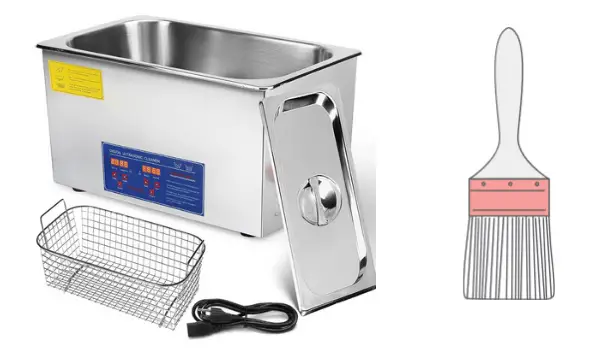 ---
What Ultrasonic Solution to Use for Paintbrush Cleaning?
According to reviews, solutions offered by brands like iSonic, Simple Green, RCBS, Lyman, Branson, and many others are very effective and can help provide you with professional cleaning results in very little time.
iSonic cleaning solution concentrate is one of our top favorites as it comes from the brand that is most reliable in the ultrasonic cleaning industry.
The iSonic ultrasonic solution is biodegradable and contains no streak or phosphorus. Also, it disperses in water immediately, making your cleaning job easier and faster.
Available in the 8-Oz bottle, you can buy and use it for cleaning the bristle paint brushes, makeup brushes, spray gun parts, stripping miniatures, cleaning airbrushes, your jewelry, eye-wear, and various other items.
When using the quid in a personal ultrasonic cleaner, only a cap full of this concentrate is enough to do the best cleaning job.
You may mix and use the concentrate in a 1:20 to 1:40 ratio with tap water when doing manual cleaning.
This generally depends on your cleaning requirement and soiled items that need the cleaning.
---
Where to Buy Ultrasonic Cleaner and Solution for Paint Removal?
The market is swamped with a wide range of digital ultrasonic cleaners for paint removal, and all of them come with a transducer, basket, filter, and container tank.
Reliant to the purpose for which these cleaners must be used, their size, capacity, and functioning vary.
Read the manufacturer's instructions and quote before picking any type of electronic cleaner.
This will make your task much easier and in return, you will get a great machine for thoroughly cleaned parts.
If your mind is swamped with the thoughts like where can I buy an ultrasonic cleaner, you can then take the help of web forums, blogs, and directories where you will get information about companies selling top-quality branded ultrasonic cleaners.
Here you can find top-rated products at cost-effective rates.
Just make sure that you go for a branded product that is previously reviewed by the customers who have used them before.
Amazon is a place to look where you can compare and choose the best ultrasonic cleaners.
Related Questions:
Can I make an ultrasonic cleaning solution at home?
Yes, you can!
To make a DIY homemade ultrasonic cleaning solution for cleaning the paint brushes and other tools, you need to follow these basic steps:
Pour 2 cups of water into your cleaner, then add one teaspoon of ammonia to it
Then add about two tablespoons of your ordinary detergent powder
How can you test if the machine is working?
Although testing the efficiency of your unit is a bit difficult, you can easily check whether your machine is working or not.
The first method is just by observing the unit after switching it on.
If there are tiny bubbles seen or any activity made visible, your machine is probably working fine.
The other method is a foil test method using aluminum foil.
What is explosion proof ultrasonic cleaner?
Explosion-proof Ultrasonic cleaners differ from standard ultrasonic cleaners in that they have special mechanisms in place to protect against the ignition of flammable liquids.
This means they can use liquids with low flashpoints (such as alcohol) to provide a professional clean to a variety of materials across several industries.
Operating an explosion-proof ultrasonic cleaner takes care and precision.
Because you are dealing with highly flammable gases, it's important to make sure that your workspace is well ventilated and compliant with all regulatory or legal standards.
Doing so can ensure not only your safety but the safety of all those who work with you.
The Conclusion
With these brilliant devices (for home or commercial use), you can never go wrong, especially when it comes to cleaning paint brushes and stripping the paint off by using Eco-friendly solutions.
Just ensure that you follow all the instructions and guidelines (provided by the manufacturer) properly while doing the cleaning task.
This will help you get the best results that are long-lasting and admirable.
So do not wait! Just get this marvelous ultrasonic paintbrush cleaner and add sparkle to your life with easy cleaning while painting.
Share the post "Can You Use Ultrasonic Cleaner for Cleaning Paint Brushes?"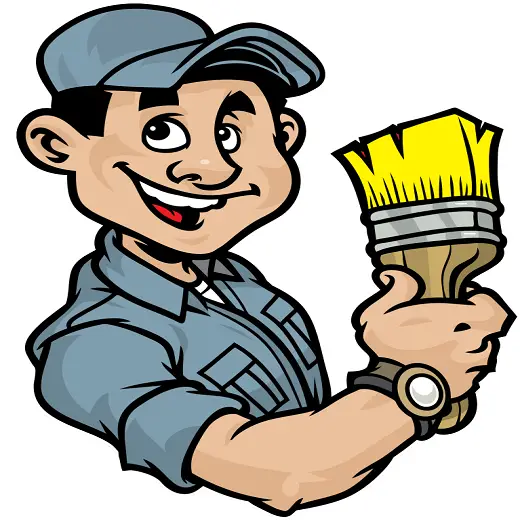 Douglas Becker (aka Painter Doug) has over twenty years of experience as a painter in Adkins, Texas. At present, he resides in Florida with his family.
From painting multi-storeyed houses, condos, and apartments to large commercial buildings and small offices, he had served various customers in areas not only in Adkins but also in Southwest Florida, Sarasota, Naples, and many more. To know more about him check here.