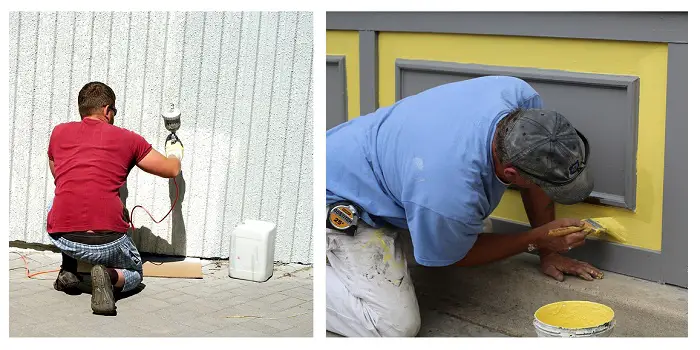 White painter's pants that come with built-in knee pads are my favorite.
It's in fact a life savior for me.
Not only does it protect my knees while working, but also it boosts productivity.
This means I can work even on my knees very comfortably to complete the painting project in much less time without putting pressure on my knees.
So, if you are planning to buy work pants for your project, it's time to decide whether you should choose painter's pants with or without knee pads.
While painter's pants with knee pads, pockets, and extra loops are a thing to go for professionals, if you work as a DIYer, it's good to go for jeans without knee pads.
This means that, unlike a professional painter, if you do not strain your knees a lot while working on the floors, you can simply buy lightweight painter's pants without a knee pad that comes at a lesser cost.
For me, both the options work great, and that's the reason I like to keep a pair of each – with and without built-in knee pads.
When I buy my favorite pants, I will essentially have some extra pockets and loops so that I can just slip the tools in and out very easily while working.
Why Consider Built-in Knee Pad in Your Pants?
Simply put, a knee pad is a kind of protective pad that is meant to safeguard your knee from various types of injuries while at work on a construction site.
These pants are made super safe by building in a small padded material around the knee area.
This means with these work pants with built-in knee pads; you can work fearlessly even if you need to drop down fast on pebbles, concrete driveway, or a tough floor with nails.
Typically, if you need to work for hours, bending your knees on a hardwood floor and painting your baseboards, your knees, along with your knee cap, are highly vulnerable.
To prevent getting an injury or severe damage, knee pads with proper cushioning are essential.
The cushion foam material in the pad is tough enough and works to absorb the shocks, thereby decreasing the impulse your knees feel.
You can either get these separately as strap-on knee pads (that can be worn on any type of traditional work pants) OR as painter's pants with built-in knee pads.
There are also painter's bib overalls with knee pads built-in along with knee pockets.
Personally, I don't like them as they feel hot.
But these can be great to work with, especially for those working in an area with a colder climate.
What Color Painter's Pants is Best to Choose?
Traditionally the pants for painters were supposed to be white. But today, they are available in a range of different colors.
There are many factors to consider when choosing the right color of painter's pants for your needs.
One important factor is the type of paint you'll be using. Another is the project you'll be working on. And finally, your personal preference will also play a role in your decision.
If you're using oil-based paint, you'll want to choose a darker color of painter pants. This will help to prevent any paint from accidentally getting on your clothes. For latex or water-based paints, you can choose a lighter color.
The project you'll be working on will also dictate the appropriate color of the painter's pants.
If you're painting a room in your home, then a light color like white may be best. But if you're working on an outdoor project, then a darker color will be more practical.
And finally, your personal preference will also come into play. If you prefer a certain color of pants, then go with that.
---
Other Things to Look for When Buying Painter's Pants
When buying good-fit painter's pants with knee pads, there are a few factors you will need to consider.
Some of these include:
1- Flexible:
When you paint, you are bending, stretching, standing, sitting, and more.
So, you need pants that are flexible enough for your frame.
In general, there are three main types of fit available. These are slim, relaxed, and classic.
The better your work pants will fit the more comfortably you can work while performing your painting job.
2- Usable:
Pockets and loops make your life easier when painting as they can carry tools and items (the 6-in-1, brushes, rags, etc.) you need to get the job done quickly.
When you consider the number of trips you have to make to get something small, carrying them around in your pockets or on loops is a real-time-saver.
You will also need to check for the zippers, seams, and waterproofing of the cargo pants and denim jeans to make them highly usable even in extreme weather conditions.
3- Durable Material:
A good pair of work pants for dusting, cleaning, painting, and various other tasks means you are spending less in the long run.
So, if you have to kneel down frequently to do all this housework, you will want materials that will last for a long and do not hurt your knees.
No matter whether you are choosing painter's pants for women or men, the material should be not only lightweight but also strong and comfortable.
4- Price and Brand:
Lastly, you will need to check for the price tag.
The pants you choose need not be the most expensive. But make sure you do not pick the cheapest on the market either.
When it's about picking the right brand, Dickies, Carhartt, and Tactical are the most popular ones on the market.
You can, however, check others for quick comparison while buying them online.
TIP: While ordering your cargo and work pants, always buy at least one size bigger.
Most of these are made of cotton and will likely shrink, which will be a pain to put on.
Related FAQs
How Many Pockets Do You Need in Your Pants?
Generally speaking, work pants come with either two or four pockets.
Two-pocket pants may be sufficient for general painting jobs. But if you often need to carry around tools or other items, then four-pocket pants may be a better option.
Ultimately, it is up to you to decide how many pockets you need in your work pants.
Some key factors to consider when choosing the number of pockets in your work pants include the type of paint job you do, how often you need to carry tools or other items with you, and your personal comfort level.
Tips for Caring and Washing Your Work Pants
There are a few key steps to properly washing the painter's and plasterer's work pants.
Start by checking the care instructions on the tag of your pants. This will help to determine the recommended cleaning method and any special considerations that may need to be taken.
Next, it is important to pre-treat any stains that are on the pants. This can be done using a mild detergent and lightly scrubbing the affected areas.
Once the pre-treatment is complete, you can then wash the pants according to the care instructions. It is generally best to wash work pants in cold water on a gentle cycle.
Finally, it is important to be sure to air dry the pants. This will help to prevent any shrinkage or damage to the fabric. You can also use a clothesline or drying rack if desired.
Final Thoughts: Should you buy painter's pants with knee pads or without them?
With all the above information in mind, it all depends on the type of project you are working on.
If you are a professional painter who will need to work on floors, garages, or concrete driveways while kneeling down for hours, you should buy a pair of good painter's pants with knee pads.
However, if you want to work on a do-it-yourself project or as a professional who will need to bend on your knees once in a while, you may get traditional work pants, jeans, or cargo without a knee pad.
These are comparatively lighter in weight and will cost lesser.
Share the post "Painters Pants – With or Without Built-in Knee Pads?"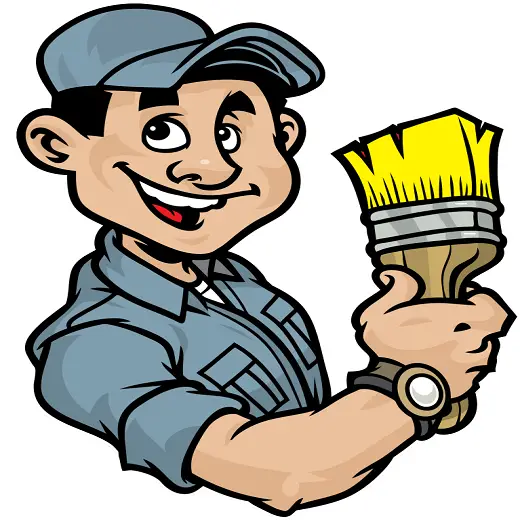 Douglas Becker (aka Painter Doug) has over twenty years of experience as a painter in Adkins, Texas. At present, he resides in Florida with his family.
From painting multi-storeyed houses, condos, and apartments to large commercial buildings and small offices, he had served various customers in areas not only in Adkins but also in Southwest Florida, Sarasota, Naples, and many more. To know more about him check here.