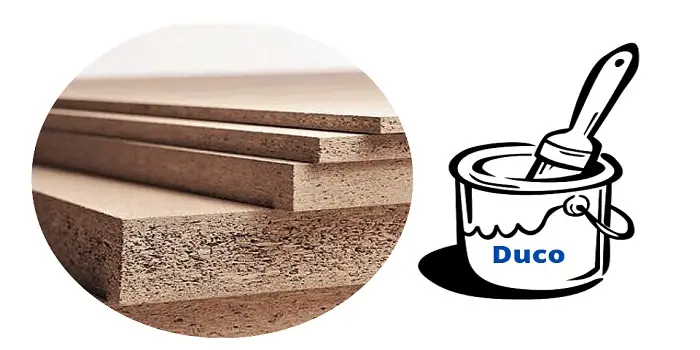 Medium Density Fiberboard (also called MDF) is a combination of wood fiber, resin, and wax which, when pressed at high pressure with heat, gives a composite wood product.
It has a smooth surface and is not coarse like normal wood.
No grain patterns are seen as the ones in wooden material.
MDF is one of the most preferred options as it is denser and cheaper than plywood.
You can make furniture and cabinets using MDF, but it has its disadvantages as well.
Due to its porous nature, it is not water-resistant, and so it tends to expand and lose shape – which means you cannot use it in places like the bathroom.
Due to the above-said properties, using water-based paints will also prove disastrous.
If you are thinking about painting an MDF (to add more sheen and attractive gloss) all you will need is a specifically made MDF primer, a sealer, and Duco paint.
What is Duco Paint?
Simply put, Duco paint is a premium quality air drying paint that is used as a finishing coat over wooden furniture during its making process.
Popular for its high gloss matte finish, the paint is usually made with lacquer which makes it ideal for wood surfaces as well as metals.
In its initial days, Duco paint was predominantly used in the automobile industry for giving a glossy or matte finish.
But it got replaced by PU paint (made with polyurethane) later, and as a result, Duco paint gained prominence in the household.
Over time, it became the most sought-after air-dry paint for interior and wooden decoration with a creative touch.
Today Duco is widely used to paint MDF, plywood, automobiles body, metal sheets, and MS angles, to name a few.
It's available in containers of 1 liter, 4 liters, and 20 liters – which means you can buy it as per your needs.
Painting Duco is, however, not a simple layman's task as it needs a specialist who follows all the safety protocols while using the right equipment.
How to Finish MDF with Duco Paint?
Having known all the excellent properties of Duco paint, it's time to understand how you can apply it on MDF surfaces.
What follows are the steps you will need to stick to so that you get the right finish you desire for.
Step 1- Clean
Before painting, make sure that the surface you are going to paint is in good condition to absorb the paint completely.  
For this, the preparation begins with dusting off and cleaning the surface with a cotton cloth (even an old rag is sufficient).
Step 2- Shellac Polish
Shellac Polish combines the spirit and lakh dana (Indian name).
Depending on the area to be coated and the finish, the proportion in which these are mixed can be varied.
Usually, 3 to 4 coatings of shellac polish are enough. This can be done easily with a spray machine and compressor.
When done, the shellac polish becomes a hard-protective layer on the sides of MDF.
Step 3- Minor Repairs
The sides of MDF have many pores and openings when cut.
So, it is vital to seal them using MDF glue and wood filler once you have applied the shellac.
This process helps fill down the cracks and other scratches that are not easily visible to the naked eye.
After you have applied and smoothened the surface, allow it to dry for an hour.
Then, use sandpaper with a grit rating of 180 to level the surface even more.
Use the cotton cloth again to wipe off the remaining dust.
Step 4- First Coat of primer
After repairing the minor imperfections, you have to apply MDF Duco primer on the edges and corners.
Two different colors, namely grey and white, are available in Duco Primer. 
The primer surface color and topcoat color should align well to give a good look.
It should not be contrasting as it won't gel well.
For dark color top coating, grey is suitable, and for the light color, white is good.
Maintain a ratio of 1:1.5 for mixing thinner and primer, respectively.
Using a spray gun, apply the 1st primer coating and leave it to dry for about 3-4 hours.
Step 5- Second Coat of Primer
After the shellac polish coating, almost all the dents and cracks have been rectified to the maximum extent possible.
But if there is still something that went unnoticed to your eyes (during the first supervision), you can rectify it now before it's too late.
It is common for many people to go a little casual but always be extra cautious about filling up even minute cracks with Duco putty as this forms the base for the next level of coating and painting.
After fixing the cracks, get ready for the second coat of primer.
Follow the same ratio as mentioned above to apply the second coating.
After you have applied the primer, wet sanding is important.
You can use two grits – the first is 220, followed by 320.
Wipe off any dust particles and get the base ready for coloring with Duco paint.
Note:
While priming, make sure to prime both sides of MDF, even though you are not going to paint one side.
Step 6- Coating with Duco NC Lacquer
Duco NC Lacquer is a premium quality finish wood paint that can be used on MDF furniture for that outstanding gloss and rich beauty.
When picking Duco paint, you can choose the color of your choice as a variety of different colors are available.
mix Duco NC Lacquer with a Duco thinner in a 1:2 ratio.
Use a spray gun to apply the 1st coat of Duco paint.
Allow 30 minutes for it to dry. Since it is solvent-based, it dries fast.
Then apply the 2nd coating while making sure that the surface is clean and no dust particles are present.
After the above two coatings, wet sand with abrasive sandpaper of grit 600.
Take extra caution while wet sanding the edges or corners.
Step 7- Apply Final Coat, Seal, and Finish It Off
For a third final coat, mix Duco NC Lacquer and Duco thinner in a ratio of 1:3.
And spray it using a gun sprayer as you did before.  
This final touch is important for a good attractive look and durability of MDF material.
If you need a glossier look, make use of a buffing compound to polish the surface – once the spray paint is dried.
For those who love the matte finish, buffing is not needed.
Keep in mind that all hard work done above will go in vain if you don't seal the MDF properly. 
So, it's important that you apply a sealant coating to both the sides of MDF and to the edges as well (using a paintbrush or roller).
This will protect the freshly Duco-painted surface from discoloration or scratching.
---
Why Use Duco Paint on MDF?
You may wonder what makes Duco paint stand out from the rest when it comes to painting MDF.
Since Duco paint dries faster once it comes in contact with air, it's an ideal solution to address the MDF's moisture and wetness problem.
The quick-drying feature doesn't allow the paint to seep into the other side of MDF as other paints do.
And this is the main reason why using Duco paint is mostly recommended for MDF boards and furniture.
Duco, when applied on MDF, also retains the color for a long time unless there is an external factor (like scratches) developed on the surface.
Water-resistant, durable, and self-leveling features will also make sure that you get artistic and catchy woodwork in the end while using Duco paints.
Limitations of Using Duco Paint On MDF
Applying Duco is definitely not an ordinary painting task, as you may think.
It involves highly skilled professionals applying the paint who knows the knack of using it.
When applying Duco to your furniture, keep in mind that it is not a viable option for products exposed to sunlight and rain.
Even after painting, it is good to keep the product in a shady area as constant exposure to sunlight can make it look yellowish – as the original color fades away.
Duco is also NOT a best-recommended option for furniture & spaces with high traffic, such as the cabinets in the kitchen or wardrobes in the bedroom.
Another thing to remember is paints with a solvent base are not Eco-friendly.
And Duco paint is not an exception which is a key disadvantage why many people avoid using this paint for their particleboard furniture.
Inhaling the scent of Duco paints is not good for your breathing as it affects your respiratory organs.
So, it's important that you wear safety masks, gloves, and eyeglasses while working with Duco Paints and MDF.
---
Do You Need to Seal MDF Edges Before Painting?
Yes, sealing MDF edges and their end grains before painting is crucial, especially when you need to make the surface waterproof.
PVA (polyvinyl acetate) is known to be the best gluing material that can be used for sealing the MDF surface and edges.
Also known as school glue, carpenter's glue, or Elmer's glue, PVA locks down the wood grains in the MDF wood, stiffens, and strengthens the fibers thereby making sanding easier before painting.
Plastic Resin Glue (also known as Urea-formaldehyde glue) is another option that is completely water-resistant and is ideal for making cutting boards, cabinets, and laminated countertops.
You need to add a powder with catalysts such as resin or water to plastic resin glues.
The end result is a rigid plastic-like polymer bond that is robust and water-resistant.
The powder in the plastic resin glue is available in different tones of brown so you can personalize it according to your wood's color.
However, a con to this kind of wood glue is that any slight exposure to formaldehyde could lead to skin allergies.
The third lesser-used MDF glue includes epoxy.
Epoxies are two-set glues that can work as slow-set or fast-set variations.
The fast-set epoxies can be set in just one to ten minutes and cure in a couple of hours.
Slow-set epoxies could take around 24 hours to set and around a week to cure.
Few Other Alternatives:
Besides the above, there are a few other adhesives that can be used to glue MDF. These include:
Hot Glue
Gorilla Wood Glue
Titebond Wood Glue
Cyanoacrylate Super Glue
FastCap All-Purpose Adhesive
All these waterproof sealants are commercially available online at stores like Amazon and can be bought hassle-free.
If you want to glue MDF to MDF or MDF to Formica, use these glues in addition to screws to get stronger bonding.
Applying the Glue to MDF Surface
Sealing MDF with PVA glue isn't very tough.
All you will need is to dilute the PVA-based glue with water and apply it in thin layers.
PVA adhesive for sealing MDF sheets can be made by mixing PVA glue and water in a ratio of 1:10 parts.
You can then apply it evenly on MDF edges and flat surfaces using a roller or a spreader knife.
While spreading the glue coating make sure that there is no build-up at the edges.
Keep in mind that as you are mixing water, these sealers may sometimes cause the MDF to swell.
If you want to avoid this, you can use acid-neutral PVA glue instead of the carpenter's glue.
These are usually designed for paper and bookbinding and can work great.
Final Thoughts
Duco paint is an air-drying paint known for its top-notch quality in the painting segment.
This also means it dries quickly on the wood or MDF after the paint is exposed to air.
And for this reason, Duco paint makes the best fit for painting MDF.
You can use it to paint bookshelves, partitions, shutters, wall panels, tables, chairs, cabinets, and more.
When painting MDF, keep in mind that it involves a lot of technical skills to get an attractive look.
Hence you will need to follow all the above guidelines carefully.
If you are not confident or can't work patiently, it's better to get in touch with a professional painter who uses different tools and equipment to accomplish the task in a much more professional way that can last longer.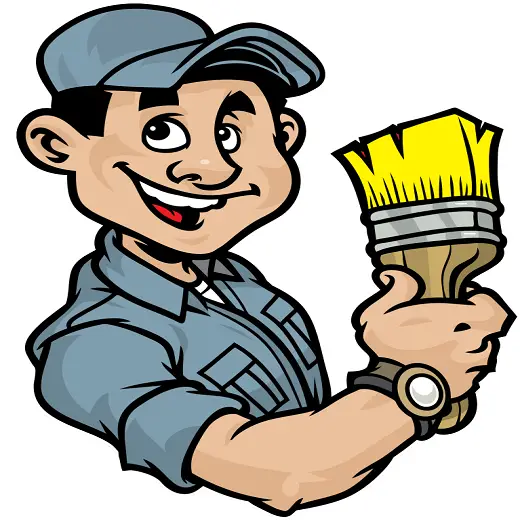 Douglas Becker (aka Painter Doug) has over twenty years of experience as a painter in Adkins, Texas. At present, he resides in Florida with his family.
From painting multi-storeyed houses, condos, and apartments to large commercial buildings and small offices, he had served various customers in areas not only in Adkins but also in Southwest Florida, Sarasota, Naples, and many more. To know more about him check here.