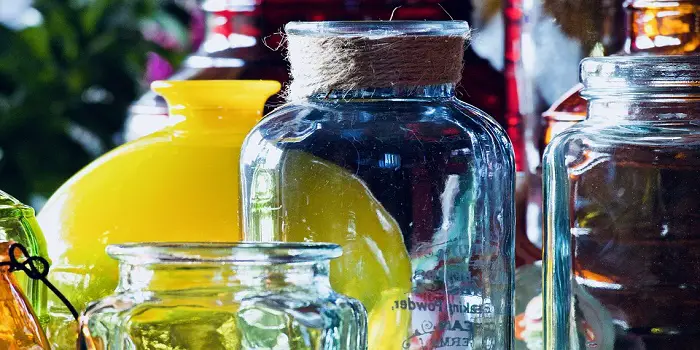 When working on a paint project, it is the materials you choose/use which determine its success and validity.
This sentence makes more sense when working on glass projects like stained glass windows or showpiece glassware like mason jars and bottles, as the paint used by you reveals your professional crafting skills.
When you ask me about what kind of paint to use for glass jars and bottles, my answer would be there are tons of them.
Apart from choosing traditional paints for glass, you can go for spray paint which works well on a piece of glass.
Or better, you can even choose paint pens that offer a creative touch with a professional and unique finish.
Plus, these are simple to use as well.
Below is the article where I will discuss the paint types you can use for glass projects in your home.
So, let's dive in…
5 Different Types of Paint for Glass
For painting mason jars and glass bottles, you can find many different painting ideas online and all of this depends on personal choices.
No matter what style you pick, it's important that you choose the right kind of paint that's easy to apply and looks good with your overall project.
Here are a few good options you can consider…
1- Acrylic Enamel Paint
You can use enamel paint on glass to get an opaque look and full coverage.
For panting, you should start by placing the jar inverted on a sheet of wax newspaper.
Do not use other regular paper as it can stick to the glass jar if the paint drips on it.
Then using a paintbrush or a foam brush, you can paint the jar by applying at least two coats of enamel paint.
The enamel paints get set through air drying in about 21-days or can be heat cured.
Keep in mind that you might want to add a few more coats on your glass jars and bottles if you want to add durability and shine to them.
2- Acrylic Glass Paint
You can also use acrylic glass paints, specially made for glass, to get a transparent look for a faux stained-glass appearance.
Remember, you need to be a little faster when applying acrylic or latex paints to use it effectively.
However, if you think that you may need some more time, then you can add a retarder to the paint to slow its drying time, thus giving you more time to work on your painting.
After you have painted the jars, you can either air dry them or heat set them.
The good thing I like about these glass paints is you can achieve unusual designs and looks with these acrylic glass paints.
3- Spray Paints for Glass
Spray paint is highly recommended if you want to paint big pieces of glass.
Spray paints like Rustoleum are often oil-based and are available in easy-to-use spray cans or bottles.
Before you start with the paint, shake the can well to mix all the paint ingredients.
Just tape the edges or the parts where you don't want to paint and commence spraying the glass in an open area.
Remember that you should spray the bottle or a jar by holding your spray can about 6 inches away.
Spray lightly in a horizontal, overlapping line across the jar.
Spray paint can be used to paint the exterior and interior of the jar.
Plus, you will need to apply at least two coats of spray to make your project look good.
Once you are done with the spraying, let the paint dry for about 5-7 hours.
Then you can peel away the tapes to reveal the awesome of your masterpiece.
Make sure if you have a larger glass surface to paint, you will need to get a good premium quality paint sprayer that can make your task easy.
4- Chalk Paint for Glass
Developed by Annie Sloan about twenty-five years ago, Chalk paint is a kind of decorative paint that is designed for painting furniture.
But you can use it on a variety of different surfaces, including glass.
The paint is known for its chalky matte and rustic finish that adds a vintage touch to any surface.
You can apply it with an inexpensive paintbrush or a sprayer for spraying.
If you want to add a distressed look to the surface, you can rub a bit of fine-grit sandpaper to remove some of the paint after painting.
Also, sand over the embossed areas to create a unique texture along with an interesting visual effect.
5- Paint Pens for Extra Creativity
For kids, novices, and delicate glass pieces, paint pens are the perfect option.
When buying these special markers, make sure that these are specifically designed for glass material.
These markers are available at craft stores in a variety of different shades.
Also, there are metallic paint shades available that offer a solid color to paint your design on the glass.
If you want to handwrite something (like your name, alphabets, digits, or any other design), you can also choose it.
To make the specific design or paint the specific area, you can first create a similar design on paper.
Then recreate it the same way on the glass surface.
After you are done with painting, ensure that you allow the design to air dry for about 6-8 hours before using the jars.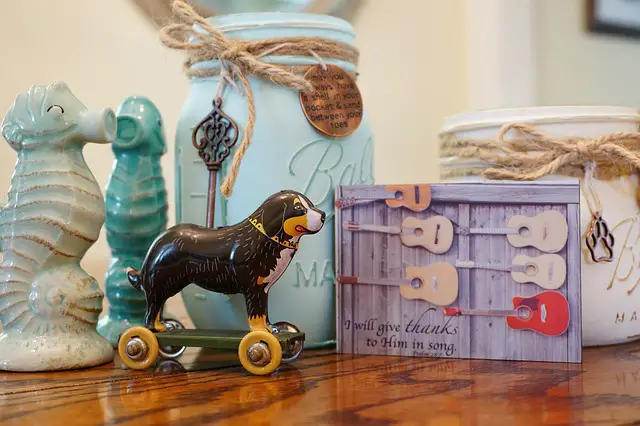 ---
How to Paint Glass Jars and Bottles?
Before you start painting the glass, make sure you clean the surface well.
It includes completely cleansing the glass with soapy solution and water to wipe out all the stains, dirt, and oil.
Once it gets air-dry, you should clean it with rubbing alcohol.
If there is any area that you don't want to paint, then tape it up to avoid spills and accidents.
Step 1- Prime and Paint
The first primer is the mason jar or bottle you want to paint.
A good primer meant for coating glass will serve your purpose and dries very fast.
Applying a coat of primer is important to get the right adhesion and for the paint to look less streaky.
Now, start with painting a base color on the surface and allow the paint to dry for an hour.
With the help of a marker pen, make your design on the glass and then commence painting on the design.
Make sure you allow every color and coat to completely dry before you add the next color or coat.
The paint can be sealed by curing the glass. You can do this by baking the glass for a complete day once the glass has dried.
You can follow the manufacturer's manual as the time and temperature for different paint and brand may vary.
Usually, 30 minutes at 176 degrees Fahrenheit of temperature is recommended.
Step 2- Finishing and Curing the Glass
When you are planning to paint your glass surface, make sure you think well about whether you want a stained glass finish, opaque appearance, or solid effect.
If you want a solid and opaque look, choose spray paint or paint pens to get a good and strong effect. 
However, for a stained glass look, go for a light paint coat with soft paintbrushes.
Once the glass is painted, allow it to air dry for 24 hours or for as long as it has been mentioned in the manufacturer's guide.
Now according to the paint you have used, the manufacturer's manual will suggest when you can air-cure the glass.
Some paints permit heat setting, which you can do by placing the glass in the oven for a specific time period at a particular temperature.
It may vary for different paints, so stick to the instructions given by the manufacturer.
Step 3- Seal Acrylic Paint on the Glass Item
After you have cured the glass, you can seal acrylic paint on the glass item using an acrylic sealant as the last coat.
You can get it in either brush-on form or spray-on form.
It offers a glossy look and also prevents chipping and fading of the paint.
Here are a few additional tips to keep in mind:
Refrain from mixing acrylic paint with oil paint or painting with acrylics on top of oil paint
Refrain from adding too much water as they tend to lose their thick texture and other obvious qualities
This applies both when mixing paints and when applying the paint to the surface you are painting on
When you are done with the painting, it is important to make sure that you get all of the paint off your paintbrush.
Clean it properly using gentle soap and water so that no paint is left in the bristles.
Can You Paint Inside the Glass Jar?
Yes, painting inside the jar surface is possible with some patience and creativity.
The good thing is you can use any kind of paint that I have mentioned above for easy application.
Start by pouring the paint inside the jar with the help of a tablespoon.
After pouring 4-5 tablespoons of paint inside, swirl the jar around.
This will apply the paint coat on the entire inside of the surface.
Add more paint if required and follow the same step as above until you see the inside surface is painted completely.
Once you are done, place the jar on its side to allow the paint to dry.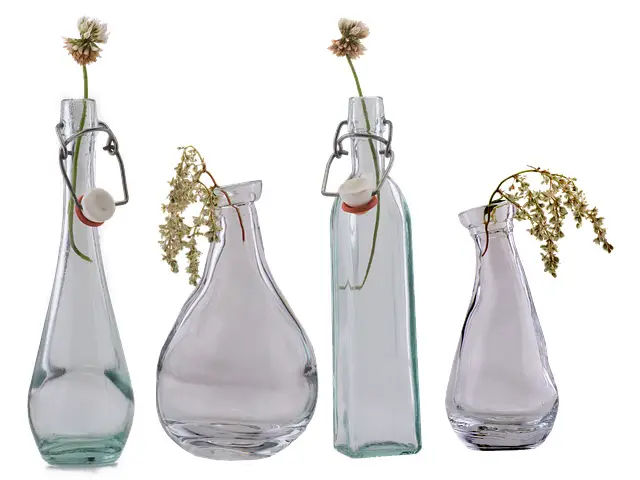 ---
What Kind of Glass Bottles are Good for Painting?
While most people are interested in painting their old canning jars and soda/wine bottles, you can use just any glass jar.
If you want to add a vintage look that goes perfectly well with your eclectic décor, you can even buy some brand-new canning jars or glass bottles for your project.
If purchasing the new ones, it's good to have some embossed design or lettering over them.
These raised letters and designs will add even more style to your project pieces.
Regardless of whether you are buying or reusing the old pieces of jars, you should make sure that the glass is not cracked or chipped.
Plus, it should not be too dirty.
---
Type of Paintbrush You Can Use for Painting Glass
The paintbrush you pick to paint the surface of your glass is of grave importance.
A synthetic bristle brush leaves noticeable brush marks.
Hence, it may not be recommended if you are looking for a subtle finish, though it may be a great option to get a rustic look.
A natural bristles paintbrush offers smooth coverage and is recommended to paint larger areas.
It is also important to consider the size of your paintbrush.
While small and narrow paint brushes are good for intricate detailing, broad and flat paintbrushes are good for painting bigger areas.
You can also go for applicator sponges to get a texture and frosted look if you want to go extra creative with painting your mason jars and wine bottles.
---
How to Get Rid of Spray Paint Overspray from Glass?
If you want to remove paint from glass, nail polish remover is the best solution for you.
But if it is a tough surface, a sharp razor blade can be used to remove the paint.
Remember, the blade may scratch your glass surface, so you don't have to use it on delicate items.
Here are the steps you may follow:
Sit in an open space and wear rubber gloves
Now take a microfiber cloth and dip it in nail paint remover
Rub the cloth on the spray paint and stains you want to remove
You may have to use some level of elbow grease and make several attempts, but you will get the results
The Conclusion
Your excellent skills and creativity can add a new texture and drapes to your paint projects.
Make sure you choose to pick the right products like the type of paint, paintbrush, and other materials.
Especially when it's about painting the glass bottles and jars in your home for celebrations like Christmas, you will need to be creative and choose the paint products that can make your project glow.
And believe me, if you are passionate, you can do this on your own without any pro help.
Share the post "5 Types of Paint that are Best to Use for Glass Jars and Bottles"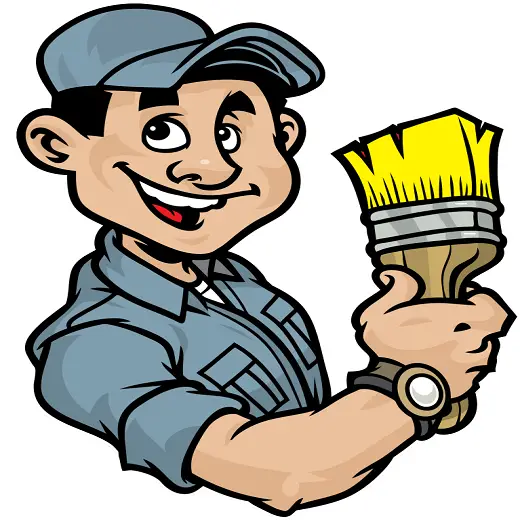 Douglas Becker (aka Painter Doug) has over twenty years of experience as a painter in Adkins, Texas. At present, he resides in Florida with his family.
From painting multi-storeyed houses, condos, and apartments to large commercial buildings and small offices, he had served various customers in areas not only in Adkins but also in Southwest Florida, Sarasota, Naples, and many more. To know more about him check here.