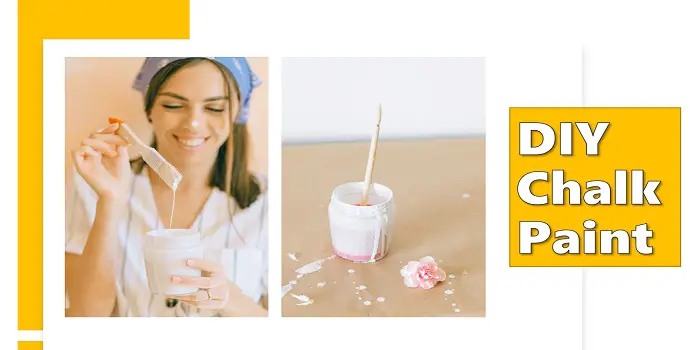 Chalked paint is typically a latex-based paint mixed with fine granular powder.
As soon as the paint dries, the powder gives it a matte chalky finish look that makes it unique. And that's where the paint got its name.
Depending on how you applied the paint, there can be some noticeable brush strokes and flaws, which also give it a distressed look.
Why is Chalky Finish Paint Popular?
Chalk-finish paint is extensively popular among DIYers as well as crafters.
When renovating your home, these can be used for walls, wood furnishings, kitchen cabinets, etc.
Because it is a somewhat pardoning finish to use and can be waxed or sanded easily to get an aged appearance, people really like them.
While there are people who love using these special paints, there are still many who do not like the idea of spending extra money when there are lots of cheaper options available.
This is where an idea to make a DIY chalk paint can work.
You can definitely try certain recipes if you are not after those "brand-name" chalk paints.
Some of these recipes use Plaster of Paris, and some do not.
How to Make Chalk Paint with Plaster of Paris?
The process of making DIY chalk paint is easy, and you can certainly do it with minimum items at home.
Mix 1/3 cup of Plaster of Paris with the same amount of warm water
Make sure to break up any balls or chunk of plaster and mix it well till a smooth pasty mixture is formed
Add this mixture to a cup of flat water-based latex paint and stir thoroughly
Apply this chalky finish paint using a paintbrush
The reason why I love using Plaster of Paris for making chalky paint is it offers a finish that is near to the original.
Plus, you don't need to sand or prime the surface before applying it.
If you like a distressed chalky look, you can sand the surface gently using a sanding sponge.
The applied paint is easy to clean like any other regular latex paint.
The only downside is you should make this chalk finish paint in smaller quantities as you cannot store and reuse them for other projects later.
---
Other Ways to Make Chalked Paint without Plaster of Paris
If you do not want to use Plaster Of Paris or POP, there are a number of other ways to make paint with a chalk finish.
Few options include non-sanded grout and baking powder (calcium carbonate powder).
While these compounds will still give a homemade chalk paint (HMCP) with a matte finish, Plaster of Paris will offer an unmatched finishing that is close to the original.
Method 1 – Using Baking Soda
Baking soda is often prepared from calcium carbonate (chalk) and sodium chloride (salt).
Most of us have this versatile ingredient available in our kitchen.
Chalk paint using baking soda can be made much like the Plaster of Paris chalk paint recipe.
To 1/2 cup baking soda, add 3-4 tablespoons of cool water.
Then add this paste-like mixture to a cup of latex paint.
Method 2 – Using Unsanded Grout
Unsanded grout is a product that's typically used while tiling surfaces.
It's available in a variety of different colors.
But for our project here, we will need a white unsanded grout because if you pick the colored one, it can change the color of chalky paint you will get.
To a tablespoon of water at room temperature, add two tablespoons of unsanded grout.
Mix it well, and then add it to a cup of latex paint to get your favorite paint that resembles original chalk paint.
---
Tips and Guidelines for Using Your Homemade Chalked Paint
Though using chalked paint is not rocket science, here are some tips to use and get the best matte finish for your walls and furniture:
1- Apply thin coats of paint
Chalked paint will stick to any surface because of its great adhesion qualities.
However, when you apply, it is suggested to build up thin coats of paint if the surface is still smooth and shiny.
Depending on the quality of finish and coverage you desire, you can apply up to 3-4 paint layers on surfaces like wood, wall, brick, etc.
2- Add more water for spraying
Not only paintbrushes and rollers but chalk paint can also be applied with a paint sprayer.
In fact, it's a good idea to use one if you have a larger area to paint.
You will just need to make sure that it has the right consistency that can work with a sprayer smoothly.
To make the paint less viscous, you can add water with the ingredients (plaster, grout, or baking soda) in latex paint.
Add some talc and blend the mixture smoothly in a blender.
This will give you smooth and thin paint that can be sprayed easily.
3- Use different types of brushes to get the texture
With chalk paints, you can try different brush strokes to get a creative look.
You can either go for a cross-hatch technique to get a faux linen look or make soft touches to a part by dabbing the bristles straight down.
Or even get a light feather look with a fast and delicate parallel stroke.
This will offer more of a shiny appearance.
4- Gently sand and wax the surface to last longer
Sanding the surface will give an aged, distressed look to wooden surfaces.
If you want to get a "glass-like" smooth finish with chalk paint, you should use an extra fine-grit sanding sponge.
You can even make your chalk-finished furniture look amazing for years by using a paste wax or polyurethane coat.
This will also act as a sealer for Plaster Of Paris and will act as a waterproofing agent for the chalk paint.
TIP:
Although not needed with good chalk paint, you can use a bit of Floetrol paint conditioner additive that can make you work better with chalk paints.
This can help if you are planning to apply chalk paint over oil-based paint.
Final Thoughts
DIY Homemade Chalked Paint is an amazing option to rejuvenate old furniture.
While using Plaster of Paris is one of my favorite recipes, you can try a few other ways to get the job done.
The good thing is you will only need to get very few paint materials and supplies from your nearby store to make and use your own chalked paint for your project.
So, why not try it and make a difference?
Share the post "How to Make Chalk Paint With (and Without) Plaster of Paris?"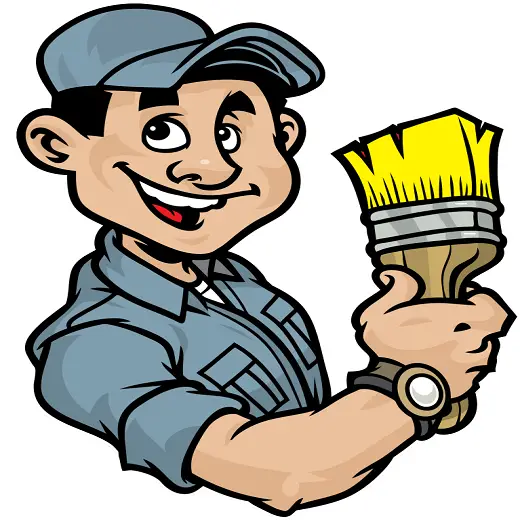 Douglas Becker (aka Painter Doug) has over twenty years of experience as a painter in Adkins, Texas. At present, he resides in Florida with his family.
From painting multi-storeyed houses, condos, and apartments to large commercial buildings and small offices, he had served various customers in areas not only in Adkins but also in Southwest Florida, Sarasota, Naples, and many more. To know more about him check here.