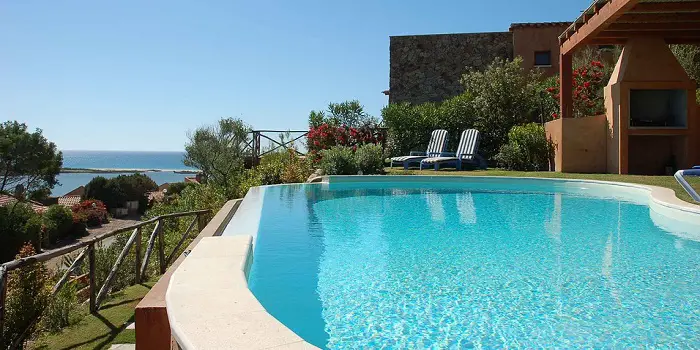 Fiberglass pools are getting popular worldwide due to the wide range of benefits they offer.
Unlike plaster and concrete swimming pools, fiberglass pools are easy and fast to install.  
But the main benefit lies in its one running piece (which is usually of matting and resin material).
Much like a large shell, the installation will also include the pool steps.
Due to its characteristics and tough construction, there are rare chances of getting leaks in the pool.
However, the finish of your fiberglass pool (and its steps) can fade with time due to the pool chemicals and weather conditions.
And with years of use, it's important that you repaint them with paint that is specifically designed for fiberglass pool steps.
As soon as you notice that your pool steps are getting awful, it's time to repaint them with epoxy paint.
Epoxy paints are typically made of chemicals that will get hardened and waterproof when dried.
These provide a strong protective layer that is much needed for fiberglass protection.
Tips for Painting Pool Steps
Applying epoxy paint over the in-ground swimming pool ladder is simple.
Start by cleaning your fiberglass pool steps.
Repair any cracks (minor or major) using a fiberglass repair kit
Then you just need to paint the steps and allow them to sit for a day or two
Add another coat if needed, and then let it get fully cured for about seven days
Few paint manufacturers also make a spray paint variety that can be added to get additional texture to the fiberglass, vinyl, thermoplastic, or PVC.
Putting this will help in reducing the slippery surfaces for ladders and provide extra safety.
But remember, based on your specific requirements, each pool material will require using different paint techniques.
So, getting additional information on how to use paints such as epoxy on fiberglass pool steps is important if you want to get the right finish.
Especially if you already have multiple layers of coatings that offer different effects to your pool, you will need to put up extra efforts to mimic that same effect or pattern.
Simply adding one or two coats of epoxy paint will not be enough to match, and consulting a professional will be a good option.
Can You Use Epoxy Paint for Wood or Metal Ladders?
Wood readily absorbs water and is more prone to rot than plastic, resin, or fiberglass.
You will therefore need to waterproof the pool ladders well if it's made from wood.
Applying a good epoxy primer and paint will prevent water from seeping into the wood and hence provides great protection.
If you want you can apply epoxy primer on wood and then use any waterproof paint (like acrylic or latex waterproof paints). It will also get the job done.
Metal like stainless steel, which is often used for constructing swimming pools and ladders, is rather smooth and not porous.
Although it is relatively harder to paint metallic pool ladders, there are few painting options like marine-grade epoxy paint available for them as well.
If possible, pick solvent-free epoxy paint that offers the longest-lasting water-resistant finish without any chipping.
You can apply this type of paint without any primer. After the application, allow at least 48 hours of drying time before using.
---
Do You Need a Gel-Coat On Pool Steps?
Yes, gel coating is a part of painting your fiberglass pool and its in-built ladder. It should never be ignored.
No matter what kind of paint you have used, it's essential that you apply a gel coating over it to protect the fiberglass further from getting damaged soon.
A fiberglass pool is much like a huge bathtub that is sunk into the ground.
It's much better than an above-ground pool that does not add value to your home.
Epoxy paint on your plastic pool steps will basically provide an attractive color and can be applied if you want to change the color and appearance of your pool.
While these epoxy paints may fix small chips or cracks in your fiberglass pool, it does not provide all the protection from the chemicals and other elements.
A clear gel coating, on the other hand, is much thicker and helps in preventing all the potential wear and leaks over time.
Gel Coat can be used on bare fiberglass or if your pool steps already have a layer of gel coat.
But remember, if you need to repaint your fiberglass pool steps in the future again, you will need to strip off this gel coating.
And after you have painted, it's important to put up the gel coat again.
---
Can You Use Latex Paints on Pool Ladder?
Since most of the ladder material will be submerged under the water (or will remain wet most time), it's essential that you choose the paint that is waterproof.
While there are few enamels and acrylics (or latex paints) designed for waterproofing, not all of them can be used on ladders and steps of the pool.
These waterproof paints can work as a waterproof agent but cannot withstand water when submerged inside the water for long.
If applied, these paints will not adhere properly. These can expand and contract with the air temperature.
Plus, these paints will get dissolved, corrode quickly, or peel away faster, thereby damaging the fiberglass beneath them.
Epoxy paints and gel coats are, therefore, the only best option for painting and waterproofing the fiberglass pool steps.
Beyond these, it's not a good idea to use any other substance to spray paint your fiberglass pool steps.
Final Thoughts
Fiberglass and resin pool steps can be challenging to paint.
But it's not impossible!
Since fiberglass material will only hold a specific paint type, when picking the best kind (like epoxy), it's important that you understand how to apply the waterproof gel coating and keep it safe for long.
After getting all done, allow enough time to dry the coating – before you fill and enjoy the swimming pool with your family.
Share the post "What Paint to Use for Fiberglass Pool Steps?"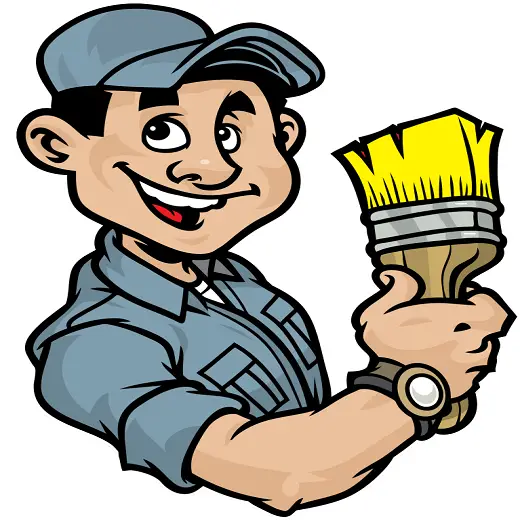 Douglas Becker (aka Painter Doug) has over twenty years of experience as a painter in Adkins, Texas. At present, he resides in Florida with his family.
From painting multi-storeyed houses, condos, and apartments to large commercial buildings and small offices, he had served various customers in areas not only in Adkins but also in Southwest Florida, Sarasota, Naples, and many more. To know more about him check here.