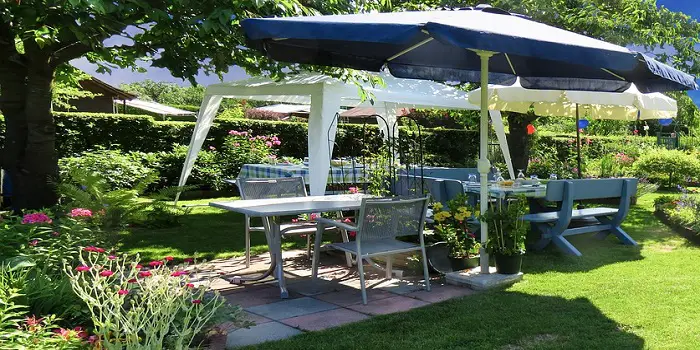 Wood is an exemplary household material known for its rich history and elegance.
However, in order to make it appear its best (after staining or painting), you should condition and refinish it on regular basis.
There are different alternatives for the wood finish, but the best one for achieving a natural appearance is an "oil finish."
Teak Oil and Danish Oil work best on old and dry outdoor wood furniture.
These oils don't bring too much luster to imperfect wood surfaces. Plus, they also protect the exterior wood of your garden furniture from conditions like rain, moisture, sunlight, and snow.
You just need to rub it on the surface, and it will do the rest.
Remember – oiling the outdoor timber once in 2-3 years enhances the natural grain and avoids drying.
So, if you are planning to oil your outdoor wood furniture, you should look more into the types of outdoor wood oil and how to apply them based on different types of wood.
There are also a few tips and guidelines you need to remember to get the right finish.
---
Types of Oil for Outdoor Wood Furniture
When it comes to choosing the kind of oil to use on outdoor wood furniture in your backyard or garden, there are several different types available on the market.
Out of all these Linseed oils, Tung oil, Teak oil, and Danish oil are the most common ones.
You should choose the one depending on the wood you have.
1- Linseed Oil
Linseed oil is also called flaxseed oil or flax oil because it is derived from the flaxseed plant.
When applied, it soaks up deep into the exterior wood to form a protective finish with a satin sheen.
Although the finish is resistant to abrasions and weather conditions, it can turn yellow after some time. 
When buying keep in mind that there are three types of linseed oils that exist. These are raw, polymerized, and boiled linseed oil.
Raw linseed oil is an unprocessed form that is not so good for wood furniture. 
Boiled linseed oil (not produced by heating) is manufactured by mixing raw and polymerized linseed oils with a few drying agents that act as a catalyst.
Usually, linseed oil that is used for wood finishing is boiled linseed oil because raw linseed oil consumes too much time to dry and cure.
Depending on the weather conditions, raw linseed oil may sometimes take more than two months to cure.
Boiled linseed oil is also not very safe because it may release volatile organic compounds while drying. You should apply it with caution if you plan to use it on your painted wood furniture.
2- Tung Oil
Tung oil is non-toxic and has been used to protect the wood for more than 2500 years.
Pure Tung oil (also called China wood oil) is derived from the seed of the tung tree.
In comparison to linseed oil, tung oil is more water-resistant and dries faster when exposed to air.
Due to its flexibility to expand and contract with the wood, tung oil is considered by many craftsmen when finishing wooden garden furniture.
Also, it is highly recommended for hardwoods because of their high penetration level also because it can work well with their tight grains. 
The only drawback of using tung oil for outdoor wood furniture is it requires more than 3-4 coats to achieve the desired finish.
In most cases, you will require applying up to five coats of tung oil with the 'wet-on-wet burnishing' method, which is a bit complex and time-consuming compared to other oil coatings.
3- Teak Oil
Teak oil is not made from teak. It got its name just because the very first time it was used for teak wood.
Today it's not restricted to just teak wood. This means you can use them for oiling a wide variety of timber woods, including cedar, cherry, mahogany, rosewood, bamboo, birch, etc.
Particularly it's an ideal solution for close grain woods like teak, where tung oil or linseed oil does not penetrate deeper.
Teak oil, in general, is a refined form of tung or linseed oil that may also contain some polymers. These additive polymers in the oil provide a faster drying hard finish to the surface.
You can apply teak oil to the outdoor teak wood furniture, indoor furniture, and even boats to give them a warm, rich protective look.
The type of wood you should avoid oiling with teak oil is softwood types like pinewood, redwood, southern pin, western red cedar, hem-fir, etc.
Oiling unfinished bare wood is also a big no unless you have a low-priced, temporary outdoor wood furnishing to be surface treated.
4- Danish Oil
Danish oil for oiling timber furniture is far better than tung oil and linseed oil because it is more resistant to wear and tear. 
The oil also forms a hard protective coating when applied to outdoor wood surfaces (like tables, chairs, decking areas, etc.), which helps the surface resistant to external elements. 
It is usually a polymerized form of linseed oil or tung oil which is derived by mixing both these oils with solvents.
There is no single formula for manufacturing Danish oil, and the process of production may vary based on the manufacturer and brand that is making the oil.
Choosing the right oil for outdoor wood furniture
When it comes to choosing the best oil for outdoor wood furniture, there are a few things you'll want to keep in mind.
First, you'll want to make sure that the oil is durable and can withstand the elements.
Second, you'll want to choose an oil that will provide a beautiful finish that will last for years.
And finally, you'll want to make sure that the oil is easy to apply and maintain.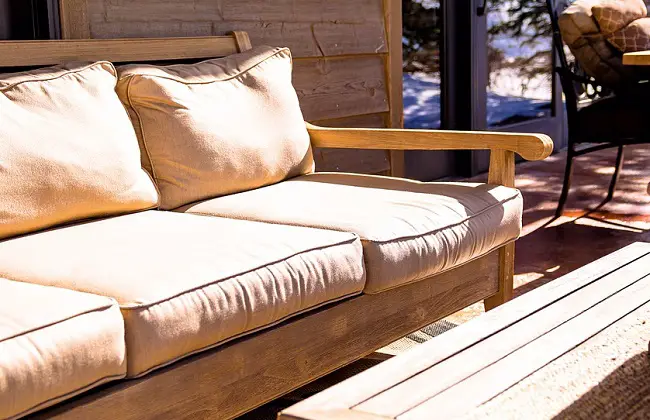 ---
The Right Way to Apply Oil On Garden Furniture
Once you have figured out the right wood oil for a great finish, it's time to apply them properly using the right tools.
The good news is oiling is one of the simplest ways to treat and protect the outdoor wood from molds, algae, insect attacks, etc.
So, all you need to do is follow the easy steps below…
Step 1- Identify wood.
Regardless of the oil you choose, the first step is to know the kind of wood you are dealing with.
Oiling is generally useful for hardwood surfaces that are already finished.
If it is a porous softwood or bare wood, the oil may not work well because the wood will tend to 'drink' all the oil, and very little will be left on the dull surface.
It is tough to get an even coat here after four to five coats of oil.
Step 2- Sand the surface
Once you have found the wood type, lightly sand the surface and remove all the dust, grime, and dirt from it.
Sand using coarse sandpaper first and then turn to fine sandpaper. This will make sure that no scratches are left on the wood surface.
Step 3- Apply the oil.
Now, apply the wood oil with a good-quality rag or a soft brush.
Poor quality rags may leave irritating small patches of fuzz all around, so do not use them.
Allow the freshly oiled surface sufficient time to dry (around 3 to 4 hours) before applying another coat.
The drying time will usually depend on the item you are applying it to. So, make sure you go through the instructions properly.
In most cases, you will need to apply 3-4 coats to get the best results.
Step 4- Clean the excess oil.
After you have applied the oil, make sure that no oil gets collected on the wood surface. 
Remember to wipe out all the excess oil before leaving the item to dry.
Since the oils do not soak deeply into the timber, you should not worry about cleaning the stains even if it gets dried.
You will, however, need to use a sander or sandpaper to remove the dried oil stains on the wood.
If you are using wood finish options with solvents, it may require more than water for removal. So, you may need a paint thinner or any other removing agent. 
Warning and Safety Tips
Wood oils may contain solvents that are prone to fire.
Hence, professionals suggest dipping the rag you have used in a water container with an airtight lid.
If you just bundle the rag up after use, escaping fumes may add to the heat, and combustion may take place. It is like placing yourself in a fire hazard.
In addition to the above, some people may have skin problems because of wood oils.
Fumes from varnish or wood oil may also lead to respiratory problems and cause harm to the eyes.
So make sure you wear gloves, a face mask, and eye-wear before applying it.
It is important to apply the oil only in an open area. If you cannot do so, choose an alternative finish product.
Also, if you are conditioning any wood item in your kitchen, ensure that the oil is marked as food safe, or you may ingest toxins. 
Finally, do not leave the oil in places where kids and pets can easily find them.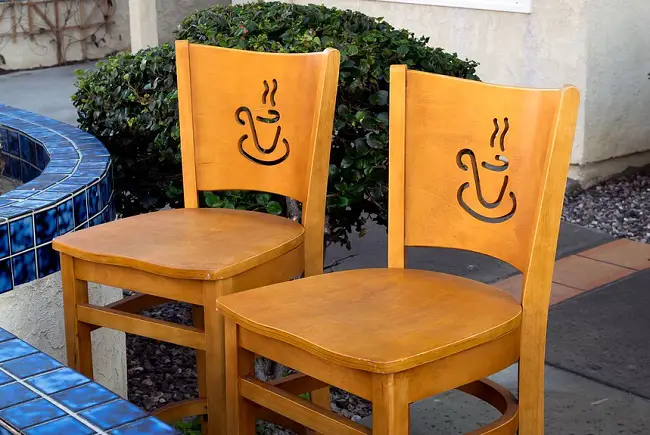 ---
Few other Different Finishes for Outdoor Timber Furniture
Although the above are the best options, there are many other different varieties of oils that are used by homeowners and craftsmen.
Olive oil, coconut oil, vegetable oil, mineral oil, polymerized oil, lemon oil, hemp oil, and walnut oil are a few to name.
While these oil treatments can nourish the wood without any damage, I would rather recommend not using them as they can make the surface difficult to stain or paint in the future.  
Instead, a few different types of wood finishes are recommended for different conditions…
1- Wax
Wax is not exactly a type of wood finish.
But it helps to condition the wood and avoids any loss of color because of aging and drying.
You can use wood wax along with other finishes (like paint, stain, and varnishes) for good end results.
2- Varnish
This synthetic resin penetrates the wood and seals it. It adds a little color to the wood.
Varnish is generally cured by a process similar to polymerization but is more long-lasting than oil.
If your aim is to seal a wooden surface to safeguard it from moisture, then varnish is a more suitable option for you.
However, if you want to consider one among wood oil vs. varnish, I would prefer to go with wood oils as they are more natural (include fewer chemicals).
Not only are they Eco-friendly, but wood oils are also easier to apply compared to wood varnishes.
3- Oil and varnish blends
You can have the best of both worlds with this blend recipe.
The oil eases application and nourishes the wood, while the varnish adds to its color and enhances its life.
When used in combination, they are more moisture and weather-resistant. And some finishes are even ultraviolet resistant.
4- Lacquers and shellac
Some other high-luster wood finishes comprise stuff like lacquers and shellac.
They are called surface finishes because they dry on the wood rather than inside it generating its signature shine.
These finishes will add a layer to the wood surface and make it extremely reflective.
They also boost the grain of perfect woods. However, they aren't recommended for imperfect wood surfaces because the gloss highlights the imperfection greatly.
Related Questions:
Can oil darken wood?
Yes, a lot of oils will darken the wood when used on them. However, it may not change its color but will add one tone shade to it.
It brings out the grain and highlights it more than before. However, the complete darkening impact of the oil finish will prevent it from acquiring excess contrast.
The oil doesn't just darken the wood, but the darkening procedure also offers a simple way to know if your wooden furnishing requires more oil or not.
If you see a pale wooden spot, you will know that this place needs more oil.
Can oil application seal wood?
Furniture oil doesn't work as a sealer. However, it enhances the capability of wood to resist water.
Because all kinds of oil repel moisture naturally, it functions as a sealer to some level.
Before the invention of wooden sealers and clear coats, people used oil impregnation as a way to preserve and enhance the life of a wooden item.
However, furniture oil cannot perform the functions of a sealer.
Both the products penetrate the wooden surface and offer a moisture-proof layer on the top.
On the other hand, commercial wooden sealers are manufactured from synthetic polymers and are usually plastic-based.
It may work in your favor or not, depending on your point of view.
While on the good side, plastic has more life than oil, which needs to be re-applied every year.
On the bad end, plastic isn't Eco-friendly at all.
Is tung oil and mineral oil the same or different?
Remember that mineral oil and tung oil are not the same but different.
While mineral oil is made from petroleum, tung oil is extracted from seeds or nuts.
While preparing, mineral oil is processed to remove the impurities so that the end products come out to be lighter and more refined.
Mineral oils are of different varieties that can not only be used for finishing wood but for other purposes like in the production of cosmetics and also mechanical lubricants.
If you plan to apply tung oil over mineral oil or vegetable oil, you can do it after your furniture has aged for about 30 days.
Final Thoughts
Furniture oils are made from natural compounds, and it adds to your finishing cost overall.
Based on the type of wood furniture you have in your garden, you can choose to pick between teak oils, linseed oils, tung oils, or danish oils.
No matter what finish you choose, you must apply it over in the right way to get the long last finishing.
While all of these wood oils have their own pros and cons, you will certainly get similar results from them as long as you abide by the instructions.
Share the post "What is the Best Oil for My Outdoor Timber Furniture?"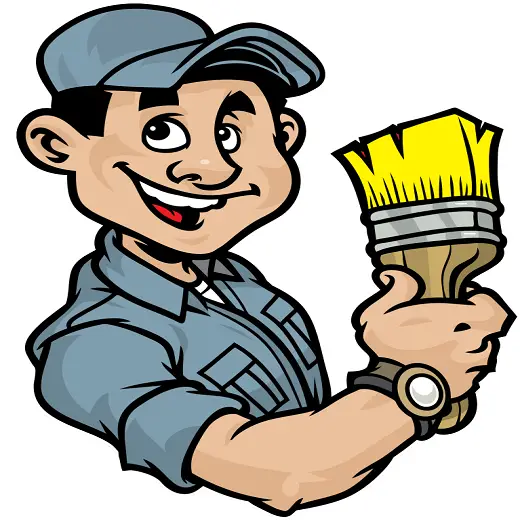 Douglas Becker (aka Painter Doug) has over twenty years of experience as a painter in Adkins, Texas. At present, he resides in Florida with his family.
From painting multi-storeyed houses, condos, and apartments to large commercial buildings and small offices, he had served various customers in areas not only in Adkins but also in Southwest Florida, Sarasota, Naples, and many more. To know more about him check here.