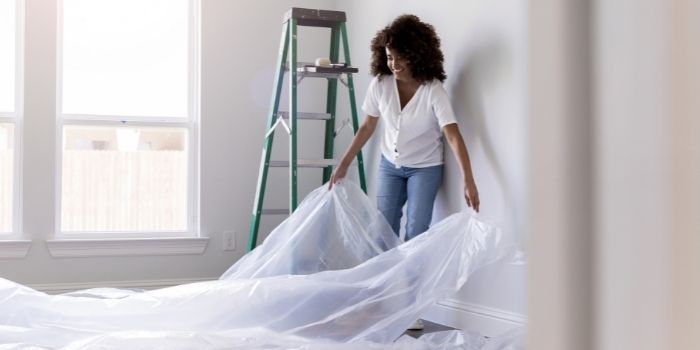 A drop cloth is simply a sheet of material that can be used by painters to protect floors, furniture, and other items from getting drips and drabs while painting.
Particularly if you are painting the high walls and ceilings in your living room, the paint from the brush (or overspray) can quickly trickle down from above and can ruin your furniture items or hardwood floors.
Removing this paint can be either tough or will take lots of time. To protect better, it's always good to use a drop cloth or a tarp underneath you.
Drop cloth for painting and cleaning is ideal because it is:
Easy to use
Reusable and washable
It can be used indoor and outdoor
Protects surface while spraying applications
With that said, different types of painter's drop cloths and tarps are available on the market, making it hard to know which is the right option for your specific paint project.
So, let's dive into our best drop cloth reviews and a few other details so that you can easily pick the one that suits your purpose…
7 Best Drop Cloths for Painting
 Right below are my top recommendations for the drop cloths that you can use when painting, cleaning, or other house renovation tasks.
1. Trimaco SuperTuff Canvas
Trimaco SuperTuff offers a premium quality contractor-grade canvas drop cloth that is ideal for small and large projects.
Its thick material helps to absorb any spilled paint and will prevent any leakages. It can be washed easily and can be reused multiple times.
2. TopSoon Plastic Drop Cloth
TopSoon Plastic Drop Cloth is an ideal choice for any DIYer or a professional painter who prefers buying a high-quality drop cloth.
This large-sized painter's tarp is transparent, reusable, and approved for small as well as heavy-duty paint projects.
The good thing is you can use it to protect multiple surfaces against spills, dust, and water.
3. CoverGrip Canvas Safety Drop Cloth
CoverGrip Canvas Safety Drop Cloth is your best companion if safety is your biggest concern while painting walls and ceilings indoors.
The tarp is made of tiny rubber dots, which will help the material stay firmly in place as you work.
The thing I like most is that it's highly protective and can be machine washed very easily without wasting time and energy.
4. T-Ware Thick Plastic Drop Cloth
If you are looking to buy a cheap drop cloth for room painting you can go with this recyclable plastic tarp.
Despite its low cost, it's large enough to cover a lot of space.
This means you can easily protect a large area from paint, water, and dust while painting with his tarp.
5. Sherwin-Williams Contractor Series Drop Cloth
Sherwin-Williams offers an extremely lightweight and durable painter's canvas drop cloth that will protect the surfaces during spray applications.
The price is on the higher side, but the quality you get will be very high.
It's available in a variety of sizes that can fit your painting and staining surface protection needs.
Since the tarp is very absorbent, washable, and reusable you can even use it for the outdoor protection of plants when painting exterior walls in the backyard.
6. Frost King Clear Polyethylene Plastic Tarp
This is a clear plastic drop cloth that can be used both indoors as well as outdoors.
It's available in a 3-pack of clothes and weighs very little.
The quality and design are appealing, so, on special occasions, you can also use these drop cloths as tablecloths.
7. TUFFBOY Heavy Weight Cotton Canvas All Purpose Tarp
TUFFBOY Cotton Canvas All Purpose Drop Cloth is a highly durable product that can serve your purposes for a very long term
It's super easy to clean, which means you can wash them and can reuse them many times.
Also, it comes with great absorbency which prevents the paint, primers, and thinners from getting on the surface.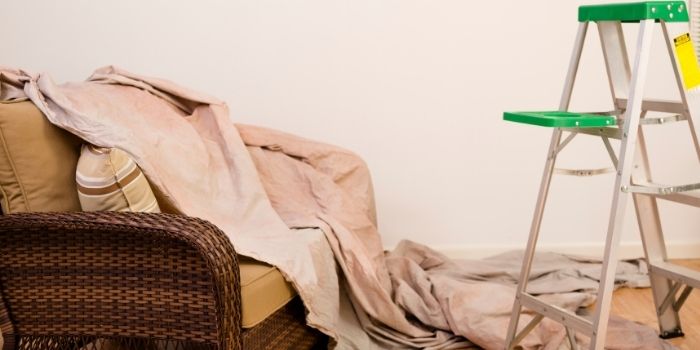 ---
How to Use Drop Cloths for Painting?
If you are trying DIY painting for the first time, you might wonder how to use a drop cloth in the right way.
Worry not; you can just follow the tips and steps below to make the process as efficient as possible.
Step 1- Pick the right size.
Choosing the right-sized drop canvas cloth for your project is important so that it should cover the entire floor, furniture, or other surfaces you intend to protect while spray painting.
Some of the most popular sizes that are available on the market include:
4 x 12 feet
4 x 15 feet
4 x 20 feet
5 x 12 feet
5 x 14 feet
5 x 15 feet
5 x 20 feet
8 x 12 feet
9 x 12 feet
12 x 15 feet
14 x 16 feet
Ideally, you should look at your workspace (and the number of items you are trying to protect) to decide the size of drop cloth you need to purchase.
Step 2- Clean the floors and furniture.
Before you set the canvas on the surface (like floors), clean them properly to make dirt free.
If not, the dirt or debris can move around and can affect the paint finish if it sticks to freshly painted surfaces like walls and ceilings.
Step 3- Put the same side face down.  
If you have used the cloth covering before and haven't washed it, make sure that the same side goes against walls, floors, or furniture as you did before.
After setting the drop cloth, ensure nothing is left uncovered, and also do not forget to secure the cloth using masking tape to keep it in place.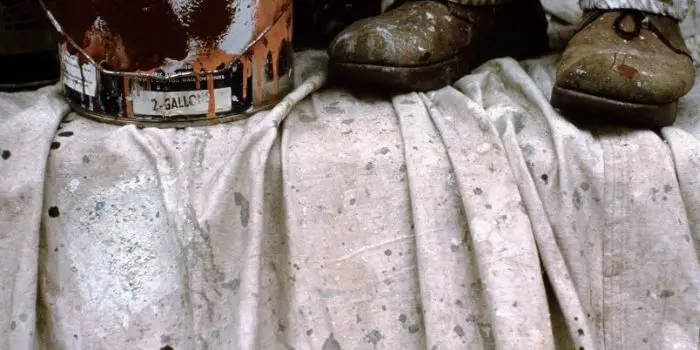 ---
What are the Different Types of Painter's Drop Cloth?
One thing you need to know when purchasing drop cloths is that they are available in a wide variety of options to choose from.
The type you should pick and use should depend on your specific project.
For the majority of paint and home renovation projects, the canvas will be the best choice, thanks to its superior absorbency and safety.
But there are other options like plastic, paper, and paper/poly combination as well that you should check and compare before buying.
1- Canvas
Grips to the floor tightly
The best option for high absorbency
It can be used indoors as well as outdoors
2- Paper
Cheaper
Suitable for single-use
Good for interior projects
3- Paper/poly
Good for working indoors
But more absorbent than paper
4- Plastic drop cloths
Best for working indoors
Good to protect furniture, walls, brick, masonry, and windows
Not an ideal solution for interior floors or many other exterior projects
The type of painter's drop cloth you need to select largely depends on your specific project and personal preferences.
But you should check the weight and thickness along with the quality of the material you are picking.
Generally, you can judge the quality of the drop cloth material with its weight or thickness.
Heavier weight canvas drop cloths, for example, will have better absorbency. And thicker plastic material will be stronger and more durable.
Final Thoughts
Using a high-quality drop cloth is essential to protect furniture and floors along interior walls and windows while painting.
While canvas drop cloth is reusable and expensive, the paper version is much cheaper and should only be used when you need a disposable drop cloth that's suitable for single use.  
Understanding the different types and varieties available will hopefully help in finding the right one for your paint project and the protection you desire to get.
Share the post "What are the Best Drop Cloths & Tarps for Painting?"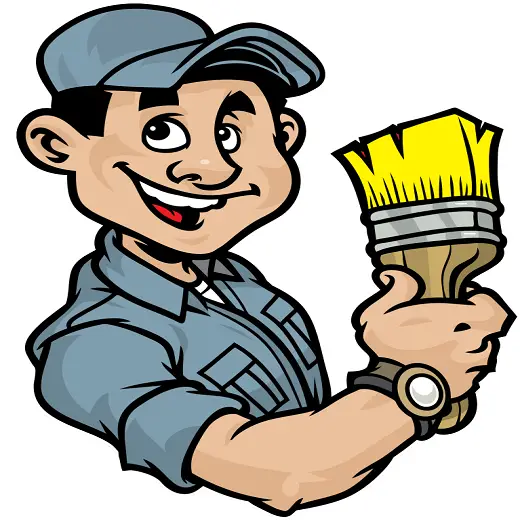 Douglas Becker (aka Painter Doug) has over twenty years of experience as a painter in Adkins, Texas. At present, he resides in Florida with his family.
From painting multi-storeyed houses, condos, and apartments to large commercial buildings and small offices, he had served various customers in areas not only in Adkins but also in Southwest Florida, Sarasota, Naples, and many more. To know more about him check here.