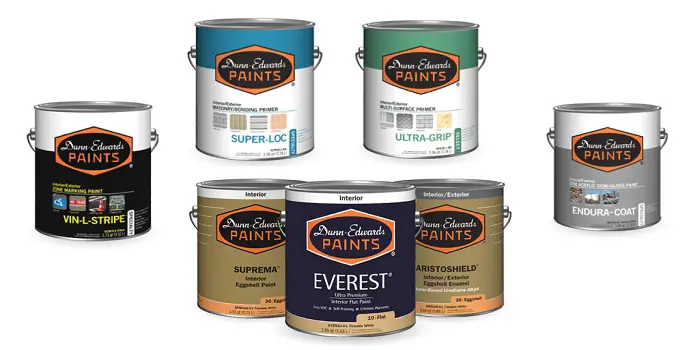 Dunn Edwards has been a popular name in the paint industry for some time now.
And for the quality of paint products they produce, the brand has been gaining very positive traction in recent years.
Although not as renowned as Sherwin Williams and a few other most popular ones within the paint world, Dunn Edwards paints are worth trying out, in my opinion.
Especially due to their lower costs and better overall value, you will not be disappointed by their good quality products.
For homeowners whose budget is on a bit lower side of the spectrum, paints manufactured by Sherwin Williams can get very expensive.
But with Dunn Edwards interior and exterior paints/primers, you can actually get the job done in as low as half the cost.
No matter whether it's a simple and small revamping project (like painting your porch) or a bigger job (like getting your exterior walls and decks painted), Dunn Edwards products can be your solution.
Below is a range of Dunn Edwards paint products you can consider when buying.
Go through the list and pick the ones based on your specific project requirements.
Dunn Edwards Paints
Dunn Edwards manufactures paints both for interiors as well as exteriors.
Before you pick, remember that you need not pick premium paints for interior walls.
As interior paints will not be exposed to weather elements, there is not much wear and tear you need to worry about once they are applied and cured.
Exterior paints, on the other hand, are prone to regular damage from sunlight, rainwater, and snow. And you will need to invest in a higher quality product to make them last longer.
With that said, if you need to achieve premium finishes on your interior walls, you will need to buy premium products rather than less expensive ones.
Interior Paints
1- Versaflat
Versaflat is a paint from Dunn Edwards that can be used for interiors and exterior projects.
The paint is affordable, but it's not washable. Once applied, you will need to do regular touch-ups if it gets dirty.
2- Versasatin
If you want washable paints, you should pick a Versasatin satin finish. It's inexpensive and is a good choice for your home interiors.
3- Suprema Flat
It's another good choice for flat washable paint if you want to paint interior walls.  
Unlike their Ultra Scrub version (another flat washable paint), Suprema is easy to clean and is of much better quality.
4- Versaglo
Versaglo is a semi-gloss paint by Dunn Edwards that's designed for high-traffic areas and walls that are prone to getting lots of moisture (like your kitchen, bathroom, laundry room).
5- Spartaglo
Spartaglo is also a high-quality semi-gloss paint that's designed specifically for painting doors, baseboards, and trims.
This paint variety costs more than the Versaglo, but the coverage you get will be better, which means you will need fewer coats to get the same finish and quality.
---
Exterior Paints
1- Acri-hues
Acri-hues and Acri-flat are good acrylic paints for exterior house painting.
With some care and maintenance, you can expect them to last for up to a decade.
2- Enduracoat
It's a medium-priced thick, quality exterior paint that is just a step below paints that are 100% acrylic.
Based on your specific requirements and the finish you desire, you can use this paint in its full strength or water it down a bit.
The paint that is not watered down may work extremely well for some houses, but some contractors and homeowners recommend adding water to lower the costs.
I recommend you to use them as it is unless it's essential.
3- Evershield
Evershield is an expensive top-of-the-line paint from Dunn Edwards that's specifically formulated for large luxury houses.
With proper care and maintenance, these paints can last for about fifteen years without showing signs of wear and tear.
The durability and long-lasting will, however, depend on the quality and skills or labor implemented while getting the job done.
4- Spartashield
Dunn Edwards Spartashield is a very high qual­ity, 100% acrylic latex paint that is known to deliv­er excep­tional hide, dura­bil­ity, and versatility.
The paint is ultra-low VOC/​very low odor, and it pro­vides excel­lent efflo­res­cence resis­tance with very good color reten­tion.
The good thing about the paint is it's extremely easy to apply, and it dries to a smooth, uni­form finish relatively faster.
Spartashield is available in Flat, Vel­vet, Eggshell, Low Sheen, Semi-Gloss, and Gloss finish.
And it's good to use on a range of surfaces that includes masonry, con­crete, stucco, tilt-up, rough-sawn wood, provided the surface is prop­erly pre­pared and primed.
---
Exterior Grade Primers
Using exterior primers as an undercoat is essential for achieving an even smooth finish after the painting.
They make the surface smooth and even out easily, offering a shiny, long-lasting paint finish.
Some of the best Dunn Edwards primers that can be considered include:
Eff-stop – a premium primer for unprimed masonry surfaces
EZ-Prime – a premium wood primer that's good for unprimed timber
Ultra-grip – a premium general-purpose primer for old metals, wood, and masonry surfaces that are previously painted and have scarped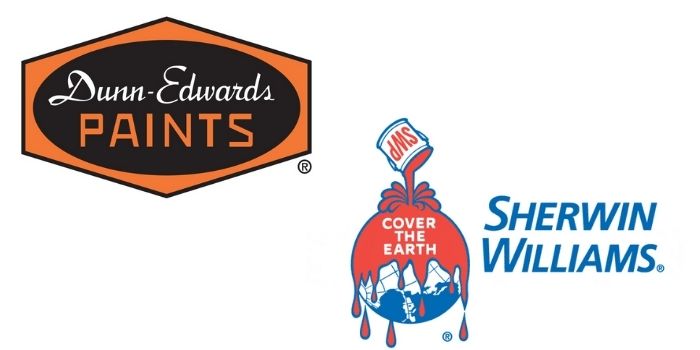 ---
Dunn Edwards vs. Sherwin Williams Paint: Which is Better?
As you hunt for the best brands, you may notice that Sherwin Williams and Dunn Edwards both pop out from the others.
If you're wondering what makes them different from each other or which one is better, check out the comparison below.
Sherwin Williams is one of the most popular paint brands out there, with plenty of reputation for being quality paint that is easy to apply.
Dunn Edwards is known among industry professionals, but it does not have nearly the same level of recognition among home painters.
Both are worth looking into, as they are both popular in their respective niches.
1- Resiliency and Durability
The durability of the paint is one of the most important characteristics of a brand to consider when shopping. This is especially true for anyone who has children.
Of course, there will be various dings and bumps that occur throughout the years, so you need paint that is going to be able to withstand them without chipping.
Sherwin Williams has SuperPaint, a mid-level brand that is known to be very durable and strong. It can be scrubbed without seeing any dirt left and without losing the consistency or the sheen of the paint.
Dunn Edwards is nearly as strong as Sherwin Williams and is also able to deal with high-traffic locations.
Kids that knock into the walls won't be cause for concern. Though it is good at not fading with regular cleaning, it does start to fade after some time.
Naturally, this means you'll need to reapply the paint sometime in the future.
2- Ease of Application and Use
Sherwin Williams is excellent for painting walls because it covers the area with ease.
Their paints are thick enough to adhere to the paintbrush with ease or roller but aren't too thick to the point that they clump up, making for a smoother application.
Dunn Edwards is also simple to apply. In comparison, it is more lightweight than Sherwin Williams, meaning that it spreads more easily and adheres well.
It is still thicker than a lot of other popular paints out there, so the durability is not sacrificed.
3- Price Point
Sherwin Williams is commonly used by contractors due to its easy application and durable nature.
Jobs that have a smaller timeline to be completed are finished with Sherwin Williams as it has quick application and equally as quick drying time.
Even so, their paints are expensive—even more than the aforementioned midlevel brand, SuperPaint.
The quality and durability are first-rate, but using their products can get expensive very quickly.
It's important to keep that in mind when selecting the brand you want and decide whether the durability is worth the elevated price.
Dunn Edwards tends to be much more cost-effective when compared to Sherwin Williams.
While it isn't in the same price range as "cheap" paints on the market, it is certainly more affordable, costing about $35 per gallon.
As the job will likely require two coats, using Dunn Edwards will save you a lot of money during the project.
4- Various Uses
Though Sherwin Williams is famous for being a contractor's paint, there are many choices for residential use.
They also have paints designed specifically for painting interior walls.
When it comes to Dunn Edwards, this brand is almost entirely used for residential purposes.
They simply do not have the same spectrum of options or the large selection that Sherwin Williams does. Still, you shouldn't have a hard time finding the colors that you want.
5- Features and Characteristics
Both of these brands are similar to one another when it comes to their general aesthetic.
For instance, SuperPaint by Sherwin Williams is known for its glossy finish that looks nice, even though pocking is sometimes a problem.
Even when this happens, it is still somewhat difficult to notice pocking unless you are right up against the wall.
Dunn Edwards has a similar shine to their paints and looks similar to some of the higher-end paints without breaking the bank to achieve those results.
Beyond that, Dunn Edwards is almost entirely free of odor, unlike some other brands.
6- Spectrum of Choice
Sherwin Williams does have the edge over Dunn Edwards when it comes to options.
Dunn Edwards has InstaColor that shows how the walls will turn out before you buy it, as well as their Then, Now, and Forever collection.
Even their Color-Ark series is impressive. Still, none of this holds up to Sherwin Williams.
This brand has various collections to decide between and many different types of paint, each meant for different uses.
Sherwin Williams also has many different primers that give them a much larger range of choices than Dunn Edwards.
7- Volatile Organic Compounds (VOC) Ratings
Every paint type has a rating for Volatile Organic Compounds, which refers to the number of toxins that are found in paints.
Depending on how much exposure there is to the paint and the VOC levels, there could be respiratory issues that crop up.
For instance, in California, there is a law that paints cannot have any more than 50 grams of these compounds per liter.
Both Dunn Edwards and Sherwin Williams have little to none of them; in fact, Dunn Edwards has paints that have almost no odor at all.
Final Thoughts
If you are still in doubt whether Dunn Edwards paints are worth your investment, I should say yes, they are.
There are a variety of different Dunn Edwards paint products available on the market.
All of them are of premium quality and can be bought at a much lower cost than their competitors.
If you are like me, who is not obsessed with throwing cash only on premium brands, you can definitely try them out for a smaller project before buying in bulk.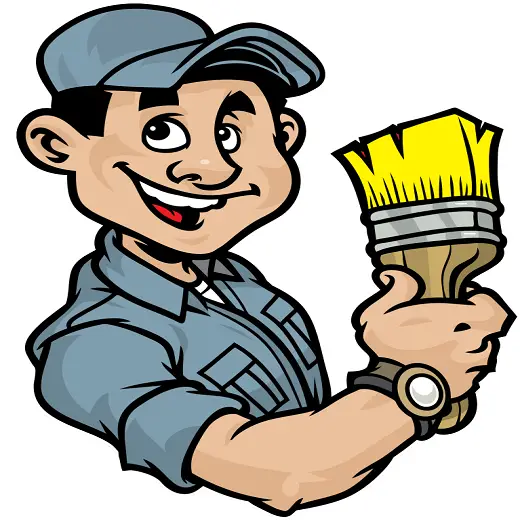 Douglas Becker (aka Painter Doug) has over twenty years of experience as a painter in Adkins, Texas. At present, he resides in Florida with his family.
From painting multi-storeyed houses, condos, and apartments to large commercial buildings and small offices, he had served various customers in areas not only in Adkins but also in Southwest Florida, Sarasota, Naples, and many more. To know more about him check here.