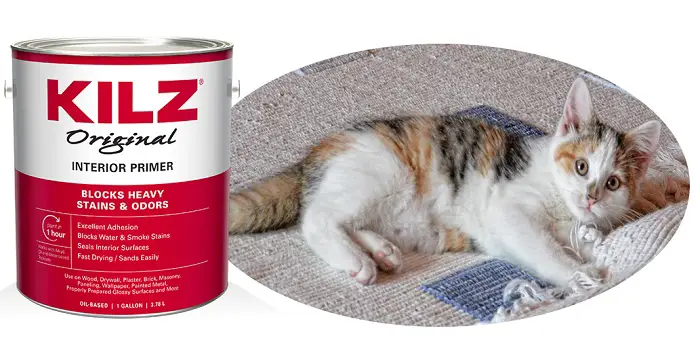 Cat pee and that unwelcoming stinking carpeted floor is a never-ending problem for many cat owners.
And that's exactly what happened to one of my friends who resides in Miami.
She was the new owner of her cat and her problem was the foul smell of cat urine.
Whatever ways she tries, the smell seems to get stubborn even more and doesn't go away.
Since I was aware of the product called Kilz Original but haven't tried it yet, that's the time when I tried the product.
Does Kilz Paint Cover Cat Urine Odors?
I hadn't believed in any cat urine odor-blocking paints until I tried the Kilz paint and primer myself.
I was aware that KILZ paints and primers come with the ability to tackle tough stains like rust, grease, water damage, ink, pet stains, etc.
But it can also cover the stinking cat pee – I never believed!
To my surprise, when I tried Kilz Original primer paint, I noticed it worked in blocking the cat pee smell very well.
Plus, this powerful stain-blocking formula has done the job faster than I expected.
That's the reason I think it's the best KILZ brand to use on the sub-floor for blocking pet odor.
---
Choosing the Right Kilz Product for Your Project
IMO choosing the right primer paint for your DIY project is the first step toward success.
Since the KILZ® brand offers you a wide range of options for a range of different paint projects, you can easily tackle a variety of different problems (including stinking pet smell) by selecting the right product.
But, with so many options of cat urine-resistant paint to pick from, how come will you know which one to choose and for what purposes?
Worry not, as you can always start by analyzing the type of surface on which you are applying the primer paint.
1- KILZ 2® All-Purpose Primer
This water-based multi-surface primer-sealer-stain blocker is an ideal choice for many DIYers as well as pro painters.
It dries fast
Its mildew resistance
Offers excellent adhesion
Good for minor color changes
And for covering light to medium stain marks
2- KILZ Restoration™
KILZ Restoration™ is a popular product that is known to offer the performance of a traditional oil-based primer in a water-based formula.
It's ideal for dealing with:
Toughest odors, stains, and even
Burning marks due to fire damages
And for jobs that require heavier lifting
3- KILZ 3™ Premium
It's one of the most heavy-duty high hiding formulas that are ideal for more complex projects.
You can use them for:
Removing pet odors
Blocking heavy stains and smoke
Covering old dark paint colors like "blood red."
4- KILZ® PVA Drywall Primer
It's much like a popular KILZ® 1 Standard Interior Primer version which is meant for painting new drywall.
No matter whether you are removing the home, repainting the walls, or moving into a new house, these high-quality formulas are great for solving all your paint problems.
5- KILZ® Adhesion Interior/Exterior Primer
It's an excellent choice for surfaces that requires better adhesion and where a standard paint primer would not stick well.
Like you can opt for these products for painting over a slick, glossy surface such as glass, aluminum, vinyl, ceramic tiles, etc.
6- KILZ Hide-All primer
Besides the above popular KILZ products, there is also a KILZ Hide-All primer which is a multi-surface interior water-based primer.
This sealer formula dries fast and can be brushed, rolled, or sprayed according to your personal preferences.
Basically, it is designed to cover up various kinds of imperfections along with porosity differences.
You can also use it for masking textures before painting.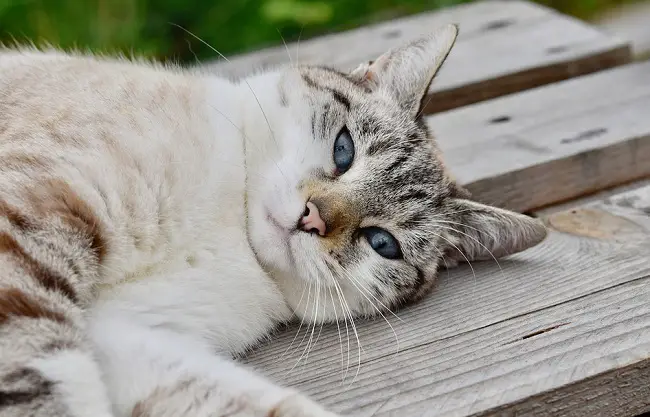 ---
How to Use Kilz Paint to Eliminate Cat Urine Smell?
Well, I will not guarantee whether using the paint will help you get rid of the smell or not.
Because it may depend on several factors like what cat you own, how strong the urine smell, what other ways you have tried out, etc
I will tell you here exactly about the steps I followed and how they helped me…
Step 1. Remove Carpet
As the very first step, I removed the stinking carpet from the wooden floors.
Washed it well using a diluted shampoo and warm water; I left it outside in the backyard for drying.
Step 2. Clean the Floor
After the carpet was removed, there were a few nails that needed to be fixed.
I fixed them by nailing them down and filling a few holes with a nail hole filler (Minwax Wood Putty).
Then I quickly vacuumed the subfloor and made it dirt-free.
I also cleaned the floor with some vinegar and water to remove the dark spots and stunk.
Step 3. Primer the Floor
After getting everything cleaned up, it was time to primer the timber.
I chose Kilz Original Interior Primer, that's specially designed for blocking heavy stains and odors like pets.
Using a roller, I applied the first coat of thinned oil-based primer-sealer.
And then, after about 5-6 hours of drying, apply another coat of this stain blocker.
Step 4. Paint the Subfloor
After the primer was dried, its time to apply the paint.
Since we already applied the stain and odor-blocking primer-sealer, using any premium quality interior oil-based paint can work.
I decided to put Kilz paint (you can choose any other if you want).
Applied two coats of this oil-based paint on the timber floor just as I applied the primer (using a roller) and left about 6-8 hours of drying time between the two coats.
Step 5. Drying and Ventilation
After about 24 hours, the paint was dry, and all the cat urine subfloor was already covered with Kilz Original primer paint.
I put back the carpet after three days (after making sure the paint does not stick). And made the room ready for use.
The only problem I faced during the process was with the oil-based paint, which had a strong smell.
This is obvious with just any oil-based paint.
So, you cannot do anything about it other than leave your room open and well-ventilated for about 36-48 hours.
Ventilating the area (by opening all the doors or windows open) is an important step, or you will end up breathing all the hazardous fumes that can be dangerous.
Other than this, the whole process was pretty simple, and it went fairly well.
So, Does the Cat Urine Smell Gone Away?
Well, it was hard to tell the difference paint made for a few days.
It was typically due to the powerful smell of paint itself, which lasted for about a week.
After a week, we realized that the bad cat smell was nearly eliminated.
Although it was slightly present in a few spots, most of it was gone away automatically after a couple of days.
Thanks to Kilz Original Primers and Paints, which has done the job fairly well.
In fact, it exceeded our expectations and left us home with a fresh smell that was free from cat urine. 🙂
---
Bin Primer vs. Kilz: Which is Better for Cat Urine?
IMO, both these primers come with the ability to cover pet pee stain and smell.
If you ask me to choose one, I will most likely pick Kilz primer because it's cheap and is easily available.
The only downside with Kilz is it's not always easy to clean.
Many times, it gives less coverage than bin pee sealant, but it will mostly depend on the type of surface you are working on.
If you ask, how long does it take for Kilz to remove the smell?
It will again depend on the kind of ventilation your house has. 
And also the surface on which it is used, like hardwood, plywood, or laminate floor.
Under normal conditions, Kilz may take no longer than 3 to 4 days to dissipate the off-gassing.
Bin Primer
Kilz Primer
• Expensive
• Durable
• Dries fast
• High coverage
• Strong smell
• Hard to sand
• Can also hide heavy stains
• Cheap
• Less durable
• Dries slow
• Low coverage
• Mild smell
• Easy to sand
• Can not hide heavy stains
---
Will Kilz Paint Help with Dealing Cat Urine Smell in the Future?
Well, this is hard to say.
In fact, I believe that these cat urine odor-blocking paint (like Kilz or Zinser Bin primers and sealers) are not designed to prevent the pet smell.
What they are good at is covering only the existing odor on the surfaces like wood, particleboard, subfloor, wall, brick, concrete, or stone.
So, if you want to avoid future problems, it's good to follow certain tips that can help in warding off the odor in the house.
Some of them are:
Clean the floors and other areas with an extracting wet vac and enzymatic cleaner
Regularly rinse the cat pee stains on carpets, upholstery, or clothes with cold water
Use odor-blocking neutralizing agents such as baking soda, vinegar, bleach, ammonia, hydrogen peroxide, etc.
Use a clay-based, silica-based, or plant-based cat litter that is highly absorbent and can control the odor and bacteria of cat urine and feces.
Other than these, it's important that you thin KILZ-brand primers as per the manufacturer's recommendation to get the best results that are long-lasting.
KILZ advises NOT to thin their oil-based primers, which include KILZ Original Primer and KILZ Odorless Primer.
While water-based versions of KILZ-brand primers (like KILZ Latex Primer, KILZ Premium Primer, and KILZ Max Primer) can be thinned, you should always add a small amount of water.
It should be no more than a one-half pint of water per gallon of primer, failing which the primers can become less effective at blocking stains and pet odors.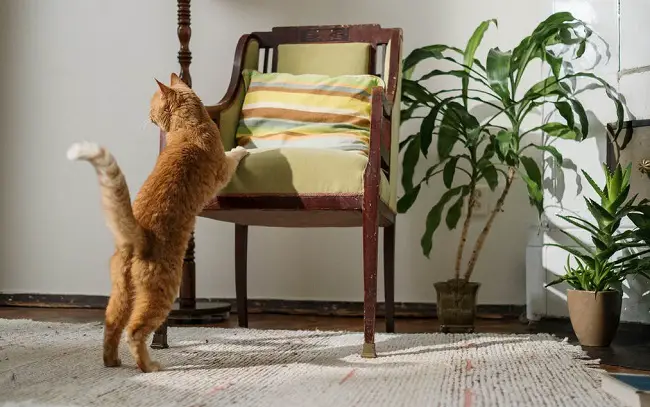 ---
Few Other Ways to Get Rid of Cat Pee Smell – Without Paint/Primer
Your cat may start peeing at inappropriate places (other than the litter box) for a number of reasons.
Whenever it's the case, the very first step to removing the odor is to thoroughly clean the urine as soon as possible.
The longer you allow it to linger, the worse the smell can get.
Using cold water and a few paper towels, mop the liquid
If possible, use an enzyme-based pet stain and odor remover on the spot to neutralize the bacteria
For the wood floors that are sealed, a good wooden floor cleaner that's designed for removing pet odors and stains will work.
However, if the floors in your home are not sealed:
Allow some white vinegar to sit on the spot for several minutes
Wipe it with a clean, dry cloth and add some more vinegar
Using a sponge, gently scrub the vinegar into the stain
Rinse the floor with water and blot up the water with a paper towel
Finally, remove the excess moisture using a dry cotton cloth
Just in case this method does not work, you will need to sand the wood to get the stain out.
Most likely, the urine has soaked into it and gets hard to remove.
For the cat pee smell on carpets, you may try the above method followed by vacuuming.
If the smell is too heavy, use a bit of baking soda that prevents odor absorption.
Do not use a steam cleaner as the heat from steam can cause the odors to set permanently.
Final Thoughts
Sealing or painting over cat urine odor may or may not work depending on the type of paint, the surface you want to paint, and the technique you use for painting.
However, when a primer-sealer or paint coating is applied using a premium product such as KILZ Original, it can most likely work.
In fact, I found it to be much better than BIN primers and Shellac for covering the pet odors.
Not only can you use Kilz for cat pee smell but also for sealing various other stains and smells like oil, grease, black soot, nicotine, tannin, pencil, felt marker, etc.
Make sure you use the product on a properly prepared surface free of dust, grime, or mold to avoid paint peeling fast.
Also, allow proper drying time for the coating and a couple of days to evaporate the paint fumes smell.
Share the post "Can Kilz Paint Get Rid of Cat Urine Smell from Subfloor?"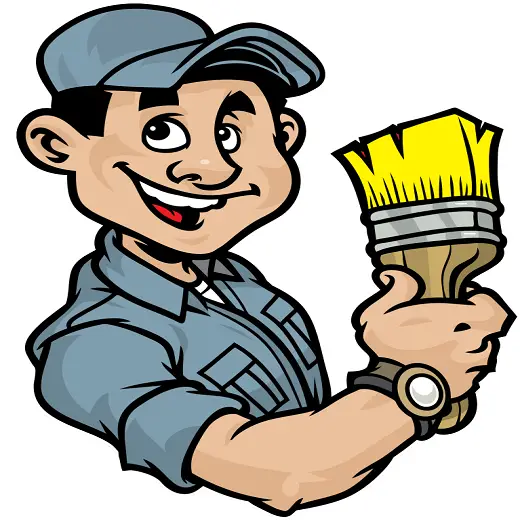 Douglas Becker (aka Painter Doug) has over twenty years of experience as a painter in Adkins, Texas. At present, he resides in Florida with his family.
From painting multi-storeyed houses, condos, and apartments to large commercial buildings and small offices, he had served various customers in areas not only in Adkins but also in Southwest Florida, Sarasota, Naples, and many more. To know more about him check here.