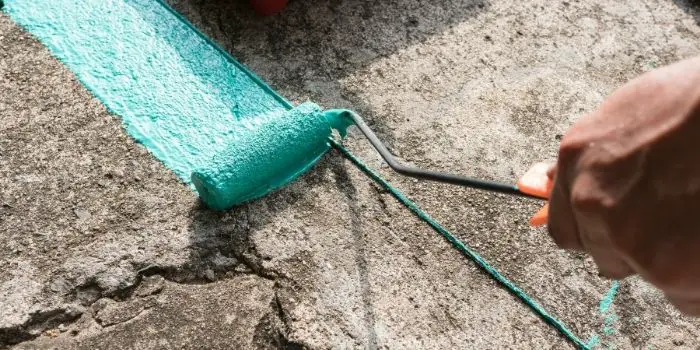 The quality of the paint job will largely depend on the paint tools you use.
No matter whether you want to paint the wooden furniture inside your home or want to refinish a newly built concrete floor outside, a paint roller, a paintbrush, and a sprayer machine are going to be your major tools.
In general, a roller will be the easiest and will work best when you need to paint smooth flat concrete surfaces like floors in your decking area, porch, driveway, basement garage, etc.
The only problem with rollers is they can leave behind some drips and will be time-consuming if you happen to choose the wrong size for the job.
For concrete surfaces, it is best to use a paint roller nap of around 1/2- to 3/4-inch-thickness.
The roller frame you can pick is either 4 inches or 9 inches. These will work well for most household paint application projects.
If you need to select the paint roller for industrial use, you can choose with a larger frame or yoke that comes in 14 to 18 inches in width.
These will cost more and will help you get the job done in lesser time.
Choosing the Right Roller for Concrete
Not only for applying thin coats over concrete surfaces but also you can apply thicker coats with a roller if you want. 
However, picking the right roller and nap size is highly important to achieve the desired results.
Remember, the nap is a fabric cover for a paint roller you load with paint. The thicker the nap you choose, the more paint it will hold to fill all the cracks, holes, and crevices.
For evenly painting your rough concrete surface, make sure you choose a nap not more than 3/4-inch-thick as it will then accommodate more paint into it and can cause dripping.
Perhaps most importantly, make sure that you clean your roller cover well before switching paint colors.
If you don't, undesired mixing may occur and affect the final look of your paint job.
You may wish to buy a different roller for each color, especially if you're using oil-based paints.
For water-based paint, you can simply wash with soap and water—just be sure to be thorough.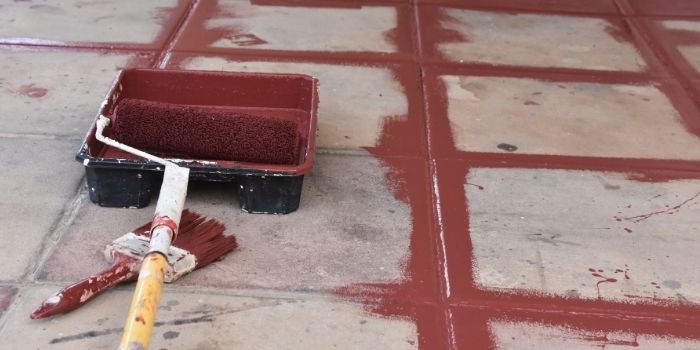 ---
Things to Consider when Painting Concrete Surfaces
When painting a concrete floor, pavements, or other surfaces in your home, it's important to check that the concrete is ready to take the new coat.
To identify whether the concrete is ready to paint, you can make sure that…
The concrete surface is clean & dry
It's free from any cracks, gaps, or other damages
The surface is free of efflorescence (white powder often found on damp concrete)
The surface is free of any previous paint, coating, or sealant that could affect the paint adhesion.
In addition to all the above steps, you should ensure that the concrete surface is first coated with a primer using a premium roller cover.
For the interior, you can choose acrylic/latex-based primer but for exterior concrete flooring, pick alkyd/oil-based formulas that are made specifically for concrete or masonry.
It will soak better and will protect the concrete from long-term damage.  
For painting, you can pick acrylic latex paint for interior concrete floors.
But for exteriors as well as concrete garage floors, it's good to choose a sturdier option like epoxy paint. It will be more durable and glossier.
---
When to Choose a Brush or Paint Sprayer for Concrete?
Just in case you need to pick a paintbrush or a sprayer for painting concrete surfaces, it's vital to know the details you need to cover.
If you need to paint your concrete basement stairs and steps, it's good to choose a paint brush in addition to a roller.
A common flat bristle paint brush (made of nylon or polyester) is what you'll need for painting flat surfaces like stair risers and treads.
For painting corners and edges made up of concrete, you can choose angle sash brushes.
A paint sprayer is also a good concrete paint applicator to choose from, especially if you have large uneven surfaces to cover.
Compared to a roller or a brush, a sprayer machine will be more convenient for painting concrete surfaces that are rough, irregular, or stony.
These can be like concrete statues in your garden, outdoor table or chairs made of cement, etc.
Final Thoughts
Painting concrete may seem to be a daunting task, but if you choose the right applicators, it's easy.
Particularly for floors and other large concrete areas, you can complete your painting project with a good paint roller attached to the extension handle.
Do not forget to pick the right roller cover size with which you can transform the look of your space without getting things messed up.
Share the post "What Kind of Paint Roller to Use for Concrete Floors?"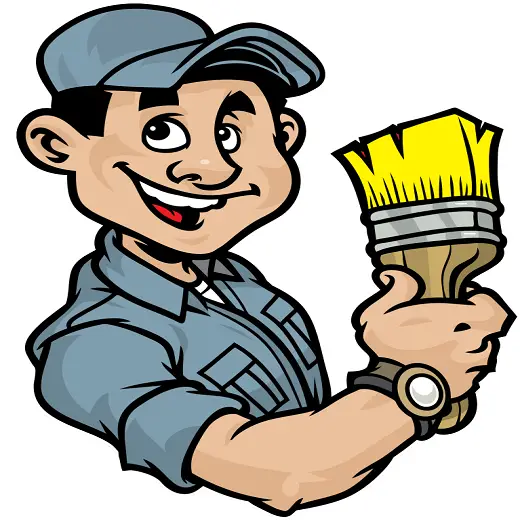 Douglas Becker (aka Painter Doug) has over twenty years of experience as a painter in Adkins, Texas. At present, he resides in Florida with his family.
From painting multi-storeyed houses, condos, and apartments to large commercial buildings and small offices, he had served various customers in areas not only in Adkins but also in Southwest Florida, Sarasota, Naples, and many more. To know more about him check here.