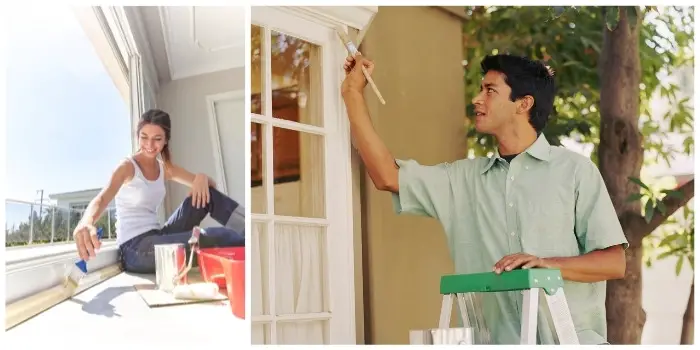 Wood trim may be a beautiful addition to the property. It adds a deep, organic sense to a room, anchoring it in a way that white painted trim cannot.
Wood trim is often available in four distinct colors: blonde, medium brown, honey, and dark brown. Each color is stunning in its way.
Blonde wood has recently made a resurgence in contemporary house design.
Medium-colored wood goes well with a wide range of furniture and colors.
In the 1990s, honey-colored wood was fashionable for trim and kitchen or bathroom cabinets. When it comes to picking the best paint color, this is the wood hue that presents the greatest difficulties.
Dark-colored wood trim was popular in the early 1900s and adds a sense of richness to a space.
Many homeowners struggle to choose contemporary paint colors that complement wood trim. One of the most often asked questions is…
Which Colors Go Well With Wood Trim?
This is an excellent question that demonstrates two points.
For starters, it demonstrates that wood trim is still widely used in houses, and many people choose to work with it rather than painting it.
Second, it demonstrates how difficult it can be to find the proper paint colors to match with wood trim. This is because wood trim has more apparent undertones that you must deal with.
Wood has naturally warm tones that complement specific hues.
When it comes to painting wood trims, you generally have three choices:
To begin, you might emphasize the warmth of the natural trim color by combining it with a warm paint hue.
For example, a beige, pink, yellow, or red wall color will draw attention to the wood tones.
Second, by contrasting it with a cool paint color, you may tone down the warmth of the wood trim. This may be accomplished by combining it with a green, blue, or grey wall color.
Finally, lay your wood-colored trim against a neutral paint hue to compliment it.
There is no right or wrong solution when it comes to enhancing, toning down, or complementing your natural wood trim.
Instead, it's a question of personal choice and the vibe you want to create in the space.
However, although trendy colors in house design vary regularly, cool hues are typically preferred.
This implies that unless you enjoy the warmth of the wood and don't mind going with a color that isn't quite popular (for example, yellow, red, or even orange), you shouldn't highlight the wood hue.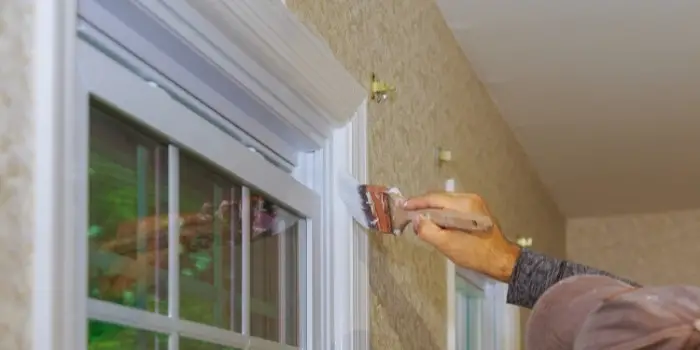 Best Paint Colors for Wooden Trims and Moldings
Here are some lovely natural wood trim paint choices.
1. Iceberg by Benjamin Moore
While whites and neutrals are often the finest colors to mix with medium to dark wood trim, you can't go wrong with a pop of color.
Iceberg (2122-50) by Benjamin Moore is a bright light blue that gives a pop of color to your living room or hallways without darkening the area.
If you want to lighten your trim, this is another color that looks great with white.
2. Magnolia Weathered Windmill
When coupled with natural wood trim, it is a medium grey with gentle green overtones that produce a warm, welcoming room.
Medium wood or even dark reddish wood looks great with this misty grey paint.
3. Inkwell by Sherwin-Williams
Do you believe that since you have wood trim, you can't paint with a dark color?
The notion is dispelled by Sherwin-Williams' Inkwell (SW 6992).
This deep black has just enough blue to seem nearly navy in the appropriate setting.
When coupled with rich, dark wood trim, it seems very warm, gloomy, unquestionably beautiful, and traditional.
4. Quite Green by the Spruce 
Because it seems earthy and woodsy and emphasizes the appearance of organic wood, a neutral green is a beautiful option for a house with wood trim.
Quiet Green (SPR-09) by The Spruce Well Home is a subtle, subdued green that looks best with light or medium natural wood trim.
When your space has dark trim, use this deeper green as an accent wall.
5. Valspar Du Jour
If you want to emphasize the warmth of your wood trim, use a warm paint color that brings out the wood's oranges and reds.
Valspar's Du Jour (7002-6) is a creamy off-white with light orange overtones that looks well with a variety of wood treatments.
6. Chantilly Lace by Benjamin Moore 
Benjamin Moore's Chantilly Lace is a great choice if you have a lot of warmth in your natural wood trim and want to tone down any orange tones (OC-65).
This crisp, clean, and cool white paint has mild blue undertones and creates a lot of visual intrigue and contrast when paired with dark wood trim.
7. Snow Fall by Behr
Behr's Snow Fall (W-F-600) is a nice neutral white tone that goes well with anything from dark grey trim to the deepest brown wood trim.
It has no severe cold or warm undertones, and since it is devoid of yellow, it is ideal for toning down yellowish wood trim.
8. Vapor Trails by Benjamin Moore
We like Benjamin Moore's Vapor Trails (1556), a cool grayish-green paint that appears virtually white in areas with plenty of natural light.
The delicate green undertones peek through when painted next to natural wood trim.
It's an excellent option for a bedroom or workplace that may benefit from a little flash of color.
9. Macrame Beige by the Spruce 
Beige can complement natural wood trim to create a warm, peaceful environment.
Macrame Beige (SPR-05) by Spruce Best Home has a creamy yellow undertone that complements the warmth of natural wood.
10. Ice Cube by Sherwin-Williams
Greige is a great color to mix with wood trim because it looks natural and fresh without being too harsh, and it stops the wood trim from looking too dark.
Ice Cube (SW 6252) by Sherwin-Williams is a light grey with somewhat cold overtones that looks great against dark wood trim.
If you ever wish to paint your trim white, this adaptable paint color also works well with light hues.
Share the post "10 Best Paint Colors to Update Your Wood Trims With"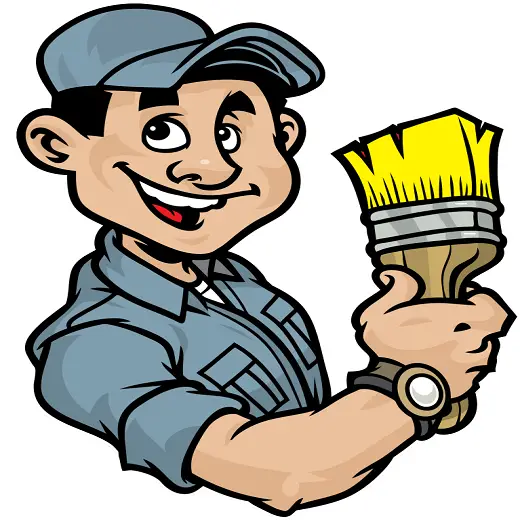 Douglas Becker (aka Painter Doug) has over twenty years of experience as a painter in Adkins, Texas. At present, he resides in Florida with his family.
From painting multi-storeyed houses, condos, and apartments to large commercial buildings and small offices, he had served various customers in areas not only in Adkins but also in Southwest Florida, Sarasota, Naples, and many more. To know more about him check here.