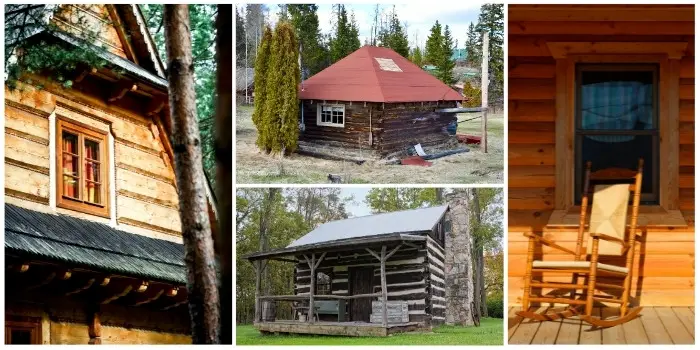 Whether you have just constructed your dream wood cabin in your yard or acquired one as a weekend escape, you should choose the appropriate and soothing exterior paint color. 
When giving your log home a new paint coat, there are several stain alternatives to pick from.
The outside of your wood cabin may be brightened and soothed by painting it in a pleasing color or stained to accentuate the inherent beauty of the wood.
To paint the log cabins, we've got some great ideas for exterior paint colors.
Soothing Colors for the Exterior of a Log Cabin
Brown is the traditional color for wooden cabins, but some people are unaware that the outside may be painted with various other soothing hues according to personal taste.
If you're looking to create a personalized style while keeping the rustic aspect of your wood home, we have selected twelve color options right here. 
We've also added brown since it's the most popular color for a log home.
1. Red
This color will help your log cabin to stand out while blending in with the environment; consider painting it a bright red hue.
The Crimson tone shows out brilliantly in a forested or lakefront scene, making your cabin stand out against the vibrant foliage of flora.
This hue for log cabins reflects your personality and demonstrates your preferences.
2. Canyon Red
If you want your log cabin to have a more southwest flair, the Canyon Red hue is ideal since it evokes the gorgeous color of a canyon. 
The red color also shines out in forested areas, letting your property stand out against the green and brown trees. 
This log cabin siding color is ideal for the cabin enthusiast with a more distinct flair.
3. Brown
If a  typical brown hue appeals to you, ensure to choose a lighter shade as it will help your wood house blend in with the environment and give it a classic appearance. 
Any lighter shade of brown tint will work on a contemporary or classic wood cabin exterior.
4. Autumn Brown
If you like a more traditional aesthetic that complements the woods, the Autumn Brown color may be a good option for your house. 
This deep brown hue mixes seamlessly with nature and gives log cabins a classic wood appearance. 
Autumn Brown is the color that springs to mind when you think of a picture-perfect log home.
5. Cedar
Consider a Cedar shade to add the gorgeous tone of cedarwood to your wood cabin exterior for another classic wood effect. 
Cedar is a popular choice for log homes, but it is often pricey and takes a lot of upkeep. 
When you choose this color, you get the appealing appearance of cedar without the care.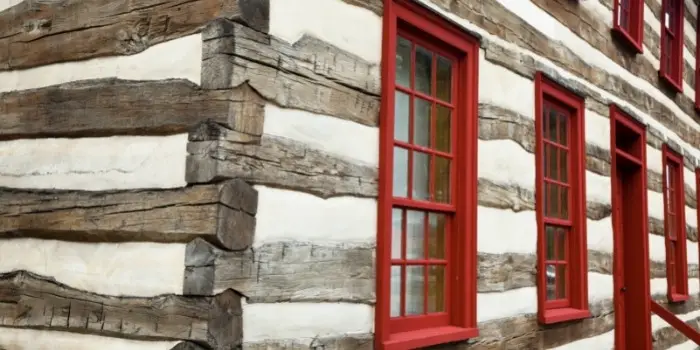 6. Cedar Red
Nothing says "welcome," like the sight of red cedar siding. The Red Cedar tint of log cabin siding provides a warm atmosphere without the upkeep requirements of genuine cedar. 
Using complementary colors on your roof and stone embellishments may bring out the excellent tone of the siding even more. 
Even with the steel cladding, you can imagine a fire burning inside the cozy cottage.
7. Sable
Sable log cabin siding is a lighter brown siding choice. This hue is a softer variant of the conventional log cabin picture. 
Sable would work well in both forested and less wooded locations since the softer brown is less noticeable in places with fewer trees.
Choose Sable log cabin siding to give your home the appearance of a log cabin, even if you don't live in a rural region.
8. Gray
Why not consider a gray hue if you like a more modern appearance than the conventional brown stain? 
This one-of-a-kind tint is a very trendy color for exteriors that works well with any style of facade, including wood.
9. Gray Barnwood
If you want a contemporary appearance for your log cabin, go no further than Barnwood Gray. 
This one-of-a-kind tint allows you to get the contemporary grey style, which is quite popular right now in home design, even in a fake log cabin. 
Barnwood Gray siding is the ideal option for a Pinterest-worthy stylish log home.
10. Natural Oak
Natural oak is another popular outside color for a log home. This one-of-a-kind color is highly popular for chalet-style cottages because it allows you to create an aesthetically beautiful exterior. 
If your log cabin is composed of wood, use a rich brown oak color for a sumptuous appearance.
This is the best stain color for most log cabin owners who want to keep their timber exterior appearing rustic.
11. Colorado Pine
If you want a Western vibe, go with the Colorado Pine cabin siding color. This authentic pine tone looks well at home in any natural environment while evoking the essence of Colorado outdoors.
Consider how lovely this color might appear amid snow-covered trees in the winter.
12. Yellow
It is a warm hue that is frequently used in traditional dwellings. This cheery and bright color complements darker roof shingles, such as a darker shade of brown.
As it is strongly linked with nature, it becomes a no-brainer color hue to consider for your wood cabins.
When choosing a yellow color, you may be as bright or as subtle as you want.
Bottom Line
Now that you've learned about the best sort of soothing wood paint for your wood cabin exterior choose your preferred color from the options listed above. 
Remember that brown isn't the only color to choose for a rustic wooden exterior.
Yellow, red, gray, or any other neutral color can complement a log home with dark brown or red roof shingles.
Share the post "12 Most Soothing Exterior Paint Colors for Log Cabins"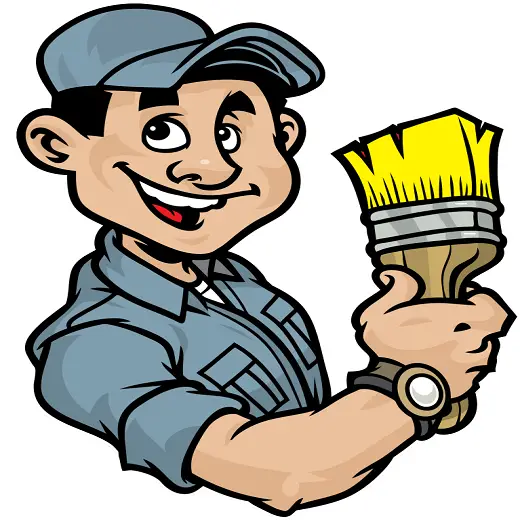 Douglas Becker (aka Painter Doug) has over twenty years of experience as a painter in Adkins, Texas. At present, he resides in Florida with his family.
From painting multi-storeyed houses, condos, and apartments to large commercial buildings and small offices, he had served various customers in areas not only in Adkins but also in Southwest Florida, Sarasota, Naples, and many more. To know more about him check here.