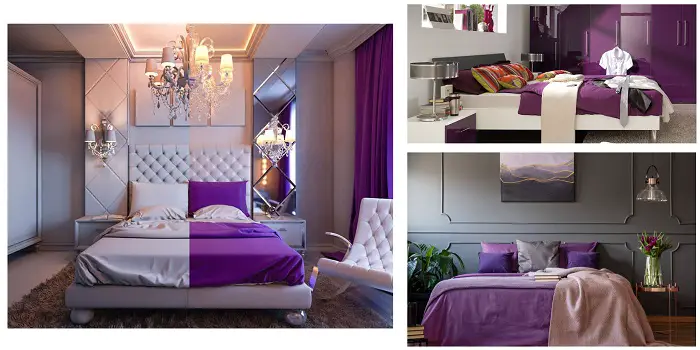 Color is an essential design element for a bedroom as it plays an important role in affecting our moods.
The modern color trend in most of our bedrooms is generally bright colors, and these act as a primary decorative tool for many.
However, glimmering and engaging colors like purple are much in demand for those who are looking for something different and unique.
Why Use Purple Color in Bedrooms?
Purple embodies the balance of red's stimulation and blue's calm.
Purple color, when used creatively in bedrooms, uplifts your mood and imagination and enhances your creativity as well.
It also aids in finding our inner harmony and is considered a relaxing color that provides an overall soothing effect.
Purple is associated with royalty, wealth, loyalty, honor, courage, nobility, valor, and spirituality.
Purple is also considered the color of judgment with a sense of mystic and royal qualities.
With so many benefits of purple, it is becoming one of the favorites of creative-minded people in their bedrooms.
If you plan to add some of them to your bedroom, study room, or living room, let us know how you can give your bedroom a soothing feel with this color…
Tips to Make Your Bedroom Look Purple
Purple is an inspiring and uplifting color, and the hues range from pale lilac to deep rich eggplant.
However, purple was most often a color that was difficult to match.
And for this reason, it has not been included in the home design.
In the present era, purple matches with a wide palette and range of colors to provide a modern look.
It is therefore easy to find purple accessories and appliances for bedrooms that are more modernized and of the most graceful look.
Purple accessories such as purple-colored rugs, floor mats, curtains, bins, canisters, clock, towels, and even towel holders can bring a cheery atmosphere into the room.
Instead of changing all the floor tiles and backsplash with purple, you can just consider changing the floor mats and beautiful rugs.
A bedroom is also incomplete with a few basic furnishings like a wardrobe, dressing table, bedroom chairs, bedroom vanities, bedroom benches, and of course beds!
You can add a flicker of purple while adding these furniture pieces to your bedroom.
There is also a wide variety of bedsheets and upholstery with purple colors available for your bedroom online.
You can also consider them to add to your bedroom's enjoyment factor.
---
How to Paint with Purple for Adding Romance?
Decorating your bedroom walls with purple paint, purple wallpaper, or some wall art is also an exciting way to add a fun element to the bedroom for couples.
Painting the walls or your old furniture with shades of purple is easy.
You can even do it in a DIY way without the need to hire a professional painter or a contractor.
The very first step when you want to paint the walls in your bedroom is to sand down your walls.
You should focus on getting rid of any bumps or imperfections that you have on your bedroom walls.
This may be time-consuming, but you will get the well-furnished and clean-looking wall at the end.
Then you should wipe down everything, so there is no sand dust on the wall.
This way, you can just see the clean white surface without any dust.
Now you need to use your scrapper to apply putty so that you can fill out any holes on your wall.
After about half an hour of drying, apply primer to get the smooth and silky touch on your walls.
Now when your wall primer is dry and ready to paint, you can add purple colors to it according to your feel and creativity.
After the first coat is dried, you can repeat another coat on your wall if you want to have a smoother finish.
When it comes to picking the right paint colors for the bedroom, use redder purple if you want a warmer color scheme.
And for cooling effects, use bluer purple colors.
If you want to give a rich look, use deep or bright purples. Lighter shades, on the other hand, offer a much more romantic and delicate look.
---
Warm Bedroom Colors that Matches Well with Purple
Warm bedroom colors reinforce a sense of security that is completely unmatched.
You can bring this effect to your small bedroom using warm colors like whites, yellows, browns, terra cottas, reds, bronze, and gold.
These not only make your room look warm but also adds a touch of class.
Next up, you must accessorize the rooms with fabrics that directly complement the ambiance of the room.
Choose fabrics that add a bit of comfort and warmth to your bedroom.
You can even choose from a galore of layered bedroom curtains to add the wow factor to your small bedroom.
Lastly, warmer-looking bedrooms need to be kept as organized as possible.
To do this, you must make the most use of the available space.
Some of the most commonly followed norms are the use of under-bed storage or a wardrobe that works up as shoe storage as well as a showcase.
List of Essential Furniture Items & Bedroom Must-Haves
No matter what color you choose for your bedroom renovation, when it comes to furnishing your master bedroom, there are certain must-have items that you simply cannot do without.
From a comfortable bed to ample storage space, here is a list of essential furniture pieces for your master bedroom:
1. A comfortable bed:
This is one of the most important pieces of furniture in your bedroom and needs to be chosen with care. Make sure you pick a bed that is large enough for you to stretch out and sleep comfortably.
2. A Wardrobe with ample storage space:
Another important aspect to consider when furnishing your bedroom is storage. You will therefore need a good wardrobe with enough space to store all your clothes, shoes, accessories, etc. A dresser or chest of drawers is also a great option for storing clothes, while a shoe rack can help keep your footwear organized.
3. A nightstand:
A nightstand by your bedside is essential for keeping things like your alarm clock, lamp, and other items within easy reach.
4. A mirror:
A full-length mirror is a must-have in any bedroom as it helps you get dressed and see how your outfit looks before heading out for the day.
5. A bench or ottoman:
A small bench, chair, or ottoman at the foot of your bed can provide a place to sit and get ready in the morning, as well as extra storage space for storing blankets and pillows.
With these essential pieces of furniture, your master bedroom will be both functional and stylish.
Be sure to take your time when choosing each piece to fit with the room's overall look and feel.
Final Thoughts
Since purple is a mixture of red and blue, it can produce both warm and cool effects in a bedroom.
Purple color can calm the mind and nerves and encourages creativity when used vibrantly in bedrooms.
However, besides purple, there are many more bedroom colors and paint ideas that have become the trend all around the globe.
As per your own convenience and need, you can always experiment with new ideas, hire the services of an interior design expert, or follow countless magazines to spice up your bedroom's look.
All you have to do is browse for them in the right places and add a glint of the color "purple."
And in no time at all, you would have transformed your small beautiful bedroom into your dream oasis!
Share the post "Is Purple a Good Color Choice for Your Bedroom?"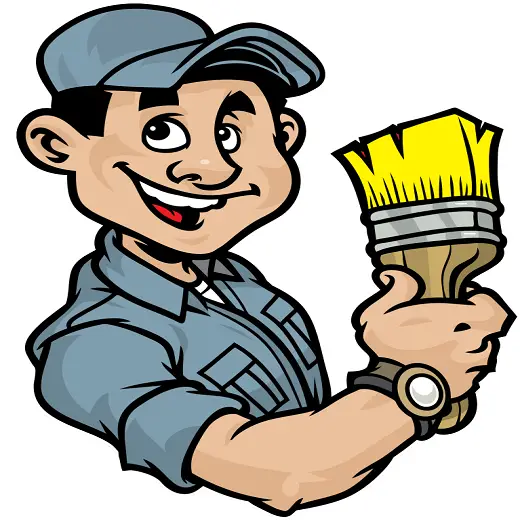 Douglas Becker (aka Painter Doug) has over twenty years of experience as a painter in Adkins, Texas. At present, he resides in Florida with his family.
From painting multi-storeyed houses, condos, and apartments to large commercial buildings and small offices, he had served various customers in areas not only in Adkins but also in Southwest Florida, Sarasota, Naples, and many more. To know more about him check here.