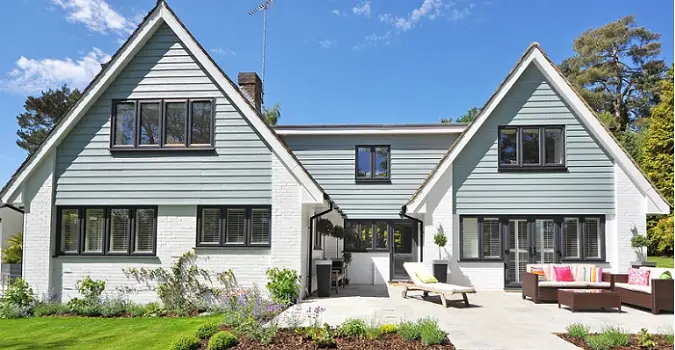 Even though bright colors like red, orange, pink, blue, etc. are favored, the classic favorite among many is still white.
The reason is simple!
Because white can counterbalance all other colors around it.
To signify cleanliness, white theme and packages are the absolute picks.
An exciting way of adding elegance to your theme is by painting your exterior walls white.
If you are painting walls inside your home with white paint, you can consider adding some exciting wall paintings, hangings, floral textures, etc., that can add beauty to it.
Why is White a Good Color for Exterior Walls?
The white color signifies purity. It also symbolizes mysticism and creativity.
So, it adds a fresh and cheerful look when you get your exterior walls painted with white paint.
The main reason I love using white paint for exterior walls at home is it's a color that perfectly matches well with any other color.
Ever wondered how white paint with a green or blue natural beauty can make your home feel warm and alluring?
I simply love white when it combines with the natural light of the sun to look "orangish"!
If you want, you may prefer a white with a hint of yellow or red undertones that looks simply amazing.
The Cons
While white paint looks simple yet decorative, it has some drawbacks.
First of all, if you choose the wrong white paint, the walls of your home exterior can look flat, somber, and cold.
It can also create a lot of shadows and hence can make the walls look dull.
It can be a problem if you use too much white.
But worry not as you can fix it simply by using 90% of white color with 10% of other accents like gray, light brown, or blue.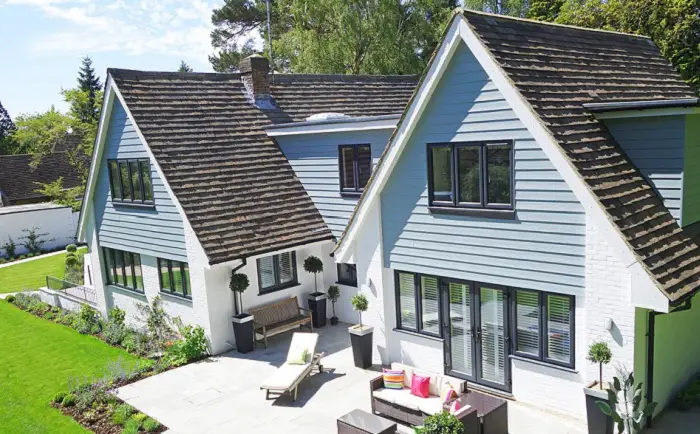 What are the Best White Paint Colors for the Exterior?
Choosing the right white paint color for the exterior of your house is important if you want to get the right feeling and beauty.
Fortunately, your decision to choose the best white can be overwhelming, as there are so many whites to choose from for your house exterior.
After trying various shades for my varied customers in the past, here are my top favorites.
Hopefully, you will also love these white exterior paint colors for your home…
Benjamin Moore's Simply White
Benjamin Moore's Soft White Dove
Benjamin Moore's Amazing China White
Sherwin Williams Oyster White
Sherwin Williams Snow Bound
Sherwin Williams Warm Pure White
Sherwin Williams Creamy White Duck
IMO, you should avoid something that looks too bright as it does not deliver the right message to the people passing by.
Also, during the time of the day when you have full sunlight, your house will be likely to have a blinding effect to look at.
The off-white or white paint that comes with a bit of creaminess can be the ideal choice as it won't be glaring to the eye.
Plus, it will provide your house with a softer and more pleasing appearance.
Before painting your exterior walls, test different white paint options.
If possible, you should look at all the swatches at different times of the day to see what they exactly look like.
Natural sunlight also determines how cooler or warmer the white shade looks on the wall's exteriors.
While north-facing walls get a bit of cooler white effects, south-facing walls feel warmer and enhance creamier, warmer whites.
---
Tips for Choosing Exterior Wall Paint Color for Your Home
Selecting an exterior wall paint color isn't simple as you need to consider several factors for it.
Here are some tips to keep in mind when selecting the best exterior paint and color for homes:
1- Selection of colors that match well
When you talk about exterior wall paint colors, it is important to go with one or a maximum of two options, as more colors on the house's exterior make it look cluttered.
If you think a single shade will give your house a monotonous look, choose different shades of that color.
The combination will provide an appealing look to your house.
Another great idea for the best exterior paint color is to never choose dark shades of black.
These colors are dust absorbent and force you to repaint your exterior walls more often.
However, it is suggested that you should use pale colors of dark shade and mix them with light shades.
As dark colors provide a sense of dignity to your house, you can use them to highlight the major features of the house. 
2- Attractive as well as durable
The exterior is the first thing that any passer-by sees.
Hence it is essential to choose the exterior paint color which is appealing to the eye.
Bright colors bring in an additional appeal to your house at first glance.
Brighter shades are a go-to exterior paint option as they are eye-catching and grasp immediate attention, even from a distance.
The quality and kind of exterior home paint color used also determines the durability of the paint color regardless of the shade chosen.
High gloss paints aren't suitable for exterior wall paints even though they have the longest durability.
You should choose satin or eggshell for a perfect exterior wall paint finish.
They are simpler to clean and more durable. These finishes also add to your exterior paint color ideas.
3- Effect of nature and painting season
No matter what color or finish you choose, it will only look good if it fits in with the surroundings.
People living by the sea or in hilly areas should focus more on choosing the paint color for their exterior walls according to the materials like brick or stone used.
The paint should match well with the mood and weather of their surroundings and backdrop.
Cool colors are recommended for houses located in hilly areas as it goes well with the weather and greenery surrounding the home.
Also, remember that exterior wall paints are more durable if they are painted in a particular season.
Regardless of the type, color, and quality of the exterior wall paint used, it also needs a minimum temperature to be painted well.
Exterior walls are painted perfectly in summers as there is a sufficient temperature for the paint to dry appropriately.
While painting in winters and the rainy season will make you re-do it.
4- Go for a theme according to exterior furnishings
If you know what you want on your exterior wall, you can achieve it easily.
Working around your exterior with a pre-decided theme in your mind will help you in choosing amazing color ideas.
It will also give your entire house a wonderful look.
Just like your interior, you can enhance your exterior paint colors also with furnishings.
So, if you have furniture or any other furnishings, make sure that the exterior wall paints you choose look more charming.
This also means that the wood or metal furniture used should gel in well with the color of the exterior wall paint. 
Along with furnishings, also check the color of your window trims and roof before picking the paint/stain for exteriors.
5- Oil-based vs. latex for exteriors
When selecting the exterior wall paint and colors, there are two major kinds of exterior paints to select from latex and oil-based paints.
Remember, oil-based paints are long-lasting and water-resistant compared to latex.
They also offer a shiny hard finish with a bold color appearance and are majorly used by expert painters.
You should use oil-based paint if the surface you are going to paint has previously been painted with oil-based paint.
While painting, it is important to stir oil-based paint from time to time as the oil in these kinds of paints may separate quickly.
If you are using oil-based paint, then use a roller or brush precisely designed for oil-based paint.
Latex exterior paints have seen a lot of improvements and some can be as long-lasting as oil paints. They are also simpler to work with and clean.
Make sure you choose an exterior latex for use on the exterior of your house, and never use the same latex on your inside walls.
Final Thoughts
Buildings with white exteriors were more popular in the eighties and nineties, along with the matching black color.
As you know, the time always returns, classic white and black is now again getting popular.
I believe mixing the paint colors and combining them can help in changing the mood of the dwellers.
While the color white in its purest form is capable of making optical illusions and ends up making the building look bigger if you want to get a dimmer effect, combining it with colors like gray, yellow, or black can be a great choice.
Just in case you think you do not like the white color at all, then just drop an idea and choose some other colors that you like.
At the end of the day, there is so much to choose from the pallet!
Share the post "Is White a Good Paint Color for Exterior Walls?"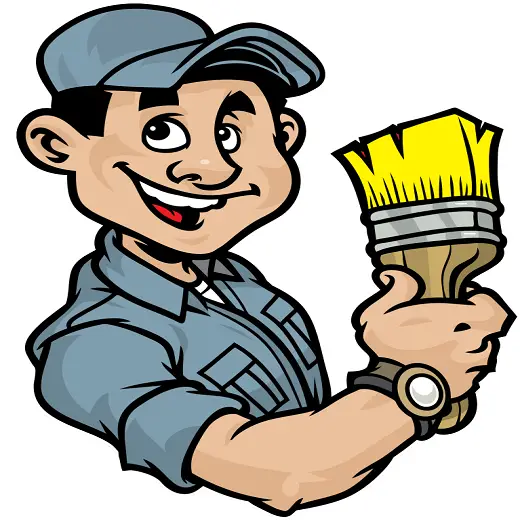 Douglas Becker (aka Painter Doug) has over twenty years of experience as a painter in Adkins, Texas. At present, he resides in Florida with his family.
From painting multi-storeyed houses, condos, and apartments to large commercial buildings and small offices, he had served various customers in areas not only in Adkins but also in Southwest Florida, Sarasota, Naples, and many more. To know more about him check here.