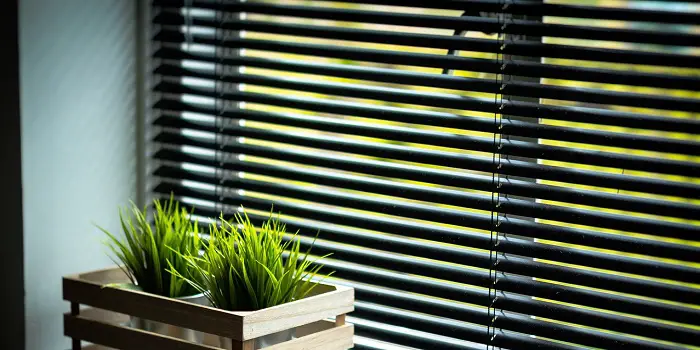 Wood blinds are highly energy-efficient and can add a lot to the warmth of your room interiors.
These can also offer optimum privacy without being much stark.
Offering a natural look to your home office or study, it gives the most natural, graceful look to the surroundings as well.
Many people prefer the coziest option of wooden blinds and consider them much better than traditional window shutters or curtains.
The two major types of woods used to make wooden blinds are;
Basswood is the most popular choice as it is much stronger and distinctive.
It is also ideal for staining.
Wood Venetian blinds come in various styles as well.
Based on the space to install and its cost, you can consider the following few options…
Vertical blinds
Faux wood blinds
Mini wood blinds
Woven wood blinds
These can also be combined with more features like fabric tapes, cord-want tilt, motorized, etc.
The add-on features to look for include UV control, light blocking, anti-static control, etc.
Apart from the décor and design, Venetian blinds installed on the windows and doors can also be colored and customized according to your needs.
For example, you can DIY paint them with colors like white, black, red, etc., if you want to install them as a major decorating element in your room.
How to Paint Wooden Blinds?
Painting old blinds can change the overall decor by adding life to your window treatments.
In fact, this is one of the best ways by which you can restore old and dirty faux wooden blinds into a new ones without actually replacing them.
The process may sometimes seem to be a hassle and time-consuming, but if you follow the right method and steps, you will make painting them very convenient.
Step 1. Prepping
The very first step starts with choosing the right location and protecting the area you are spray painting the blinds in.
You will need to lay down a tarp on the floor that will help in protecting the flooring from any overspray or paint splatter.
If possible, choose the isolated exterior location where you can leave the painted blinds undisturbed for drying.
Step 2. Dissembling
After you have protected the area, you will need to start with the slat removal process.
To remove the slats lift up the bottom slat.
Using a flat-head screwdriver, gently remove the pegs that lie in the bottom rail.
Pull the strings out of the holes, cut the knot, and slowly slide the bottom rail off.
Now, pull the main strings up making sure it comes out of all the slats properly.
Step 3. Cleaning
After you have removed the wooden slats, take them to your preferred location for cleaning and painting.
Make sure you deal with them with care to avoid getting them tangled.
Using a soft, damp cloth remove all the accumulated dust, dirt, grime, or fingerprints.
If you find the dirt, or grease too heavy to remove from blinds, use dish soap (or baking soda) in warm water to wipe it off.
Step 4. Priming
Applying the primer to your wooden blinds is important before you paint.
This will allow proper adhesion for paint and will also make the applied paint last for a long.
For priming, pick shellac spray primer and spray each slat evenly.
Shellac spray primer will bind well to bare wood and also to the wood that is finished with either oil- or water-based coatings.
After you have applied the primer on both sides, let the slats dry completely for about 4-5 hours.
It's good to check for the recommended period of drying time that should be stated by the manufacturer on their primer canister.
Step 5. Painting
Using a paintbrush (angled sash or a trim brush), apply enamel paint on slats.
Acrylic-based enamel paints are good for painting wooden blinds as its easy to clean and highly durable.
Instead of a paintbrush, if you want, you can use a sea sponge or a sprayer to paint the blinds in the protected location on the tarp.
Make sure you apply the paint slowly on the edges and only on one side of the slat at a time.
After it's dried, flip the slats over and spray paint on the other side evenly.
Wait for the recommended period of time to let the paint dry completely.
After the slats are completely dry, assemble them back to the window by following the exact same steps you did while disassembling.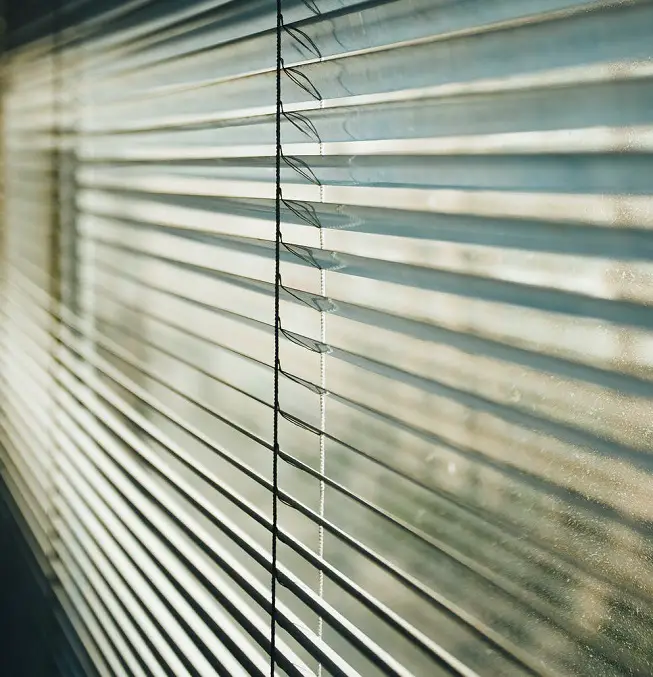 ---
How Can You Remove Paint from Blinds?
If you have mistakenly spilled paint on your blinds while renovating or want to remove the old paint, do not worry.
You have several ways to get rid of the paint from your wood blinds within minutes. 
However, you need to act quickly before the paint gets soaked in.
It is simpler to remove wet paint in comparison to dried paint.
Here are some methods to remove paint from different types of blinds without hampering them:
1- Paint thinner
Opting for a mineral oil-based solvent helps in the removal of paints from different types of surfaces, which include wood as well as fabric.
However, as a safety measure, you should wear rubber gloves while using paint thinners as they may cause skin irritation.
Wipe out the spilled paint from the blind by rubbing the thinner directly on the infected area with the help of a cloth or sponge.
Then proceed to the fabric fibers. Once all the paint is out, wash the fabric with a soapy solution and warm water so that the thinner is thoroughly removed.
2- White vinegar
Vinegar is the best cleaning agent to clean painted Venetian blinds, be it PVC or faux wood.
Use an equal proportion of white vinegar and warm water.
Wet the microfiber cloth with this solution, dab, and rub on the paint, which lies in the affected areas.
The solution will gently remove the paint from the surface without harming the look of the blind.
However, it only functions when the paint is still wet.
3- Detergent liquid soap
Lukewarm water with liquid soap will remove the paint from wood or fabric blinds in case the paint is fresh.
However, this method is suitable for water-based paints only, which DIY professionals often use for interior décor.
You should remove the blinds from the headrail for quicker and better results.
Mix equal portions of lukewarm water and detergent in a bowl and put the solution on the fabric from the back.
Press the paint out of the fabric but do not allow it to spread further.
Then rinse the blind in warm water and repeat the procedure, if necessary.
Once the paint is removed from the fabric, allow it to dry under natural sunlight and gently iron the treated area.
4- Chemical paint removers
If you are in need of something which has been specifically designed to clean paint from wood or any other surface, then there are several products to select from.
A product like Goo Gone excels in the removal of sticky stuff like paint.
All you need to do is just spray this solution on the affected area and allow it to soak for a few seconds.
Once it has been soaked, use a scraper to shave off the paint.
The product does wonders on dried paints and is comparatively cost-effective too.
---
Tips and Precautions when Painting Wood Blinds
While enamel paints work best to revamp window shades made of wood, choosing the right paint for vinyl blinds, roller blinds, fabric blinds, or roman blinds can be tricky.
If it's fabric or vinyl blinds you can use acrylic craft paint for better results.
Many DIY painters also recommend using paint varieties like chalk paint, emulsion, or a fabric dye to change the color of the blinds.
If you prefer using them, you should first test them on a small area before painting all the slats.
Remember, when applying the paint, you will need at least 2 to 3 coats because the fabric will absorb the paint very quickly.
Plus, when dried, the paint will appear to be lighter than the color you have painted it with.
No matter what paint you choose, make sure you spray the blinds in even coats using an up or down motion.
Continue spraying them in the same direction throughout the surface to get the right finishing.
Final Thoughts
Wooden window blinds look beautiful from both inside and outside.
Not only does it offer adequate light but also optimum heat control during the daytime.
Painting them right can be even overwhelming.
And if you follow the right steps, combined with the right paint products, you can easily redecorate your old blinds into new ones within no time.
Share the post "How to DIY Paint Old Wooden Blinds in Your Home or Office?"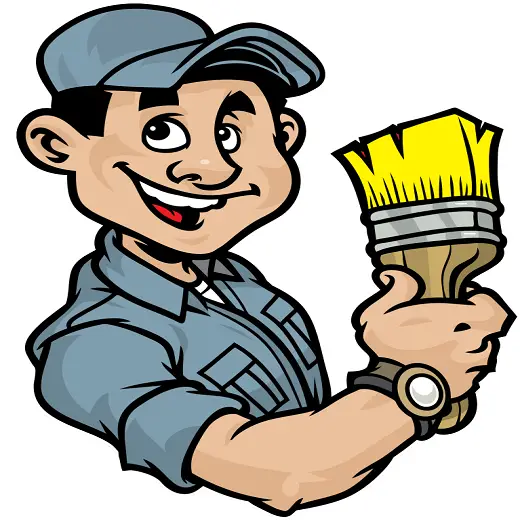 Douglas Becker (aka Painter Doug) has over twenty years of experience as a painter in Adkins, Texas. At present, he resides in Florida with his family.
From painting multi-storeyed houses, condos, and apartments to large commercial buildings and small offices, he had served various customers in areas not only in Adkins but also in Southwest Florida, Sarasota, Naples, and many more. To know more about him check here.