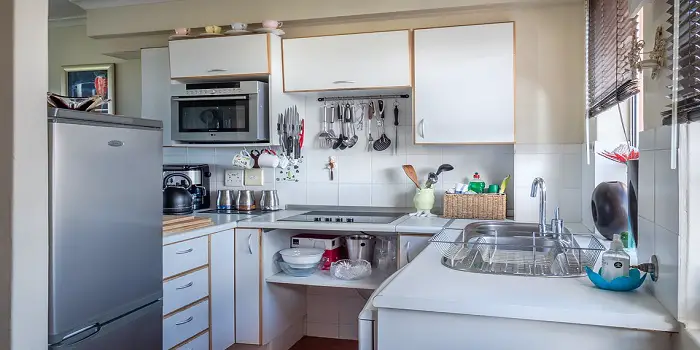 Suppose you have a small kitchen, Congrats! You've got a more efficient workspace.
Since you have a small space for your kitchen, you need some great kitchen decorating ideas to keep it organized, functional & beautiful.
As experts say, 'you can organize your life if you can organize your kitchen.
Keeping that in mind, I've shown up with some amazing ideas to decorate the small kitchen.
Let's start with painting cabinets first…
What Color to Paint Cabinets in a Small Kitchen?
Just like selecting the design is essential, selecting the right color for the cabinets in a small kitchen is also important.
It must match the walls and interior design of the kitchen.
Also, it must go with the overall theme of the house.
It must look good and also give your visitors a taste of your choice.
Some of the lighter hues I feel are perfect for small kitchen cabinets are…
1- White
White is difficult to maintain, but it's an all-time favorite for some strong reasons.
Even today, you cannot deny the power and effect of white.
An all-over white or white inmost parts cabinet is going to bring on the following effects:
A lighter, brighter mood due to the peaceful, calming effect of the color
The reflection of light would be high due to the color
Space would look roomy and larger due to more ambient light- good for a small kitchen or room
The downsides of white are maintenance.
After some time, you may not feel that great with it and may consider coloring some parts or the borders.
If that's the case, you may try hues of light gray as an alternative to white.
2- Yellow
Yellow is bright and the perfect mood-setter.
You can always design a yellow custom cabinet and set the mood of the room to be fun-filled, cheery, and mirthful.
You can combine dark colors like brown and black with yellow and even lighter colors like pink, white and gray.
3- Teal
Teal works great in creating a cool rustic look.
If you love this theme, you can get a teal-colored cabinet in matte texture.
This can look great in a room that is painted in light colors like white, cream, or grey.
4- Green
If you love nature, you will surely love to paint your cabinets with shades of light green.
You can add to the beauty by adding some fabrics or wall coverings.
This will give you a natural feel when cooking.
5- Brown
Brown is always a great color and the natural color of wood too.
Hence you may plan a custom cabinet in any shade of brown.
Light brown, medium brown, and dark shades like walnut all work and have their charm.
I have recently used Elemental Interior Paint designed by Magnolia Home (Joanna Gaines) in our small kitchen area.
And we just loved the warmth it created.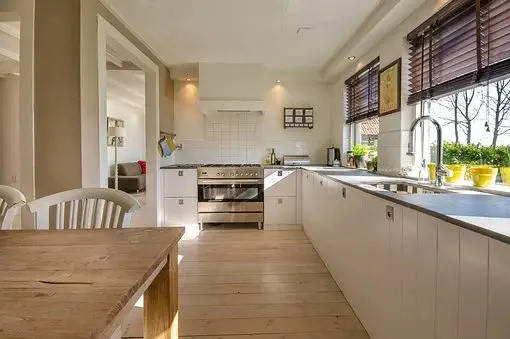 ---
Few Other Ways to Make Your Small Kitchen Look Larger
Now when you have chosen the right colors for your kitchen cabinets, you can also follow certain strategies that can help to make your small kitchen look spacious.
Some of these include…
1- Cleanup the Clutter
Clutter, one of the most popular and annoying terminologies in the cleaning industry, is equally irritating to the design mania as well.
When you have a shortage of space, you end up having clutter.
You don't need to add more storage, but de-cluttering your kitchen is enough.
So, what you need to do now, is just go through the cabinets & drawers and toss anything that you won't be using anymore.
2- Lack of Counter Space
So, you have the counter space, right? But you still think it's not enough, and you need more.
If that's what you're concerned about, you're not alone.
You can try out some new ideas for installing quartz countertops that can help maximize the counter space in your small kitchen.
One of the best tricks can be turning the sink into a cutting board.
3- Hideaway the Furniture
If you want to maximize the functionality in your kitchen and especially in a small kitchen, you need to try the creative approach this time.
How about creating a multipurpose space using practical furniture items like;
Backless bar stools: You can also tuck them away
Roll-out kitchen cabinets and tables
Dropdown & wall-mounted tables and cutting boards
4- Cooking Tool Wall Storage
If you've had a chance to visit the cooking areas of the busy restaurant, you must have seen the industrial wall hardware and racks for utensil storage.
Here are some more ideas for storing utensils & tools on the wall:
Hang racks for utensils. All you need is a simple bar with hooks that'll hold tools with a loop or may hole in them.
To hang your tools, you can also consider painting & hang a pegboard. Make sure you keep items organized by color or use.
The best way to store knives is to either use wall magnets or spice jars.
5- Pot Racks and Additional Shelving
There are many options available for smaller kitchens when you plan to buy the pot racks.
Keep in mind, that the pot racks don't need to hang from the ceiling, and you can pick the one that can be easily wall-mounted since you are short of space.
Also, to have additional storage, you need to find the places as per the latest kitchen designs.
For your favorite cookbooks, a row of narrow shelves on your kitchen island is just perfect.
Also, check out some additional places that include corners and maybe over a counter.
6- Light up the Countertop
Adequate lighting is necessitated by the area in and around the countertop.
They are in need of separate ceiling spotlights kitchen, rather than that spilling over from here and there.
Hood light overlooking the stove-top and the countertop can be one of the solutions.
Also, have the under-cabinet lighting so it can easily brighten up your work area & accent your cabinets too.
Keep in mind that good lighting will make your kitchen look bigger, no matter what the color is.
Here are some amazing ideas for you to check out;
Clip Pendant Light onto existing track-lighting systems.
Replace normal light bulbs with energy-efficient versions.
LED strip lights to shelves and under-cabinets illuminating the counter space.
Make sure to add a mirror to the kitchen wall — Adding a mirrored backsplash is a great idea.
7- Brighten up the Dark Kitchen with Paint
No matter what, the darker rooms always feel smaller.
Therefore, you are supposed to brighten up your walls along with some fresh coat of paint — try going for the lighter shades.
The color scheme of the small kitchen area must be selected carefully as this place is a special space for a woman.
The color must be soothing to the mind and enhance your spirit when cooking.
Distracting and darker hues must not be chosen as they will affect the productivity in the kitchen and can make the area look even smaller.
Referring to an expert painting idea can be a great decision.
Hopefully, following these brilliant ideas, you can effectively brighten your small kitchen.
Combine one or more to get a fresh feel and enhance productivity.
Share the post "What Color to Paint the Cabinets in a Small Kitchen?"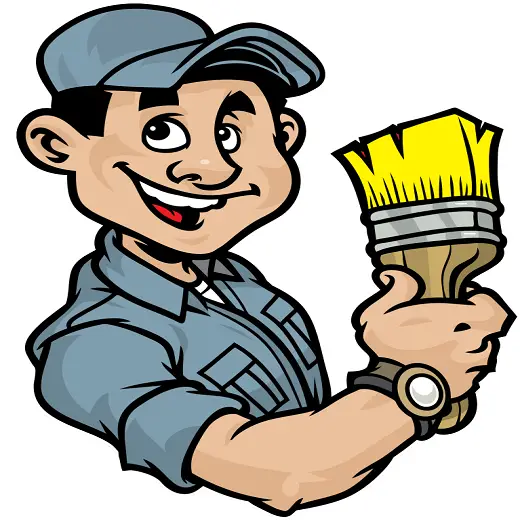 Douglas Becker (aka Painter Doug) has over twenty years of experience as a painter in Adkins, Texas. At present, he resides in Florida with his family.
From painting multi-storeyed houses, condos, and apartments to large commercial buildings and small offices, he had served various customers in areas not only in Adkins but also in Southwest Florida, Sarasota, Naples, and many more. To know more about him check here.