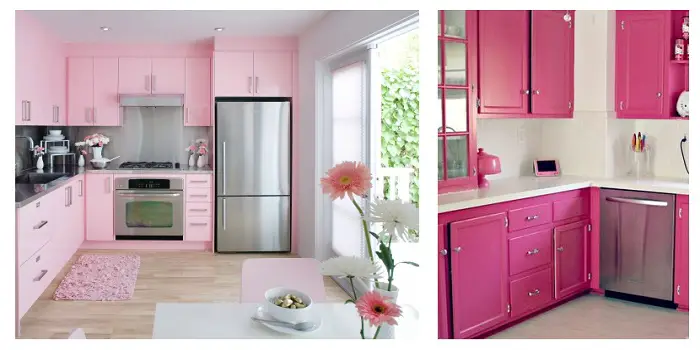 The color pink is the favorite girl color which is most admirable to them.
In fact, a color like baby pink has always been a color suited to a girl's palate when it comes to decorating their bedrooms, bathrooms, and various other rooms at home.
Plus, a paint color like pink in a place like our kitchen gives it a pleasant and happy look.
This is the reason when painting a kitchen pink or buying pink kitchen appliances, one feels happy and thinks of pink as a cheerful, pleasant color.
Especially if you have a girl child in your home, she will simply love the pink environment of the kitchen, which can be decorated with the help of pink kitchen appliances and accessories.
How to Decorate Your Kitchen Pink?
Spaces in our homes are getting smaller.
With the popularity of the apartment living style, smaller space in our homes is common.
We are actually bound to live in small areas due to the budget we have.
Light colors like baby pink can, however, become the most viable option that may bring the very difference that you are looking for.
Here are seven tips and decor ideas that can make your kitchen look awesome with pink; check them out:
1- Paint walls pink
Decorating your kitchen walls with pink color can be a great idea to add creativity and fun element to your space.
You can paint your walls the color pink on them.
If you are considering repaint, there are eco-friendly paint options available (such as milk paint, chalk paint, etc) to restrict pollutants.
You should choose them, especially if there are individuals who are sensitive or have allergies.
The color scheme of the cabinets, doors, windows, and other kitchen accessories must be kept in mind while selecting the right paint color.
2- Add wallpapers
If planning for wallpapering the walls, you should be able to find different patterns such as flowers, foods, or leaves.
These will give your kitchen a completely homely and inviting appearance or, on the other hand, a plain and shiny appearance that creates a sleek modern feel.
Ask your cabinet maker about the option of wallpapering your kitchen cabinets, and you will discover that it is going to be surprisingly easier and cheaper; it will also give your entire kitchen totally new look.
With wallpapers, you may want to go on with the existing color scheme to accent the floor and walls or choose a contrasting appearance.
Adding items such as wall art, pictures, paintings, and tiles can also serve the best purpose in decorating the pink-painted walls in your kitchen.
3- Add pink mats and rugs
After the walls, you should also pay attention to the kitchen mats.
Rugs and mats in your kitchen are essential to keep your space clean and tidy.
Adding pink-colored rugs and mats to your kitchen not only makes the kitchen look attractive but also helps in organizing it easily.
And while buying one, you should choose the material that is non-slippery and most suited to your kitchen style.
4- Replace kitchen appliances
With a new concept, people are increasingly inclined to small kitchen appliances that are readily acceptable to everyone.
In the market, there are many types of appliances for your kitchen, which include:
air fryer and deep fryer
blenders and mixers
microwave oven
coffee makers
electric heater
pressure cooker
waffle makers
toasters, and many more
All these kitchen appliances are available in colors like pink and are mainly designed for smaller kitchens.
Using such small appliances can instantly enhance the beauty of your small-sized kitchen.
These are all cheap to buy, and everyone can get them within a short span of time after placing an order online due to the ease of shipping.
5- Buy pink kitchen gadgets 
Don't want to invest in new expensive appliances, why not consider cheaper kitchen gadgets?
You may look for smaller versions at lower costs that completely suit your pocket.
Try to find them in different colors so that they make your kitchen space colorful and you feel like cooking with them.
Adding various gadgets to the kitchen makes cooking easy and fast. And if added with some creativity, it can add a fun element to the cooking as well.
For example, stuff such as garbage cans or bins may seem a common item.
But choosing a stylish-looking pink kitchen trashcan will definitely add uniqueness.
Pink kitchen storage jars, knives, timer & wall clock, scales, towels, and much more can also be considered according to the requirement and space in your kitchen.
6- Pink kitchen floor and tiles
There are many people who feel an all-pink kitchen can have a negative impact on them as well as their guests.
However, one can easily change this sterile look when pink is accented with one other color, such as white or red.
You can therefore consider adding tiles or backsplashes for getting this stylish flooring of your desire.
IMO pink-colored floors with white rugs in your kitchen can make your kitchen look brighter and more prominent.
7- Add some pink kitchen furniture
Pink furniture in the kitchen is a popular choice for many because of its clean look.
So, adding pink kitchen furniture items such as a pink-colored table, chairs, curtains set, countertops or island, cabinets, tiles, cupboards, and doors offers a rich look in a unique way.
All these pink kitchen items or kinds of furniture stuff are now available in the online market to choose from.
You can shop for them to add a fabulous look to your kitchen in an easy and affordable way.
No doubt, you have to keep certain important aspects in mind before shopping for these furniture items for your retro kitchen.
You need to consider the floor space, perimeter, and area of your kitchen to buy the compliant set.
Final Thoughts
As far as the interior design of the kitchen is concerned, playing with the right colors might help a lot.
And with colors like baby pink, you can easily make your favorite kitchen space most appealing.
Hopefully, with the above few tips, you can now easily renovate your kitchen even with a low budget.
Share the post "7 Exciting Tips to Decorate Your Kitchen Pink"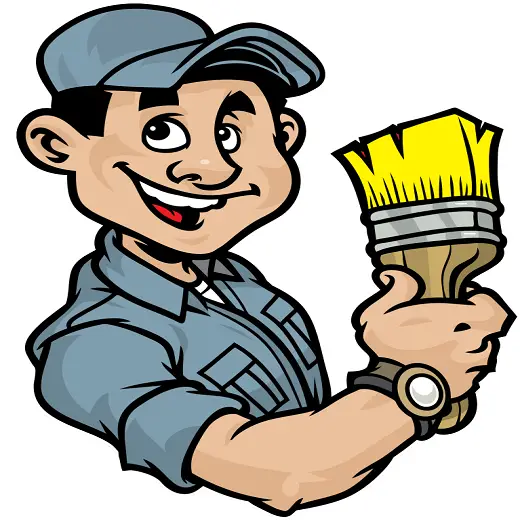 Douglas Becker (aka Painter Doug) has over twenty years of experience as a painter in Adkins, Texas. At present, he resides in Florida with his family.
From painting multi-storeyed houses, condos, and apartments to large commercial buildings and small offices, he had served various customers in areas not only in Adkins but also in Southwest Florida, Sarasota, Naples, and many more. To know more about him check here.