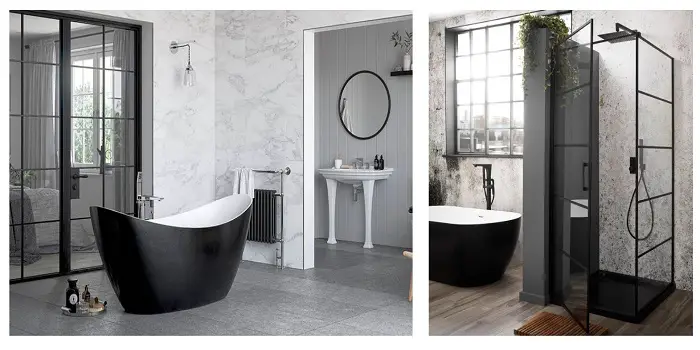 Color black is most of the time linked negatively as a symbol of grief, death, mystery, evil, etc.
However, when used and decorated with caution it can reveal its various positive aspects such as power, elegance, style, strength, and authority.
Black is typically a mysterious color that can evoke strong emotions and the feeling of being overwhelmed and seriousness.
When talking specifically about the bathrooms, black when used with light combinations looks prestigious, seductive, sexy, strong, and sophisticated.
However, black when used with clothes and interiors can also produce a slimming and shrinking effect which sometimes makes the obese person look elegant and a large space shrink in size.
So, if you love the color black and have already planned to buy black-colored accessories for your bathroom, it's important to get it right.
Problems with Black Color in Bathroom
People who buy elegant and expensive pieces of black bathroom accessories often find it hard to make their overall look good as there are very few colors that match and look good with the color BLACK.
One other problem with paint black color is that the place may look even smaller when stuffed with black pieces.
Especially when you match these pieces with colors like red, purple, blue, brown, violet, etc. can make your place look stuffy, stupid, and uninteresting.
Well, then what's the solution?
Should you not go with black-colored accessories? Or should you totally avoid using the color black in your bathroom?
NO, not at all.
BLACK is such a lively color that we cannot even think to ignore it while renovating or decorating our bathrooms.
In fact, this is a color, you should definitely try adding to your space. Just avoid them using in bulk if you have a small bathroom area.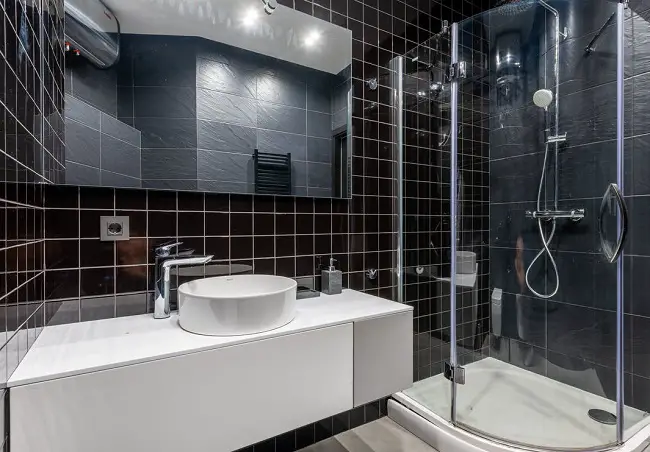 ---
How to Add Glimmer with Black Color in Bathroom?
Remodeling and renovation of your bathroom is not a fuss unless you plan ahead and install the right amenities matching your space, budget, and taste.
When decorating your bathroom with the color black, discuss with your family and understand their requirements with respect to bathroom improvement.
This is the very first step.
The next step is to look into their desires.
These desires could be the shades of black you want to be painted in your bathroom or the type of coverage you would like to have on the curtains and basins.
This could be as simple as shiny linen of cozy cotton.
1- Toilet & Faucet
While picking a toilet that is black in color, it's also important to look for the height, size, design, and functioning.
These are the major things that influence your buying decision.
If you are just replacing a new toilet with an old one it's recommended you replace it with the exact same type.
If you do not, you happen to be left with holes inside the old one to deal with.
The size of the faucet is a matter of very own selection as well.
Some people prefer a large swan-necked claw foot faucet that gives a cascading water sound since it pours water into the bath.
Others decide on the little far more conservative version.
Whatever the type, size, style, finish, or features you select; your toilet and clawfoot faucet is sure to become the finishing touch for your tub and other accessories in your bathroom.
2- Black Shower Curtains
Shower curtains come in many types that are characterized on the basis of use, size, color, design, etc.
Considering the fact, you are looking for black shower curtains, there are ringed shower curtains, hooked shower curtains, hookless shower curtains, etc.
Selection among these depends on personal choice and the architecture of your bathroom.
The next characterization is based on size. You can have short, long, and extra-long shower curtains for your bathrooms.
When installing an extra-long shower curtain, it is very essential to place the rod higher so that the curtain may not create a mess.
The best thing about these bathroom shower curtains is that they help in keeping water from leaking onto the floor.
Also, if you are planning to replace your bathtub or it needs to be refinished, the extra-long black shower curtain will help you in hiding it.
3- Black Floor Matting
It is not uncommon for bathroom floors to get wet and becoming a walking hazard too soon.
Thus; using black-colored rubber floor mats in your bathroom is a wise thing to do.
Because of the fact that they come in high grip variants, they are efficient in dealing with wet floors in bathrooms.
Not only these mats are elegant in looks, but they are extremely durable as they efficiently withstand the tougher stains and spills.
Plus, you are also benefited from the fact that these rubber floor mats are easy to clean and have lasting age.
4- Floors and Countertops
The reconstituted stone or an engineered stone is basically used for floors, countertops, bathroom lining, bar, bath area, and many such places.
The best part about this type of black and white flooring is you can customize these stones and these can be given the style, texture, and color that you like.
You can choose these things as per your desire and the manufacturer will provide you with the perfect product.
In terms of the durability of the material, stones such as black granite or marble are a good selection for bench-tops as well.
This is because it is heat, odor, and stain-resistant.
Since this type of granite countertops are so resistant to undesirable natural elements, you only need to clean stains off with a damp cloth or mild detergent.
This means that you don't need to use harsh, potentially environmentally hazardous cleaning agents for your bathroom.
This ensures the safety of the home environment.
5- Bathroom Lights and Fittings
Lighting your bathroom with designer black-colored lights can provide an enhancing beauty to the light colors of the walls.
These lights are available in plenty of designs and fit a wide variety of budget plans.
Don't waste your money unless you want extra lavishness and splendor in your bathroom.
Bathroom ceiling spotlights have functional roles to fulfill besides serving as designer pieces.
Thus, in course of selection; you need to focus as much on geometry & symmetry as that on the cuts of design.
Bathroom fittings are also available to the modest commoner to an extravagant king or prince.
Antique bronze and copper, brass, polished chrome, and nickel are a few of the options over a market.
Just look around and get the best you want to have for your bathroom.
The bathroom fittings you choose should look un-cramped and make you feel spacious.
You can even install a pedestal instead of a vanity if you have space constraints. 
Final Thoughts
A bathroom is one of the primary places where you enter to keep yourself fresh, relaxed, and clean.
Thus, it itself should be a place in your home where elegance, style, and mood match with your desires.
When it comes to black bathrooms, most people prefer black color because it never gets out of fashion.
However, when decorating and matching other things with black-colored bathroom accessories it sometimes becomes a hassle for many.
So, make sure you keep it minimal and consider the amount of space you have in your bathroom.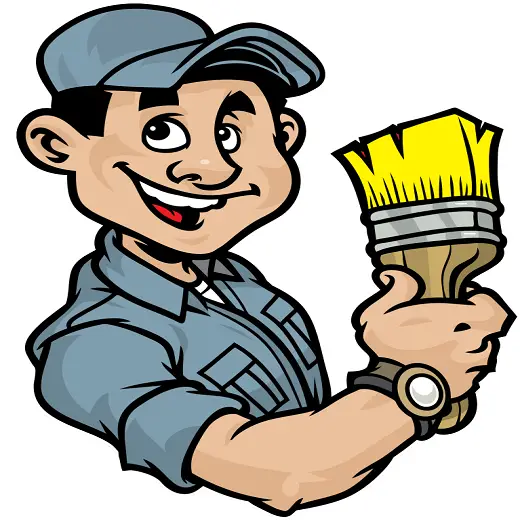 Douglas Becker (aka Painter Doug) has over twenty years of experience as a painter in Adkins, Texas. At present, he resides in Florida with his family.
From painting multi-storeyed houses, condos, and apartments to large commercial buildings and small offices, he had served various customers in areas not only in Adkins but also in Southwest Florida, Sarasota, Naples, and many more. To know more about him check here.