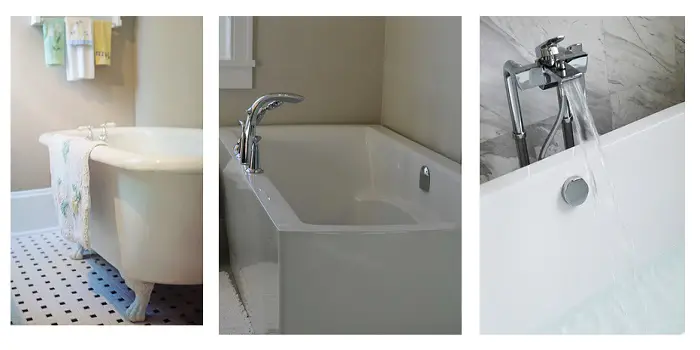 Fiberglass reinforced plastic (or FRP as it is more commonly known) is one of the cheapest materials that is used to create a bathtub.
Tubs made from FRP are tough, light, and easy to install and repair.
However, they are not very durable, which means that over time they can fade, scratch, and crack, which means that they will not last as long compared to most other materials used to create tubs.
If you have an existing fiberglass tub, it will be dulled over a few years.
Painting the tub properly will restore its appearance at a fraction of the cost compared to replacement.
If you want the best type of paint to use on fiberglass surfaces, it is difficult to beat epoxy.
Epoxy paint is tough, water-resistant, and will resist scratches as well when used for fiberglass tubs.
You will need to apply the epoxy paint the right way, so be sure to fully read the instructions first.
Remember that once you mix the different elements, you will need to apply the paint quickly before it becomes useless.
Ideally, you will want to use toxic-free paint that has few odors and can be applied easily.
So, acrylic paint can also be another good choice.  
It is easier to use and apply compared to epoxy but will require a latex primer to be the most effective.
How to Paint Fiberglass Bathtubs?
If you are purchasing a fiberglass tub, you may have noticed the color choices are not really that great.
However, there is something you can do about that by painting the tub the color of your choice.
All you need is the right paint and technique to do the job.
Below are the exact steps you will need to follow…
Step 1- Prep the Tub
Refinishing a bathtub does take some work, but it will be worth it if you want to improve the appearance of your bathroom.
So be patient and take your time while preparing the surface so that you can achieve long-lasting results.
Clean:
Before you can apply the paint, you will need to thoroughly clean the tub.
This means removing the grime using a soap-scum remover, getting rid of the oil using acetone, and applying bleach in diluted form to kill any mold or mildew that might be present.
Once you have achieved that goal, you should rinse the tub and prep it properly.
Repair Cracks:
Epoxy putty can be used to fill in any cracks, dents, or imperfections.
Do not worry about the color of the putty since you will paint over it.
Remove Metal Fixtures and Old Caulk:
Anything in the tub that will not be painted should be removed or covered by painter's tape.
Use a putty or utility knife to remove the caulk, just be careful not to scratch the surface.
Any remaining caulk can be removed using a grout brush.
Be sure to wipe down the entire tub afterward using isopropyl alcohol.
This will clean the tub again and evaporate relatively quickly.
Step 2- Paint the Bathtub
Now you are ready to paint.
Start by covering all surfaces outside the tub using drop cloths to ensure that no paint reaches the surface.
Next, if trim is on the tub, you can use painter's tape to cover the areas you want free of the paint.
Sand:
Use 80-grit sandpaper, and lastly, sand the entire tub.
Once finished, remove the grit using a tack cloth.
Mix the Paint:
Read the instructions and mix the paint properly.
If you are using epoxy paint, you may have to mix both the base and catalyst together, or they may already be combined.
Stir the paint in that case, and you are ready to begin.
Apply the Paint:
You can use a varnish brush, foam brush, or foam roller to apply the paint, your choice.
The goal is to create a light layer followed by a second coat for maximum effect.
If you apply a smooth second coat, you may not need a third unless you want to maximize the protective qualities.
Now you can replace the fixtures on the tub and recaulk the areas that run between the tub and the wall or floor.
A neater line of caulk can be created when you use painter's tape along the seam.
You can use your fingers to smooth out the caulk if you keep them wet.
Step 3- Gel Coat Application
If you are repainting an old tub and using a gel coat, then you can repeat the steps listed above.
You may need to scrub out the tub surround more depending on how much soap scum, dirt, grime, and oil have been building up over the years.
You also may need to sand the tub surround more to remove any imperfections that might have developed as well.
While 80-grit sandpaper works well, you can alternate with finer grains to ensure a smoother surface.
Remember to remove the grains from the tub before you start painting.
Now you can mix the gel coat as directed. Pour it into a small bucket and stir until it is ready.
Now, use a spray gun to add the gel coat to the surface.
Cover the tub in a fine mist and let it harden, then repeat to create a solid surface.
You will probably need to add a third gel coat for maximum effect.
Once the surface is cool to the touch, the gel coat is ready for use.
You will probably want to let it dry or cure overnight and then use the tub when ready, as indicated in the directions.
That will prevent the water from penetrating the surface, assuming the gel coat is not quite dry.
Can You Use Acrylic Latex Paint for Fiberglass Tub?
FRP material is slippery and is not very easy to paint.
While epoxy is ideal and does provide the most durable coat, acrylic can be used for fiberglass tubs, shower stalls, shower surround, etc., if you do not find epoxy paint available near you.
Acrylic latex paint is water-resistant and provides a hard-wearing, durable finish, provided you have prepared the surface well and have applied it on top of latex primer.
Since this water-based paint contains fewer chemicals, it's convenient to apply and environmentally friendly.
Moreover, acrylic holds up well to cleaning and is less likely to crack or peel off.
Remember, if you are picking the paint for outdoor objects like fiberglass boats, urethane and epoxy will be the best product to choose.
Unlike acrylic paints, urethane provides higher performance where the projects need to take much beating.
Final Thoughts
Changing the color of the FRP bathtub not only adds a layer of protection but can also create a brand-new look that will sparkle.
While achieving such results may seem to require a professional, the truth is that if you use the right paint, you can do the work yourself.
Epoxy paint and a good gel coat which is the resin of fiberglass complete with color, make an excellent choice.
You can even purchase a kit to make the process easier if you desire. The best part is you can find them at your local hardware store.
Share the post "What Type of Paint to Use on a Fiberglass Tub?"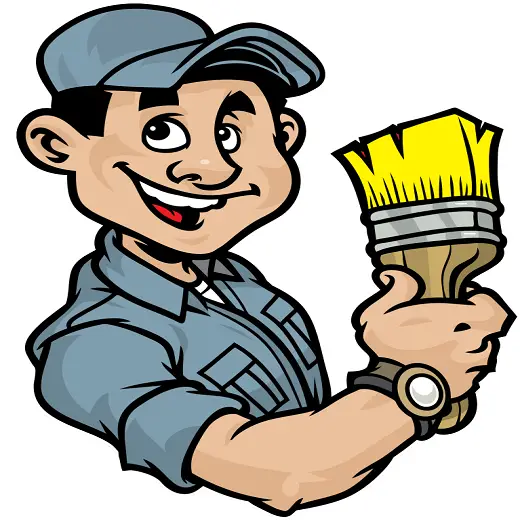 Douglas Becker (aka Painter Doug) has over twenty years of experience as a painter in Adkins, Texas. At present, he resides in Florida with his family.
From painting multi-storeyed houses, condos, and apartments to large commercial buildings and small offices, he had served various customers in areas not only in Adkins but also in Southwest Florida, Sarasota, Naples, and many more. To know more about him check here.