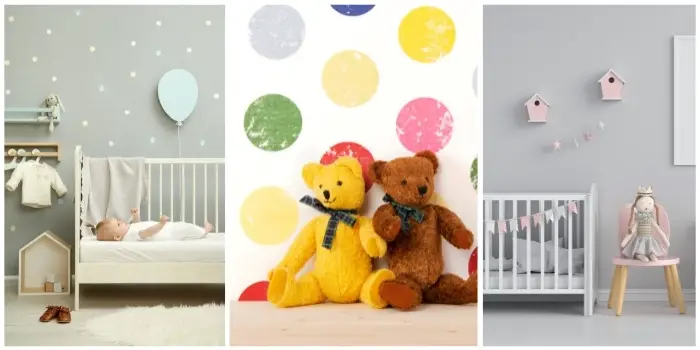 Looking for the nursery paint colors? Don't know what would be the best color for a baby's room?
Don't worry. We've compiled a list of the top nursery color schemes to help you boost your nursery decor.
Whether you want the nursery color palette to instill sentiments of comfort and warmth, or you're searching for a relaxing color scheme.
Or perhaps you are interested in color psychology and how it might assist you in choosing nursery colors.
Whatever the situation may be, you will undoubtedly find inspiration.
To help you start your nursery design job, here are some of our favorite nursery paint color choices.
1. Pink
Pink conveys unconditional love and compassion, making it an excellent choice for a baby's nursery. 
It evokes warm and comforting sentiments, which may aid in your child's relaxation. 
Pink has been found in studies to have a soothing impact on the human mind and reduce aggressive behavior. 
Choose a delicate, peachy tone or a dusty pastel and apply sparingly, balancing the color with lots of neutral space to keep your child calm and happy.
2. Yellow
Yellow is connected with optimism and happiness, so it's a natural choice for your baby's nursery. 
Instead of using strong, harsher tones like lemon or neon, try a gentler alternative like daffodil or dandelion. 
The warmth it emits creates a relaxing ambiance. 
Floral wallpaper with a yellow background might be a great way to start.
3. Earthy Neutral
Neutral earth tones offer a warm, anchoring influence and may help you create a homey ambiance. 
Neutrals are also quite easy on the eyes. 
Earthy beige and brown tones provide your baby's growing eyes a much-needed break from exciting color and contrast, helping your little dreamer to unwind and sleep.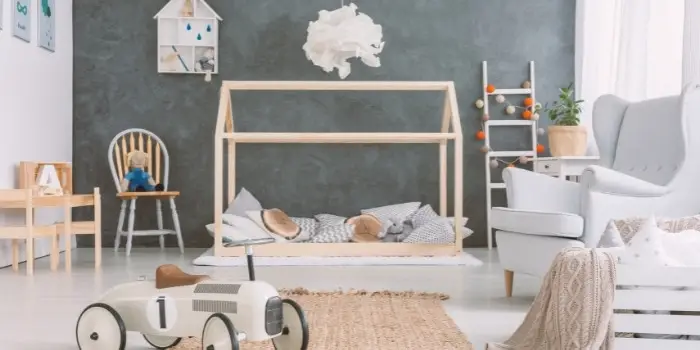 4. Subdued Blue
Soft colors of blue, like a peaceful sea or a clear sky, tend to soothe both mind and body, giving us the impression that everything is well in the world. 
Blue light is known to reduce blood pressure and heart rate, cooling the body and preparing it for sleep. 
Blue also reduces anxiety and aggressiveness, making it a natural remedy for apprehensive babies and tantrum-prone children.
However, avoid dark blues if you want to create a sleep-centered environment.
While light to medium colors supports sleep, deep and dramatic blues have a stimulating impact, preventing sleep. 
Colors that are soft and relaxing, such as aqua, powder blue, or even mild tints of turquoise, are a much safer pick.
5. Teal Serene
Teal is a great option if you can't decide between blue and green for your child's nursery. 
Blue greens, such as mint or seafoam, are also wonderful choices since they combine the relaxing properties of both hues. 
Teal is well-known for creating a sense of balance, which may be a much-needed comfort for your small one.
As an added plus, teal is a gender-neutral color that blends nicely with various colors and styles, giving you lots of options for decor and theme.
6. Peach
Peach, as an alternative to pink, may also be an excellent color option for nurseries.
Peach colors, particularly when combined with neutrals or cold tones, create a calm ambiance that may lift moods without being overpowering. 
Because of its adaptability, this hue may be used for many years as your kid get older.
Still on the fence about utilizing a peach tone? Try using it as an accent wall.
Having one portion devoted to that color will help you decide whether to go all-in, and balancing it with printed wallpaper can do wonders for the peace you're aiming for.
7. Pale Purple
Purple, which is associated with wisdom and spirituality, mixes the calming attributes of blue with the loving femininity of pink.
Lavender and lilac, for example, produce a calm and tranquil environment but only in very weak tints. If you choose an excessively dark hue, your nursery may seem dismal.
To guarantee a suitable selection, keep in mind that purple will nearly always seem darker on the wall than planned. 
Have you found a color you like? 
You'll be satisfied with the results if you choose a color that is at least one shade lighter than your initial pick.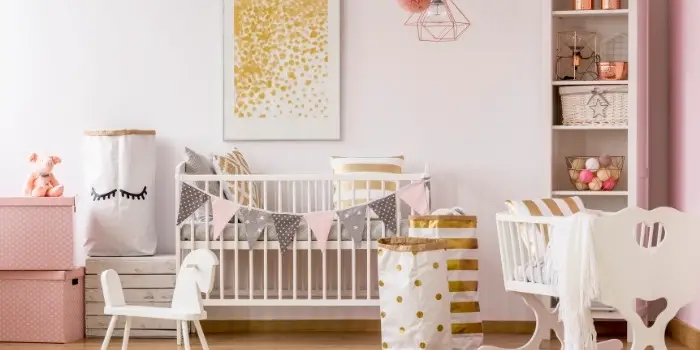 8. Dark Green
The dark green color in a nursery has the effect of slowing us down.
The gorgeous dark green accent wall in the nursery decor provides the baby's room with a mysterious, elegant air. 
Dark green paint colors should be used with warm woods, creams, whites, and leather accessories.
9. Sage Green
Sage green, with grey undertones, is a versatile and beautiful nursery paint color. 
The sage green nursery accent wall, along with soft neutrals, creates a peaceful atmosphere in the area.
10. Soft Black
Using black paint in the nursery immediately gives depth and drama to the area. 
It looks fantastic when used with whites, brass/gold finishes, and textures.
11. Gray
Grey paint is unquestionably one of the most adaptable nursery paint color options. 
You have the opportunity to pick the tone and style for the nursery, from gentle, shimmering greys to dark colors.
12. White
With so many undertones, finishes, and tones, white paint may help you achieve whatever kind of feel you want in the nursery. 
The possibilities are practically limitless, ranging from relaxing whites to bright whites.
13. Cream
To create a timeless atmosphere, choose cream nursery paint. 
To create a peaceful nursery, layer textures, match with bright colors, and include patterns.
14. Greige
Greige, a gray-beige blend, is a trend right now. It's adaptable, neutral, and simple to match with a wide range of colors and styles.
15. Terra Cotta
Incorporate terra cotta into the nursery decor to give the baby's nursery an energetic atmosphere.
The gorgeous terra cotta mixed with pink provides warmth and harmony to the environment.
Tips for choosing the best paint colors for a boy's or a girl's nursery?
There are a few colors that work best for boy nurseries. These colors include blue, green, and yellow.
There are a few colors that work best for baby girl nurseries. These colors include pink, purple, and blue.
You want to avoid using too much black or white in the room as these colors can be quite harsh on a baby's eyes.
Instead, focus on using softer shades of these colors to create a more calming atmosphere in the room.
So, that's all about the best comforting paint colors for the nursery.
Which color did you like the most?
Is it Griege or Terra Cotta?
Either way, let us know in the comments.
Share the post "15 Comforting Paint Colors for Nursery (Baby's Room)"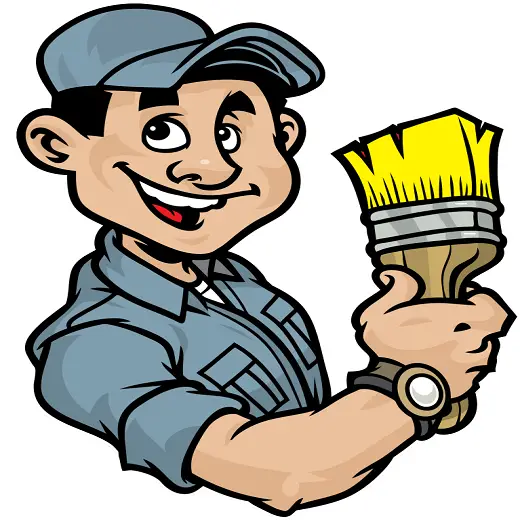 Douglas Becker (aka Painter Doug) has over twenty years of experience as a painter in Adkins, Texas. At present, he resides in Florida with his family.
From painting multi-storeyed houses, condos, and apartments to large commercial buildings and small offices, he had served various customers in areas not only in Adkins but also in Southwest Florida, Sarasota, Naples, and many more. To know more about him check here.