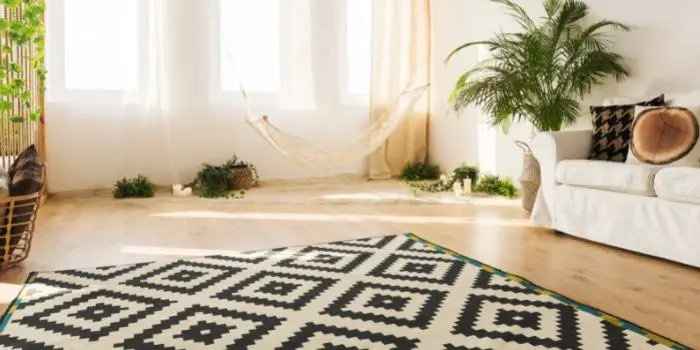 It's difficult to pair the wall color with any carpet color, but it's more difficult with a carpet of brown color.
Brown carpet hue is somewhat unusual, making it very difficult to match with the wall, but colors like blue, cream, and tan complement brown carpeting nicely.
So, read the article to the very end as we look at paint colors that match the brown carpet.
The rich neutral look of brown carpeting in rooms frequently appears to restrict your color selections to an earthly, warmer color palette. 
They are, of course, warm and welcoming, but you'll be shocked to see how flexible the color brown is.
The carpet color, as well as the wall color, may enhance the beauty of the space or degrade it.
So, if you're seeking the ideal wall color to complement your brown carpet, we can help! 
This article will help you pick a secure choice.
Best Wall Paint Colors for Brown Carpets
Brown may be tough to match since it is a dark and unusual hue for carpet.
Fortunately, it's a neutral tone; it allows you to choose from a variety of wall paint colors to compliment your room.
Let's look at some favored wall paint colors for a room with brown carpet:
1- White
It is a hue that complements practically every carpet color. When browsing for the best paint options for walls to complement brown carpeting, this is perhaps the safest option.
If you want the brown floor covering to be the focus of your area or make your small room look bigger, choose white walls.
The white will assist the brown to stand out along with making the space lit, airy, and more lively.
2- Cream
Apart from white, one of the safest options is cream, as it's warm and neutral, which will complement almost any color of the carpet.
When opposed to white, the cream gives a more earthy appearance, along with making the area more airy, open, and brighter.
The cream is smooth and welcoming, as it has both beige and yellow overtones that complement brown.
On top of that, it also keeps the room's color pallet in the same color group, creating a monochromatic style.
3- Tan
It is also a neutral hue that helps in keeping your carpet and walls in the same color group. 
Adhering to a gradient color palette may appear to be a fairly simple method, but an over-brown environment might look too murky if done incorrectly.
Locate the precise color of your carpet using a gradient color chart for the best results. Then, fill in the gaps with both deeper and lighter shades of the same hue.
4- Green
Consider blending green walls with blue undertoned brown carpets. This will assist in offsetting the warmth of the carpet while also brightening the area. 
To achieve a warm, nature-inspired aesthetic, mix in some additional brown family colors like creams, beiges, and tans.
In addition, some bright, white elements throughout the space can assist in balancing out the overabundance of brown and green.
5- Blue
It is a flexible hue that goes nicely with almost every brown shade.
This hue is available in variations such as ice blue and steel blue, which can help to balance out the brown with red undertones.
Warmer colors, such as teal and robin's egg, will aid in highlighting colder brown colors.
Consider going all out and painting your wall with a deep royal blue. And to create contrast, fill the area with opulent furnishings and decorations in a better neutral style.
6- Grey
It is a contemporary, crisp, and clean color that is always a good choice for enhancing the sophistication of a place. 
Grey may be used as a neutral hue if you choose a real grey with no colored overtones. 
Grey has grown quite popular lately for creating elegant and modern aesthetics in home design.
Grey walls may be the ideal complement to your brown carpet when you want your area to feel more gender-neutral or masculine.
With plenty of greys to pick from, pick a brighter color so that your place doesn't get too gloomy and dull.
7- Pink
Pair your macho brown carpeting with pink walls to provide a feminine hint. This color scheme works particularly nicely in a nursery or small child's room. 
However, some other shades, such as cotton candy and hot pink, may be too childlike for an adult setting; there are plenty of alternatives too.
Champagne pink is one of them; you can use this paint color to complement your light brown carpet amazingly.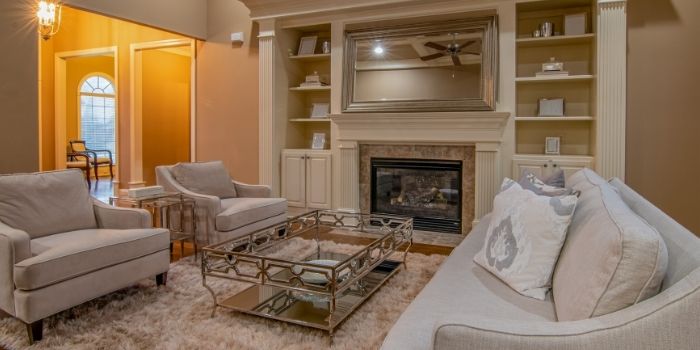 What is Brown Paint Color?
Brown paint color (whether light or dark) is created by blending the three main colors. Changing the blue, yellow, and red ratios results in varied colors of brown.
Brown with more blue has a colder tone, but browns with more yellow or red have a warmer appearance.
You'll need to know the specific hue of brown you're dealing with before you can create a color scheme that complements your carpeting.
By using a sample color card to match the color of your carpet, you can determine the exact shade of brown.
This ensures that you select the hue for a wall that complements and aesthetically enhances your area.
To make the area appear brighter and more expansive, most homeowners choose beige, white, or other light-neutral colors.
Is Brown a Good Carpeting Color?
While brown isn't the most common hue for carpets, it might be a good choice from room to room.
Depending on its size, a brown carpet may make a space appear "caved in" or warmth-giving and comforting.
Brown carpeting in bigger rooms may provide a pleasant, cozy feel to the area. However, the same in a tiny room might make it seem cramped and smaller.
The ability of brown carpeting to disguise stains and dirt is arguably its most significant feature. These types of carpet colors conceal dirt and thus lower the frequency with which they must be cleaned.
A brown-colored carpet is a wonderful choice for individuals who have children or are expecting kids.
But ensure not to use dark brown carpet in high-traffic areas since it will soften the carpet's color with time.
And not to add, really dark-colored carpets will begin to reveal where dirt is absorbed if not cleaned regularly.
As a result, whether it's a suitable color for carpet or not ultimately depends on how you utilize it. 
Brown carpets create a powerful and comfortable statement when utilized in a big space with modest foot activity and are cleaned regularly.
When deciding to install brown carpeting, another key factor to consider is the color of your walls since paint color will either enhance or degrade the entire aesthetic of the space.
What Wall Colors Should be Avoided with Brown Carpet?
Brown, being a neutral hue, will go with practically any other color. Using a variety of color combinations, you may create a variety of themes and atmospheres in your area.
That being stated, there are no colors that should be avoided while working with brown carpets. No color will make the area appear unappealing.
Choose a carpet that is two hues darker or lighter than the wall for maximum visual intrigue. 
However, regardless of the hue of your walls, a neutral-colored carpet is an ideal choice.
Because changing the wall color is easier than changing the carpet, it's best to pick your carpet first and later work towards the wall color.
Final Thoughts
Each brown shade has all three main hues — red, yellow, and blue. This enables the natural hue to blend effectively with a broad spectrum of colors. 
Even though brown is not the most popular hue for carpets, it's neutral. This allows you various options for color selections that might work effectively in your room as a neutral tone.
Compliment your carpet with grey, blue, green, tan, white, cream, or even pink wall color for the greatest effects. 
Stick to bright colors and don't consider darker tones since it may result in the area appearing excessively dull in comparison.
Share the post "7 Wall Paint Colors that Goes Well with Brown Carpet"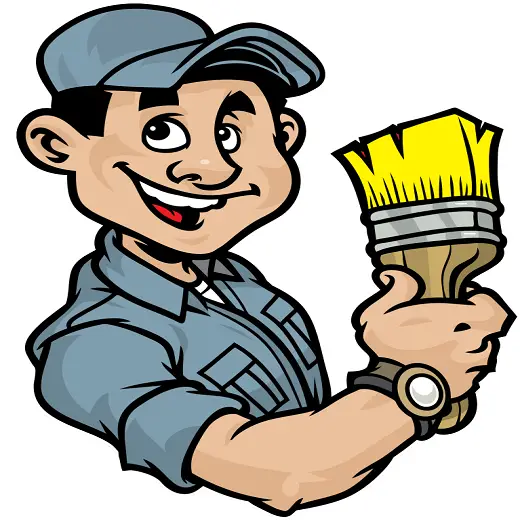 Douglas Becker (aka Painter Doug) has over twenty years of experience as a painter in Adkins, Texas. At present, he resides in Florida with his family.
From painting multi-storeyed houses, condos, and apartments to large commercial buildings and small offices, he had served various customers in areas not only in Adkins but also in Southwest Florida, Sarasota, Naples, and many more. To know more about him check here.