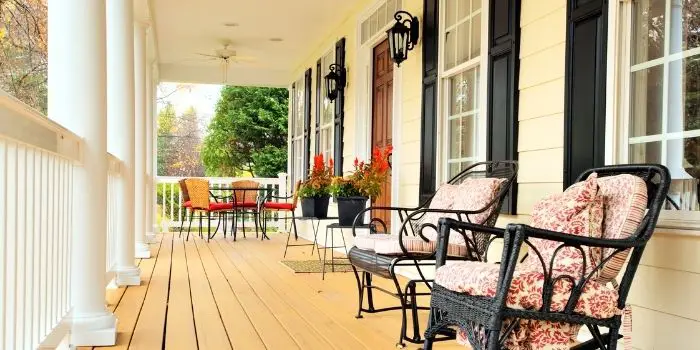 Your front porch serves as much more than a barrier between your front door and the rest of the world. The porch and the color you select to paint it serve as the first impression of your home.
And, when it comes to selling the property, first impressions count.
But what colors should you choose to paint a front porch?
When it comes to painting your front porch, you never run out of possibilities. Lighter colors, such as grey and blue, and green tints, are the most complementary. 
You may match your porch to the rest of your house or only the porch floors to the siding or railings.
Best porch paint colors and ideas
Now let's talk about some of the best paint colors you can consider for your porch.
1. Muted green 
When you can't decide, take inspiration from your surroundings. It is a terrific color for the front porch as it resembles the green environment surrounding your home that creating a lovely and harmonious effect.
Consider a green inspired by a meadow, such as Back to Nature Behr. It's enough to beautify your porch without detracting from the beauty of your landscape.
2. Deep Blue 
If you want a sophisticated look for your front porch that can be seen from the road, use a trendy and eye-catching hue of deep blue, such as Benjamin Moore's Evening Dove. 
3. Warm Blue
When you've got amazing landscaping of the front yard, consider contrasting it with a sophisticated hue of blue like Oval Room Blue that reflects the sky of the warm season.
4. Off-White 
A creamy layer of this paint, such as Behr's Swiss Coffee, will always improve your porch's mood. It also complements the outside of almost any property. 
Because front porches generally consume a significant amount of area, you should get a warm yet neutral tone that goes well with the entire external concept of your home.
5. Pale Blue
If you're not yet ready to completely paint your porch then use this color to highlight the accents such as shutters, doors, and ceilings. 
For generations, people used to paint their porch ceilings with blues to keep pests away or visually extend daylight by mirroring the hue of the sky.
6. Moody Green
Grayish-green tones, like Farrow & Ball's Lichen, are excellent and comfortable and will add a peaceful feel to your front porch. 
It works excellent for the porch as it provides a welcome feeling of tranquility to the place.
7. Silver Gray 
Wanting a classy color that complements the architectural characteristics on your porch? Consider using a sleek tone of silvery grey. 
Paints like Silver Mine would tastefully play up unique architectural aspects of the porch and goes well with practically any hue.
8. Light Gray
When your home's exterior is a bold hue, choosing a soothing and flexible shade of grey will soften things up, which will be a great thing.
9. Light Gray-Blue
You may consider painting the porch's ceiling a basic shade of light gray-blue, such as Light Drizzle or Gentle Sea, for a delicate pop of color on your front porch. 
10. Navy Blue
When none of these colors work for you, a classic shade of navy blue paint is a savior. Like Hague Blue can always be relied on to enhance the beauty of your porch. 
Should the porch be the same color as the house?
It depends from person to person.
You may match your porch to the rest of your house or only the porch floors to the siding or railings.
There are a plethora of paint color possibilities for your porch, ranging from plain to vibrant.
Do it safely
One option is to paint the porch the same color as the rest of your house.
If you prefer the classic, this is the choice you should make.
Because the separate parts are more difficult to identify from one another, sticking to one hue helps your property feel more open and substantial.
Most houses with a single-color scheme stick to safe neutrals like grey, beige, or white.
You could also buy two tones of the same color and then paint the porch stairs and railings with a slightly darker variation of that hue.
This adds dimension to your property and improves its aesthetic attractiveness.
Complement it 
Fortunately, matching your porch to your house is optional and entirely up to your preferences as a homeowner.
If you've already decided to paint your house a brighter, bolder color, or if the house arrived in a color you prefer, you might reconsider your approach to the porch.
In this case, painting the porch the same color could be too bold.
Instead, stick to the colors mentioned above as safe bets for making your porch, and by implication, the rest of your home will look wonderful.
You may also utilize a hue from your home's exterior as a model for the porch.
A Few Other Tips for Choosing the Right Porch Colors
Here are some additional tips for choosing the colors for your porch.
First, evaluate your home's landscape and planters.
Your front porch color can be chosen to complement the botanical components in your yards, such as accenting your planters with trim, furniture, or the color of the porch floor.
You may do the same by matching the colors of your porch to the architectural components of your house, such as the windows, roof, and masonry.
Varied color choices have varied benefits in a range of situations. 
Muted green is a fantastic overall choice if you have any foliage surrounding your porch.
Deep blues provide a traditional and neutral – yet lively – aesthetic. 
The white shade is a safe bet for a vintage, rustic appearance on the floor of your porch.
Warm grey and brown colors, on the other hand, complement almost all colors and appear attractive and welcoming.
I hope all your queries regarding the color of the front porch are answered, and if you still have some questions, do let me know in the comments.
Share the post "What Paint Color to Choose for a Front Porch?"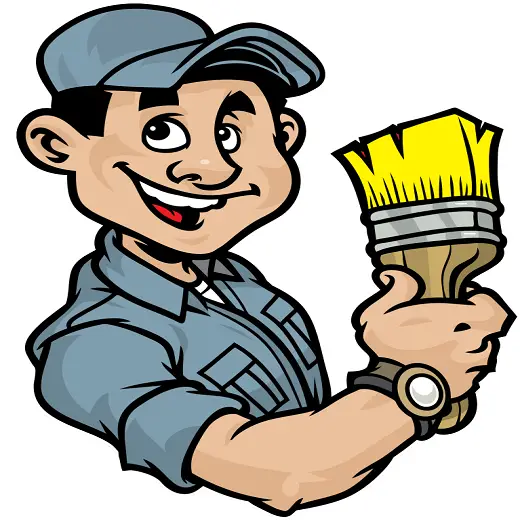 Douglas Becker (aka Painter Doug) has over twenty years of experience as a painter in Adkins, Texas. At present, he resides in Florida with his family.
From painting multi-storeyed houses, condos, and apartments to large commercial buildings and small offices, he had served various customers in areas not only in Adkins but also in Southwest Florida, Sarasota, Naples, and many more. To know more about him check here.