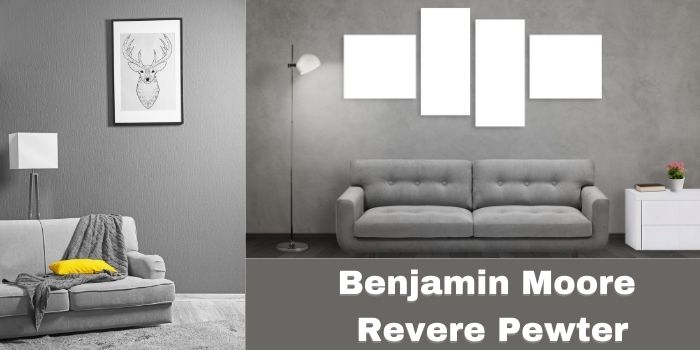 If you've been looking for the right greige paint, you've probably bumped into Benjamin Moore's Revere Pewter.
For more than a decade, it has been a favorite grey paint amongst house decorators. It is without a doubt a top grey paint color.
It was once thought that getting your property painted with Revere Pewter would help your house get sold faster.
This thought became this color's big selling feature, leading house owners and agents started to choose this miraculous hue over other paints.
Revere Pewter is not only beautiful with bright color accents, but it is also peaceful and restful with cool tones like green or blue.
You should test this hue before committing since, like other greiges, your available light may quickly transform it from light to dark.
So, read this article to the very end and get all your queries about Revere Pewter answered.
What Color Is Revere Pewter?
Revere Pewter is warm-toned grey paint color.
Revere Pewter is a classic paint color that works well in kitchens, living rooms, entryways, and other areas. It looks well in various house designs and with a wide range of decor.
For a good reason, this paint hue has practically unequaled appeal across time. It's both classic and adaptable.
Light has an impact on how the color appears. For example, in a room with a lot of light and a North exposure, the color might appear pretty grey with traces of green.
However, in certain cases, it might appear almost taupe.
The lighting, the direction your room faces, and the color of your furnishings all influence how the color appears on your walls.
What Colors Go with Revere Pewter?
Colors that mix well with Revere Pewter are quite adaptable, but picking them relies on the style you want to achieve and the kind of undertone you like or dislike.
I like it with blues, especially navy. Its contrast is fantastic, and it helps with balancing out some of the muddy beige tones, which makes it appear appealing.
However, those beige tones look well with pink and coral.
If you want a bright, flashy color, this is an amazing and ideal choice for a small girl's room.
Alternatively, you can add a color splash with black embellishments and hot pink.
Do you want a more conventional, neutral look? Then combining it with whites and creams works nicely.
Hue like SW Serious Gray, Powell Gray, or Amherst Gray as accent wall adds contrast while remaining within a similar color group.
Is Revere Pewter Dated? 
A paint hue cannot be dated in and of itself. It is the application of it, as well as the other aspects around a specific paint hue, that might cause it to appear dated.
So, while Revere Pewter may be reminiscent of the late 2000s and early 2010s, it will only appear "dated" if you continue to match it with the same colors and decor that were popular at the time.
If you like this paint color and think it would work in your home, go for it.
What Is the Light Reflectance Value of Revere Pewter?
The fraction of light that gets reflected from something is expressed as LRV.
LRVs are rated from 0 to 100, with 0 indicating total black and 100 complete white.
Revere Pewter's LRV is 55.51, which puts it exactly in the center, which means this hue approximately reflects as much light as it absorbs.
So, if you're thinking of using Revere Pewter in a space that doesn't receive an abundance of light, keep in mind that this hue doesn't reflect a lot of light as it's exactly in the center of the LRV scale.
Which makes it not the greatest color to use if you want to lighten your space.
Instead, choose greater LRV paint, over 60, to be specific.
The Conclusion
Revere Pewter is a fantastic paint color to consider if you want a greige paint color or if you prefer beige paint colors but want something more neutral.
I hope this guide solved all your questions regarding this unusual Revere Pewter color of Benjamin Moore. If you still have some questions, let me know in the comments.
Share the post "What Color Goes with Benjamin Moore Revere Pewter?"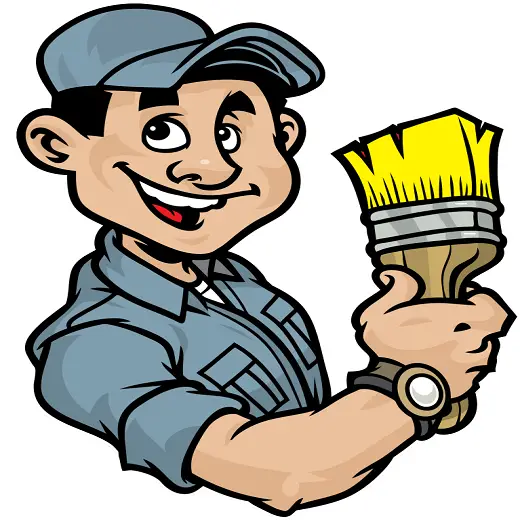 Douglas Becker (aka Painter Doug) has over twenty years of experience as a painter in Adkins, Texas. At present, he resides in Florida with his family.
From painting multi-storeyed houses, condos, and apartments to large commercial buildings and small offices, he had served various customers in areas not only in Adkins but also in Southwest Florida, Sarasota, Naples, and many more. To know more about him check here.