Concrete worktops are one of the most adaptable counter solutions, quickly displacing granite as the preferred countertop material. 
However, a concrete countertop sealer is required to maintain the finish and to protect the surfaces from oils, water, acids, and heat.
Concrete countertop sealers are not just for kitchen counters; they may also be used on integrated sinks, furnishings, and fireplaces.
Many products on the market do the same function, but not all of them are non-toxic and food-safe.
But that's not the case with Cheng Food-Safe Concrete Sealer.
What is Cheng Food-Safe Concrete Sealer?
Cheng concrete sealer is the outcome of cutting-edge water-based acrylic technology development.
This concrete sealer forms a translucent barrier and leaves a satin finish that enhances the color of the concrete while preserving its natural appearance and feel.
It has no odor, which might be a huge bonus for individuals who suffer from lung issues or other disorders.
Furthermore, because the Cheng Food-Safe sealer is water-based, you can quickly apply it to your countertop without wasting much time.
To make it more user-friendly, the designers made it fully toxic-free and food-safe.
So, even if you have children or pets in your home, you don't need to be concerned. 
Because of its "hybrid technology," it penetrates deeply into the concrete to achieve a beautiful surface finish.
When it comes to coverage, it can easily cover 30-40 square feet in one pass, which is more than enough for a mid-sized countertop.
A few of the best advantages you get from this product include:
Non-toxic and odorless
Capable of covering around 30-40 square feet
Simple to use and low-cost option
With its hybrid technology, it ensures a shiny surface
Most of the locations are compatible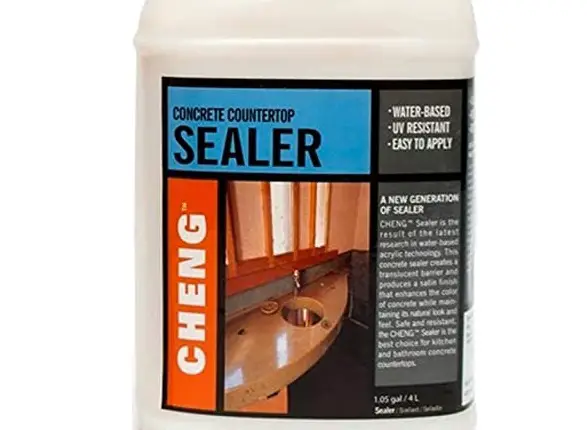 ---
How to Apply Cheng Food-Safe Concrete Countertop Sealer?
Cheng Concrete Sealer can be applied in a variety of ways.
The procedure described here will produce outstanding outcomes while being reasonably simple to learn.
Before attempting to seal an entire concrete countertop project, I recommend experimenting with the product on a sample piece of concrete.
Step #1 Rinse
Wash the entire concrete surface gently with a clean cloth and fresh water.
Do not scrub the concrete. Small grit particles trapped in the cloth might harm the smooth surface of the concrete.
Before moving on to the following step, ensure all dust and grime have been washed off the countertop surface.
Step #2 Water Soak
Saturate the whole concrete surface with clean water using a fresh, clean rag, allowing water to permeate for 2 minutes while keeping the entire surface saturated.
Pro tip: Use a different rag than the one you used to wash the concrete surface in Step 1 since it may contain dirt or grit trapped in the fabric.
Step #3 Wash
Combine equal parts of clean water and sealant in a 1/2 gallon bucket or bowl.
For instance, combine 1 cup of sealer with 1 cup of water. This will result in a 50% dilution, which we refer to as the "wash."
Step #4 Wash Soak
Saturate the countertop with this wash, using the same rag as in Step 2, while keeping the wash solution moving continually, ensuring that the whole surface remains wet for 5 minutes.
Do not let any part of the surface dry out.
Step #5 Final Wash
Add extra sealant and water to the remaining wash in a 3:1 ratio for the final wash.
For example, to the remaining 50/50 wash, add 3/4 cup sealant and 1/4 cup water.
Step #6 Final Wash Soak
Saturate the concrete surface with the "final wash," keeping the wash running for 5 minutes and adding more wash as needed to maintain the concrete surface from drying.
For the entire 5 minutes, the concrete surface should seem as if skim milk had been dumped over it.
Step #7 Wipe Down & Finish
Wring out the rag you used in Steps 2-6 and clean off any extra puddling or pooling wash.
Pro tip: Wipe the surface with long, straight strokes, leaving a paper-thin (tissue paper thin) coating of sealer on the surface. 
Thirty minutes after completing the "final wash," apply a second layer (beginning from Step 6 again).
After 48 hours, the best resistance will be acquired.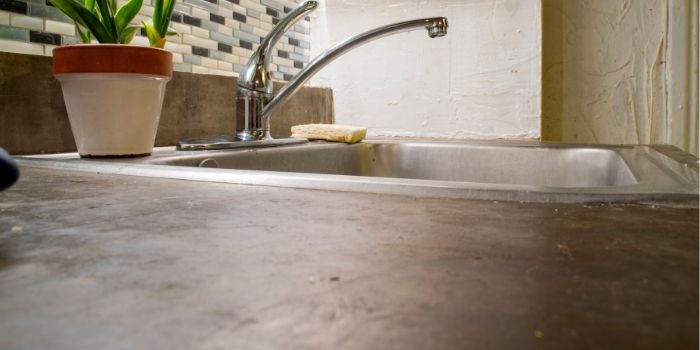 ---
Do You Need to Prepare Concrete Countertop for Sealing?
Yes, preparing your countertop is a must before you plan to seal it with a concrete sealer or polyurethane.
But worry not, there are very few easy steps you can follow to get the job done…
Clean all the oil, dust, stains, or grease from your concrete
Strip away any existing penetrating sealer finish from the surface
Finally, open up the pores of concrete by applying the etching solution
You can use a sprayer or roller for sealing with polyurethane or any other concrete sealer. Then the sealer and apply it evenly on the surface.
Allow the sealer to dry for a couple of hours, and then apply a second coat. Let it dry for at least 24 hours to 36 hours before using.
Remember that your kitchen countertop is susceptible to getting worn out even when sealed properly.
So, it's important to reseal them every 2-3 years for long-lasting durability and a nice appearance.
Factors to Look at When Selecting a Sealer for Concrete Countertops
Since there are tons of products with different features and benefits available, picking up the best concrete sealer is not an easy task, especially for beginners.
You will need to choose a sealant product that suits your surface and is packed with a few core properties.  
Some of the important factors you will need to check when buying are:
a) Odor
There are various sealers on the market that come with an offensive smell due to the variety of harsh chemicals they use.
Some of them even leave the smell on the surface for months after the application, which can be hard to bear.
Suppose odor is a concern for you and your family; it's good to choose an odorless sealer or at least one that does not come with a strong smell. It's most likely marked as "LOW ODOR" on the package.
b) Exterior Use
I don't ever recommend picking a countertop sealer if you want to seal the concrete patio, driveway, walkway, or garage floor.
But why, you may ask!
Simply because indoor penetrating sealers, if applied on your concrete patios or decking areas, might fade away fast as they are not built to resist rain and sunlight.
Instead, there are sealers on the market for sealing exterior concrete surfaces, so you should go with the one that is compatible with outdoor uses.
c) Expected Wearing
Before you choose any specific sealer, know about its life, which means how long it can protect the countertop surface against scratches, food stains, and other daily wear and tear.
Most of the time, you can get this information on the product package, which mentions an average of how long the product can last on the surface.
I believe you won't love to reapply the coat again and again. So, this feature is essential for you to check.
Also, it's good to check that the sealer comes with a food-safe logo if you are specifically buying it for sealing concrete countertops in the kitchen.
Final Words
Don't be one of those house owners that put off pricey countertop repairs till the last minute.
Be proactive by providing your countertops with the necessary protection from the start.
We adore this one-of-a-kind "hybrid technology," which ensures a gleaming, aesthetically pleasing surface. 
You won't have to worry about your children or pets handling it because it is non-toxic and has no odor.
Cheng is a no-brainer choice for a concrete countertop sealer.
Fortunately, you may obtain this effective concrete sealer without paying a lot of money at stores online like Amazon.
Share the post "Cheng Food-Safe Countertop Sealer – Benefits & Applications"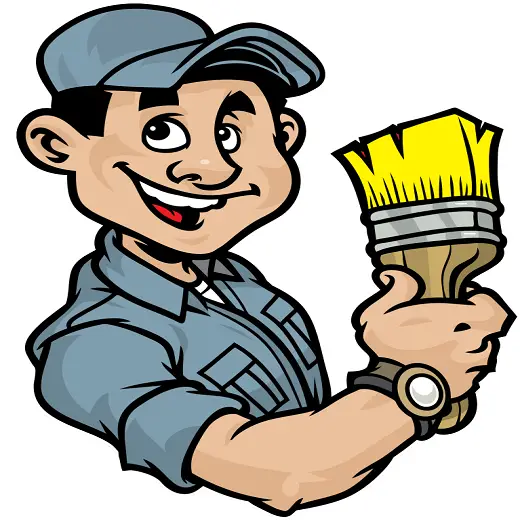 Douglas Becker (aka Painter Doug) has over twenty years of experience as a painter in Adkins, Texas. At present, he resides in Florida with his family.
From painting multi-storeyed houses, condos, and apartments to large commercial buildings and small offices, he had served various customers in areas not only in Adkins but also in Southwest Florida, Sarasota, Naples, and many more. To know more about him check here.