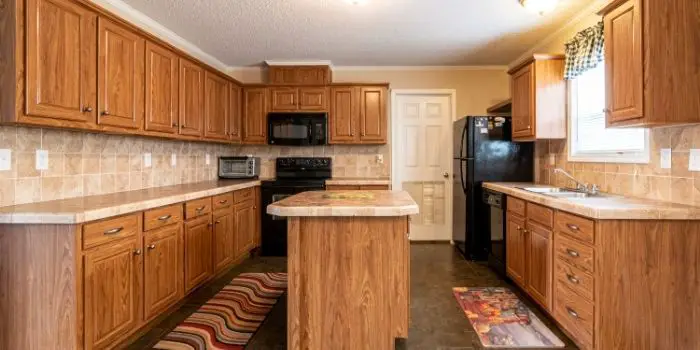 A careful selection of colors to fit with honey oak cabinets is critical since it may make or break the design of your kitchen.
Pair the right colors of paint with the proper LRV number to emphasize the colors of your kitchen's other features, and if they are well-matched, you won't have any problems.
But, before we go any further in our paint color guide, you should know that honey oak is an orange-tinted wood, and you can do nothing bad other than clashing it with mismatched colors, which can damage the look of your kitchen forever.
As a result, use colors that either mix nicely and reduce the orange in the wood or highlight the honey oak with complementary light-hued hues.
Here are 15 color choices that complement the orange undertone in Honey Oak cabinetry.
1. Charcoal Blue SW2739 by Sherwin Williams
This color looks fantastic with honey oak cabinetry.
Charcoal Blue has an LRV of 6, indicating that it is a dark tint. This may be a nice alternative if you have a kitchen with a lot of natural light or high ceilings. 
If you don't have many windows in your kitchen, you should avoid this hue and choose lighter colors, which we'll discuss next.
This blue, along with all dark blues, is a cool hue that will complement the cabinets and highlight the orange in the honey oak cabinets and vice versa.
Finally, this smoky dark blue hue contrasts so wonderfully with the orangey tone of the wood that everyone's jaws drop when they see it.
2. Hale Navy HC-154 by Benjamin Moore
The most beautiful naval blue paint color available. This is a real navy paint hue that will complement honey wood cabinets well.
It has an LRV of 6.3, which means it's also a deeper hue, and if your kitchen doesn't receive plentiful natural light, this shade could be too dark for you unless you want that dark, somber vibe in your kitchen which is also really fashionable right now.
3. Balmy Blue SW6512 by Sherwin Williams
It's a beautiful light blue with an LRV of 66, indicating that it's a light color.
It has more depth than a powder blue and nearly has the sense of an ultra-light navy.
If you enjoy the Charcoal Blue and Hale Navy hue but don't want to go with a dark tint, then Balmy is an excellent choice.
It also works wonders with spaces with minimal windows and limited natural light.
4. Rainwashed SW6211 by Sherwin Williams
It's the ideal bluish-green tint to complement your honey oak kitchen cabinets.
It has modest grey undertones that keep it from being overly brilliant, but it also has enough blue to show up as a real hue on your walls.
This cool color will complement the warmer tones in your cabinets along with providing a wonderful contrast to the rich orange colors.
Blue-green or plane blue paint color is complementary to the orange tone in honey oak cupboards, so one color enhances the other.
It will complement the orange in the honey oak rather than overpower it, providing your kitchen with an aesthetic and beautiful appearance.
The LRV of Rainwashed is 59. While Sherwin Williams classifies it as "light," we would classify it as a light-medium hue. 
Rainwashed offers sufficient depth in the space without making it feel smaller.
5. Mint Condition SW6743 by Sherwin Williams
If you want a more vibrant green, go no further than Sherwin Williams' Mint Condition paint.
This brighter green hue is another cool color that will enhance your cabinets rather than tempering the colors in the wood as a warm color would.
Mint Condition has an LRV of 73, which is a light, yet vivid color.
If you enjoy some color on your walls, this hue will do the job. It is bright sufficiently but still modest enough to mix in with a variety of decor styles.
6. October Mist CC-550 by Benjamin Moore
For this one, we went directly to Benjamin Moore's color of the year, and we're not shocked.
It's quickly becoming a favorite among people, and now this green is in style.
It has an LRV of 46.33 and a sage green color with grey undertones, making it one of the best selections for your kitchen.
And while this hue is trendy right now, it is also a classic color that will be around for a long time.
7. Accessible Beige SW7036 by Sherwin Williams
It is a beige paint color with grey undertones.
The LRV of Accessible Beige is 58, which is considered "light." This is Sherwin Williams' best-selling beige because it is adaptable and complements a broad range of decor styles.
Because Accessible Beige is a warm hue, it will mix better with the cabinets than a cold color, softening the effect of the wood tones and producing a more unified sense of the area.
This warm hue works fantastically with honey oak cabinetry because it is neutral, it complements almost any decor, and it's black enough to stand out against the white trim.
8. Delaware Putty CC-230 by Benjamin Moore
It isn't a well-known paint hue, but that doesn't mean it's not worth noting.
It's a great beige paint color with yellow overtones, with an LRV of 64. 
Because it's a fairly neutral hue, you can even use it in your living space with honey oak furniture along with your kitchen.
9. Repose Gray SW-7015 by Sherwin Williams
If you want to paint your walls grey, use a warm grey like Repose Gray.
It's one of our all-time favorite colors since it goes with almost everything.
If you want a similar tone but a lighter shade, try lightening it by 50%.
If you want greater saturation, consider Mindful Gray, which is the shade deeper on the color card.
10. Mindful Gray SW7016 by Sherwin Williams
It is a greige paint hue that is warm. This color is made after combining beige and grey. 
Mindful Gray has a grey undertone, making it a suitable hue to mix with oak cabinets if you want to highlight the color of the wood.
While it is a warm color with purple overtones, it has enough grey in it to stand out from the cabinets.
Mindful Gray has an LRV of 48, which Sherwin Williams considers to be "mild." But don't just take the word for it because it's not a light color. It should only be used in rooms with plenty of windows or double-height ceilings.
This shade is also called Greige and is popular right now. 
Mindful Gray, or any fantastic greige shade, will do wonders for you in making your honey oak cabinets seems more contemporary.
11. Agreeable Gray SW7029 by Sherwin Williams
Another very popular grey paint color that goes excellent with your cabinets is Agreeable Gray paint.
If you want grey walls but don't want grey walls, this is the perfect paint color to choose if you know what we meant.
With an LRV of 60, it offers a hint of bronze overtones that complement the yellow undertones in your cabinets.
12. Manchester Tan HC-81 by Benjamin Moore
Around five years ago, it was one of the most popular neutral paint hues.
While it appears to have gone out of favor in favor of more modern greys and greiges, it is still a lovely warm beige that pairs nicely with orange or yellow-toned woods.
It's been called a "warm neutral beige" as well as a "mushroom." Both of which we concur.
13. Pale Oak OC-20 by Benjamin Moore
It's a beautiful soft taupe paint hue with a faint purple undertone. Because of this undertone, it complements more orange-toned honey oak cabinets.
Not only does it blend in with them due to its warm beige hue, but the purple also serves to tone down some of the oranges in the oak woods, trim, and carpeting.
14. White Dove OC-17 by Benjamin Moore
It's a creamy white that lends warmth to walls and looks great with orange-toned wood.
It will seem white in bright natural light, but in darker areas, it the slightly warmer when greige undertones will emerge.
This type of white looks great with oak trim. Its warmth will be enhanced by pairing it with a brilliant white accent.
15. Oyster Bar SW-7565 by Sherwin Williams
It is the final paint color on this list.
An incredibly lighter hue and a gorgeous creamy beige with an LRV of 62.8 works fantastically with oak cabinetry. This enhances the area's beauty; it makes it airier and more spacious.
Final Words
You may find it very difficult to choose the perfect color for your kitchen with honey oak cabinets.
If you make a mistake with one of the elements, correcting that mistake will be a nightmare.
Choosing lighter or darker shades is entirely up to you.
You may either neutralize and mix it with honey oak or compel it to stand out by selecting the proper dark tones that tie everything together wonderfully.
Hope this guide was helpful, and all the best to add your personal touch with the right color selection for your kitchen with honey oak cabinets.
Share the post "15 Paint Colors that Goes Well with Honey Oak Cabinets"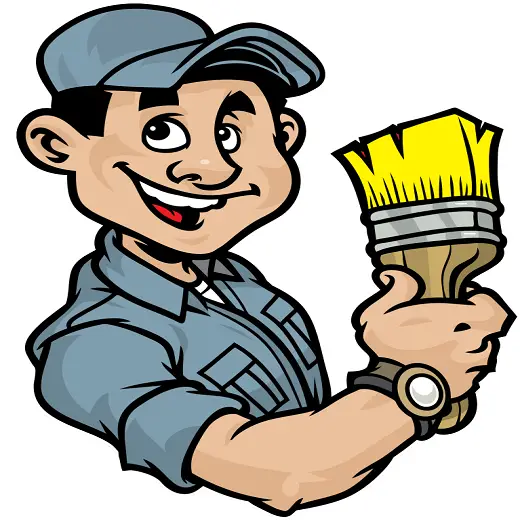 Douglas Becker (aka Painter Doug) has over twenty years of experience as a painter in Adkins, Texas. At present, he resides in Florida with his family.
From painting multi-storeyed houses, condos, and apartments to large commercial buildings and small offices, he had served various customers in areas not only in Adkins but also in Southwest Florida, Sarasota, Naples, and many more. To know more about him check here.