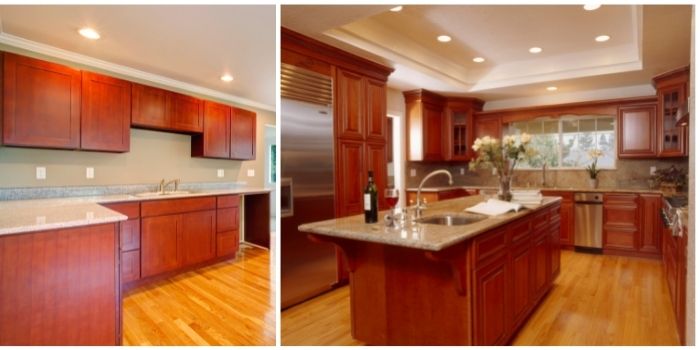 Cherry wood is one of the most common hardwood furniture materials used for cabinets.
Its smooth reddish-brown grain and tones provide exquisite classical characteristics that can help any place seem more luxurious in natural ways.
However, many people struggle to make their cherry-colored furniture seem right in their house.
And the best method to get those beautiful appearances is to choose the proper wall paint color.
To avoid disasters such as picking the wrong color, we have prepared a beginner's guide for you to select the right color hues to go with cherry wood cabinets.
And nothing matches a space in your home that you designed yourself with actual interior design knowledge.
You won't be able to get enough of your space if the task is done correctly.
So, let's start with the cherry wood cabinets color guide with the 15 best paint colors that go well with it.
1. Pale Yellow
This greyish-yellow will create a vivid and pleasant environment while also improving the appearance of your cabinets.
This hue will seem lively but not overwhelming when combined with cherry cabinetry.
Using this hue will also make the cabinet match the wall perfectly, and a couple of coats of this hue will take your kitchen renovation to the next level.
2. Lemongrass
Lemongrass, as opposed to pale yellow, has a delicate green tint with yellow undertones.
While this color scheme is a little ordinary, it will look fantastic in a kitchen with dark cherry cabinets.
Even if you have a tiny kitchen with little floor space, this earthy color will make the heart of your house seem warm and inviting in the nicest manner possible.
3. Pale Green 
Green is a complementary hue to the color red, so it would look fantastic with your cherry wood cabinets.
While there are many lush hues to pick from, a light green might add interest without clashing.
This hue complements the cabinets well while still providing some contrast, making them stand out and adding depth to your area.
4. Olive Green
It's both elegant and bohemian and pops when paired with cherry cabinetry.
This hue produces a gentle and pleasant atmosphere and complements the cabinets nicely, while also enhancing the color and texture of the cabinetry and making it appear fantastic.
To be more specific, the Valspar Brisk Olive 6002-4a paint color will be perfect for the same.
5. Sage 
This hue is pretty much parallel to the previous one and has the same impact.
If you believe olive green paint is too harsh, try sage as a softer and more natural alternative.
This hue will also work well in a dark area with little natural light, making it one of the best wall paint colors for cherry wood cabinets.
6. Soft Blue
The key to finding the appropriate shade of light blue is avoiding any tone that appears too nursery-friendly or bright.
Choose a color with cool undertones that won't conflict with your wood cabinetries, such as Dreamy Blue DE5812.
To increase the cohesion in your kitchen, you can consider adding wall tiles with other related blue colors to the backsplash area.
7. Navy
Choose blue paint and cherry cabinets for a rich, dramatic kitchen appearance. 
Yes, this color scheme will give a moody appearance, but you may counteract it with colorful kitchen decor, curtains, and cabinet hardware.
Consider painting only the lower part of the walls an inky blue and then adding a white tile backsplash. The result will feel deliberate and timeless.
8. Beige 
Beige is a color that may easily be blended with other hues. 
It will add warmth and gentleness while also adding depth and contrast when used with bright hues like our cherry cabinets.
9. Taupe 
Taupe is one of the greatest colors to choose from if you want to create some balance between the wood furniture and the wall paint behind it. 
This paint hue may help bring out the natural wood grain and colors of the cherry cabinets.
The taupe wall, as one of the finest complementing hues for cherry wood items, will produce a marvelous and uniform look for your space.
10. Sienna
Embrace the red undertones of your cherry woodwork and paint the kitchen walls a deep, warm sienna or red, and the outcome will be a bit monochrome and a lot unique.
We advocate this match in bigger areas; otherwise, your kitchen may appear overdone rather than well-decorated.
And the best pick for this color would be Sherwin-Williams Sierra Redwood.
11. White
This is the simplest and most secure option. White is always a good choice. 
This neutral hue mixes well with any other color and furnishings, including our cherry woodwork.
This paint can help reduce the harsh tones of cherry wood, making those cabinets stand out and appear more aesthetic and pleasing.
12. Light Gray 
Light grey is another wonderful color for adding depth and contrast between your cabinetries and the wall. 
It doesn't have as much contrast as white, but it may still provide depth to make the cabinets stand out.
Using a basic natural hue like this will also help make your room feel airier and brighter.
13. Gray 
Almost any shade of grey, even the standard grey paint, will look great with cherry wood furniture.
Typical grey is the ideal color for cherry wood cabinets since it is not too dark nor too light, and it can be used as both a complementing and contrasting hue.
14. Cream 
Because it generates balance and enhances the rich wood, a warm cream hue on the walls of your kitchen with cherry cabinets.
will always work.
We highly recommend this hue for your walls if you want the cabinets to be the focal point of the room.
Bring in additional items for flashes of color if you pick this lighter tone for a modern kitchen, like a vibrant runner or light fixture.
15. Light Blue 
This could be one of the nicest ceiling paint colors.
To contrast with the dark wood, the ceiling is painted in lighter and brighter colors to match the cherry cabinetry.
And light blue creates the appearance of an open blue sky, making it a good contrast for cherry cabinets.
Matching the Floors with Cherry Wood Cabinets
As we have discussed the wall paint, ceiling paints, and all the other stuff inside the kitchen, it would be incomplete if we didn't discuss the color of the floor.
So, here we go.
Floors made of maple, oak, or hickory are light enough to contrast wonderfully with cherry cabinets.
The light-colored flooring draws attention to the reddish-brown tones.
In addition to hardwood flooring, you can choose cream or white ceramic tiles.
Those who want a darker kitchen might also choose pale cherry floors.
Professional interior designers generally suggest keeping a lighter flooring with darker cabinets such as cherry cabinetry.
Beige, light brown, and white are some hues that can be used in a kitchen with darker cabinets.
If you prefer lighter flooring, hickory, oak, and maple could be your best choice.
Those who want a little deeper tone, on the other hand, might go for pale cherry flooring.
We would also want to emphasize the bamboo flooring, which is also a lighter shade that complements the cherry cabinets very well.
Aside from hardwood flooring, ceramic tiles also look amazing with cherry cabinets because they come in a range of colors; you may start with white, gray, light brown, and beige.
Final Words 
Your home is a reflection of your personality.
The color scheme, arrangement, furniture, and little details in the room all speak to your style and how familiar you are with your living space.
Similarly, the theme of your kitchen influences how you walk about the cooking area.
Is it cozier or lighter? That is defined by your color scheme.
With cherry cabinets, you may utilize undertone paint colors with blue, green, and yellow undertones to contrast effectively with the red tints in the wood.
On the ending note, if you follow this simple instruction, your average kitchen will be transformed into an artistic kitchen.
We hope you found this guide helpful, be sure to let us know in the comments so that we keep regularly pushing informative content like this.
And also, tell us which color option you are considering to compliment your kitchen cherry wood cabinets.
Share the post "15 Paint Colors that Pairs Well with Cherry Wood Cabinets"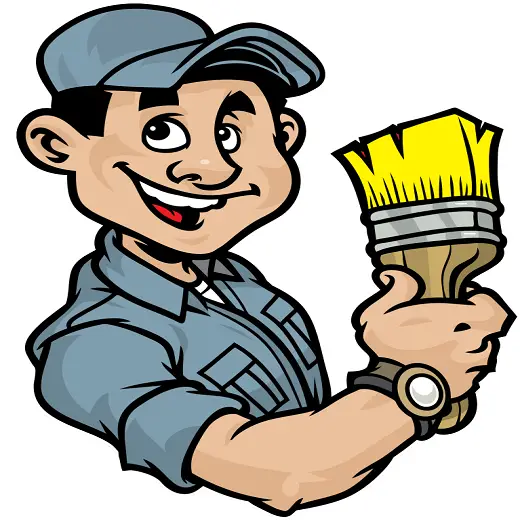 Douglas Becker (aka Painter Doug) has over twenty years of experience as a painter in Adkins, Texas. At present, he resides in Florida with his family.
From painting multi-storeyed houses, condos, and apartments to large commercial buildings and small offices, he had served various customers in areas not only in Adkins but also in Southwest Florida, Sarasota, Naples, and many more. To know more about him check here.