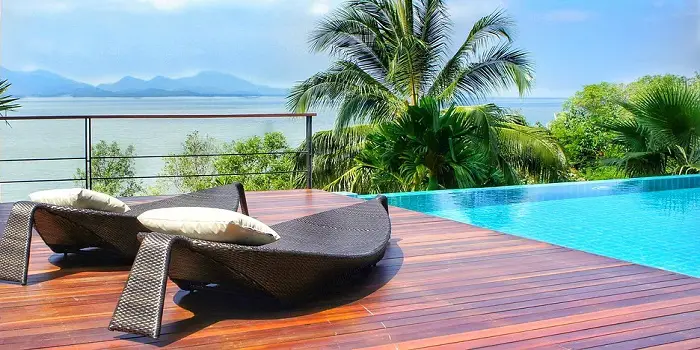 Poolside decking areas are mostly ignored when people refinish their pools.
If you want to reduce the cleaning time for your swimming pool deck, then having it sealed is the best way to go.
If you desire to seal them right, it's easy enough to do if you have the right products, equipment, and approach.
What do You need?
You will need to thoroughly clean the deck first before you can seal it.
Otherwise, the debris and particles will simply stick to the surface and continue to cause damage.
So, you will need the following items.
Stiff Brush
Pressure Washer
Paint Roller
Trisodium Phosphate
Pool Deck Sealant
How to Seal a Pool Deck?
Now that you have what you need, the next step is to clean and seal the deck when there is little if any chance of rain.
The fall is usually the best time as the temperatures are warm enough to do the work while having less humidity.
Plus, the chances of precipitation are less in September compared to April.
Step 1. Prep
Start by removing everything that is sitting on top of the deck.
Wood or metal-made patio furniture, plants, and other items need to be placed somewhere else.
If you have large cracks or fissures in the deck, that will need to be repaired.
You can use a good patching product, but if the damage is extensive then you may want to call in a professional.
Step 2. Clean
Use the pressure washer to clean the deck of all debris.
Start on one side and work your way towards the other, then reverse the process.
Just use plain water at this point.
Remember that you can use a standard pressure washer, but rotary pressure washers that you can rent are considerably faster and easier to use.
Next, scrub the deck using the brush and one lb. of TSP per 5 gallons of water.
Once the deck is scrubbed, then rinse away the TSP until all the residue has been removed.
Be sure to let the deck fully dry before taking the next step.
Step 3. Seal the pool deck
Hopefully, there is no rain in the forecast for the next few days.
Once the deck is dry, you can now add the sealant using the paint roller.
You can pour the sealant into a five-gallon bucket complete with a painted screen.
Roll the sealant on the deck one section at a time. Let it dry for about an hour, then apply another coat.
This should penetrate the surface and ensure that it is sealed.
Remember that you can go section by section with the first coat.
Then add the second coat to each section after it dries for at least an hour.
Be sure to wait until the sealant dries before adding a second application.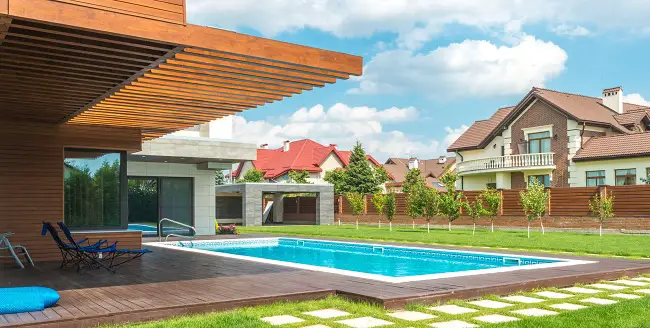 ---
Choosing the Pool Deck Sealants
The deck sealant you choose should be of high quality.
Plus, it needs to match the material that you are covering.
Few top-quality pool deck sealers that can work for you include:
Deck-O-Grip
Deck-O-Shield
Deck-O-Shield Plus
Most pool deck sealant does not only work for wood, but any porous surface such as concrete, pavers, natural stone, pebbles, ceramic tiles, stamped, and exposed aggregate.
Depending on the type of sealant and the deck material you are sealing porosity, you can get coverage from 100 – 600 sq. ft. per gallon.
When buying the sealer, it's recommended that you measure your pool deck area.
Then buy some additional sealant that you think you will actually need.
If you are left with some sealer, you can store it for about two years for future jobs after the application.
Or, if you want, you can use it for sealing other areas around your home.
Remember, you can choose between a glossy or matte finish, but be sure to follow the instructions in terms of using the sealant product.
Tips for choosing the best pool deck sealer…
1. Natural Finish
If you want to keep your deck free from cracks, spalling, and pitting, the best is to choose natural finish concrete.
The bare concrete surfaces also work like natural stones and will be most suitable for pools that are exposed to saltwater.
2. Acrylic Concrete Sealers
These types of pool deck sealers come either water-based or solvent-based.
While water-based sealers are nature-friendly with a matt finish, solvent-based acrylic sealers are glossier and can provide a smoother delicate finish with additional beauty.
When choosing these finishes, check whether you need them for old or new concrete.
Also, consider your requirements, like whether you need to change the color or just want to add a glossier look.
3. UV Resistant and Water-Repelling Sealers
If you are concerned about the heat bothering your feet and other body parts, adding a top layer of UV-resistant sealer is a good solution.
This is even better for those who want to sit and spend some fun time by the pool without worrying about the scorching heat of summer.
Some sealers also come with water-repelling properties that make the surface dense for quick drying.
When water splashes out, the sealer does not allow it to spread but makes it forms into beads which leaves the most area dry.
---
Do You Need to Paint Before Sealing?
Repainting the pool deck before sealing is often recommended if the paint is already 2-3 years old.
You will begin to see the signs of cracks or peeling paint, and that would mean you need to apply the fresh paint.
Assuming you have already cleaned all the debris thoroughly washed the pool deck, here are the painting steps you need to follow…
Spray Epoxy Sealer
In a pump-sprayer, fill a two-part epoxy concrete sealer
Mix according to the manufacturer's guidelines provided on the product label
Spray the epoxy sealer evenly over your concrete pool deck and allow it to cure (about 24 hours) while making sure you do not step on it
Apply Pool Deck Paint
For applying the paint on your pool deck, you will need a specially formulated concrete pool deck paint that is designed to adhere well to concrete surfaces.
Plus, it will resist chlorine and weather conditions for a long.
Using a long roller and a paint tray, roll this concrete paint onto the deck.
Make sure you apply the paint evenly without any thicker edges or overlaps.
Allow at least 24 hours to dry the first coat, and then add a second coat.
Tip: For the added safety of your kids, consider mixing some nonskid additive into your concrete paint.
This will add a texture to the surface, making it less slippery.
---
Replacing vs. Repairing a Swimming Pool Deck
Most times, replacing a pool deck isn't required, and you are fine with repairing, repainting, and sealing them.
This will help in improving your current deck add can add several years to your enjoyment.
Replacing a deck will also be a costly and lengthy process compared to fixing the structural damages and beautifying the appearance.
Besides painting and sealing, experts suggest you can explore ways like applying an overlay, installing decorative stone, tiles, pavers, etc.
For homeowners, these can be more advantageous and can cost less than half what you would need for replacing.
Depending on your budget and specific preferences, you can also consider options such as travertine, flagstone, granite stones, slate, etc., that can easily complement your entertaining outdoor area.
Final Thoughts
Sealing your swimming pool deck right is important when planning to refinish your pool.
Using the proper sealant will cover the surface well and prevent the water, dirt, and debris from penetrating the deck.
This means that your deck will stay in like-new condition and prevent many of the issues that can age and damage the surface prematurely.
Share the post "How to Seal a Swimming Pool Deck – The Right Way"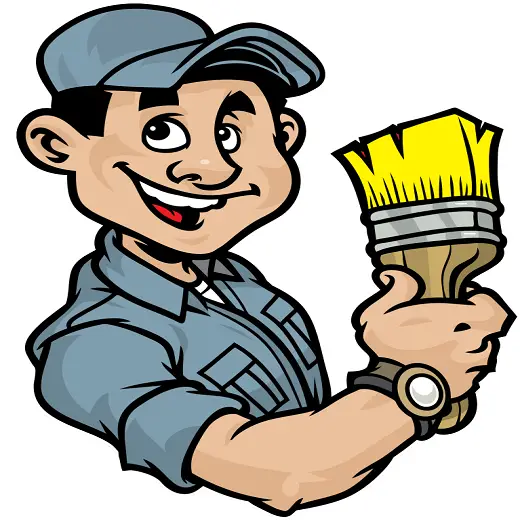 Douglas Becker (aka Painter Doug) has over twenty years of experience as a painter in Adkins, Texas. At present, he resides in Florida with his family.
From painting multi-storeyed houses, condos, and apartments to large commercial buildings and small offices, he had served various customers in areas not only in Adkins but also in Southwest Florida, Sarasota, Naples, and many more. To know more about him check here.