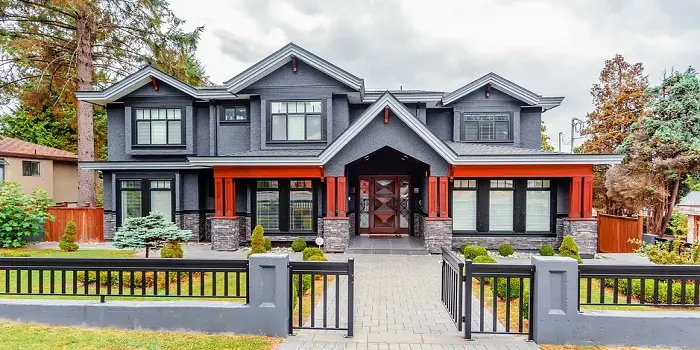 You can't go wrong with a basic neutral when selecting a color for your house exterior.
However, if you want to stand out from the endless rows of houses with white color, think of giving your facade a dark makeover with grey paint.
Gray has found its way outside in recent years, and it turns out that a coat of the color looks just as good on the siding of wood color as on the walls of the living room.
Gray paint can emanate elegance or make a dramatic statement depending on how warm you go.
Gray also looks great on several types of houses, like Shingle Style, which has historically featured the color.
If you aren't ready to go grey, consider putting grey paint on trims, doors, windows, shutters, etc… to give contrast without overpowering your main hue, as grey can also be a wonderful accent color.
Not sure which warm shade to pick from the many shades of gray?
Here are some of the warmest grays for your home exterior.
1. Benjamin Moore Classic Gray
It has a warm undertone, so in some lights, it is a real light grey.
But in others, it is more greige, making it ideal for customers searching for something exceptional for the exterior of their homes.
2. Gray Screen
It was the most popular color of Sherwin-Williams in 2016, and it's simple to understand why.
This flexible, warm grey can be used as an exterior shade or as an accent on shutters and doors.
3. Cornforth White
One of the most popular colors of Farrow & Ball is the gentle off-white.
Warm tones, named after architectural historian John Cornforth, guarantee a simple look.
4. Ball Calluna
This grey has just a hint of lavender in it, giving it a depth that makes it the favorite neutral color for most designers.
5. Storm
Storm, like its namesake, is a powerful grey.
This Benjamin Moore color contrasts wonderfully with black and other warmer colors.
6. Stonington Gray
This color is considered one of the historical collections of Benjamin Moore, and it is a warm grey that will never go out of style on the exteriors of your home.
7. Sherwin-Williams Knitting Needles
This is a very soft grey with excellent light-reflective properties.
It's an excellent choice for exterior walls as well as cabinetry.
8. Flannel Gray
Behr's warm gray tones are deep, not too dark, and perfectly blend with subtle tones and dark blue tones.
9. Ball Pavillion Gray
This is a warm and gentle neutral paint color that looks great with white or similar colors.
10. Slate Pebble
 A color by PPG Paints is a warmer grey that can be accentuated with beiges and brownish blacks.
11. Amazing Gray
This classic Sherwin-Williams color pairs well with off-whites that have warm undertones.
12. Ball Cornforth White
Because the hue is slightly warm and delicate but saturated, it goes with everything.
13. Ball Purbeck Stone
This hue is warm, bright, and breezy during the day, but it gets sexier at night.
14. Benjamin Moore Shoreline
This gray color goes well with gemstone shades like cobalt blue and emerald green.
15. Flagstone Grey
Glidden's traditional, deep grey looks well in any kind of house.
16. Swirling Smoke
A color by Olympic features orange undertones that provide warmth.
17. Benjamin Moore Gray Owl
It's a gentle, warm grey that looks well on the house's facade.
What is the process of painting an exterior house?
The process of painting an exterior house with gray colors usually begins with preparing the surface.
This may involve power washing, sanding, and/or priming the siding or trim.
One of the most common mistakes people make when painting an exterior house is not properly preparing the surface before painting.
This can result in the paint not adhering properly and/or peeling off soon after it is applied.
Once the surface is properly prepared, the painter will select the right gray paint colors and apply them to the surface.
Once you are finished, do not forget to inspect the finished product.
How long does it usually take to paint the exterior of a house?
This will depend on the size of the house, the type of paint used, and the number of painters working on the job.
A small house could be painted on weekends, while a large house could take a few weeks.
If you're using high-quality paint, it may also take longer to apply than a lower-quality product.
In general, though, you can expect the painting of an average-sized house to take between one and two weeks.
What kind of gray paints do you typically use when painting the exterior of a house?
There are a variety of gray paints that can be used when painting the exterior of a house. The type of paint that is best to use will depend on the material of the house, the climate, and the desired appearance.
For example, gray latex paint is a good choice for houses in warmer climates because it dries quickly and resists fading. However, it is not as durable as oil-based paint, so it may not be the best choice for a house in a colder climate.
If you are looking for paint that will give your house a unique look, consider using oil-based paint that is meant for exteriors. This type of paint can add depth and interest to the exterior of your home.
It is also very durable, so it will be able to withstand the elements in a colder climate.
No matter what type of gray paint you choose, make sure to read the labels carefully before purchasing.
Some paints are better suited for certain types of houses than others. Choosing the right paint will ensure that your house looks its best and lasts for a long.
Final Thoughts
The advantage of utilizing grey to paint the outside of your home is that it will not reveal dirt and filth as easily as white or another light-colored property.
And, if you're not ready to go full grey on your home, you may test it out on other portions of the house first to get a sense of how it feels.
Warm grey, for example, can be used as a siding color.
As a result, you'll have a plethora of alternatives for complementing trim and other areas like doors and windows as accent colors.
Remember to use bright colors for things you want to stick out, like your front door.
Hope you found this piece of content helpful.
And I wish you all the best as you are now finally ready to experiment with warmer shades of grays for your house exteriors.
Share the post "17 Warmest Gray Colors for Home Exterior"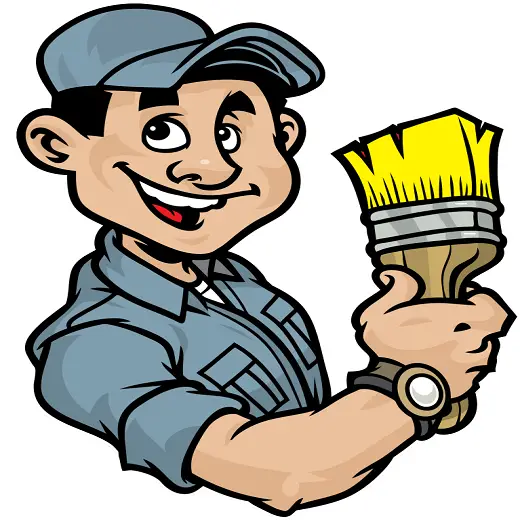 Douglas Becker (aka Painter Doug) has over twenty years of experience as a painter in Adkins, Texas. At present, he resides in Florida with his family.
From painting multi-storeyed houses, condos, and apartments to large commercial buildings and small offices, he had served various customers in areas not only in Adkins but also in Southwest Florida, Sarasota, Naples, and many more. To know more about him check here.