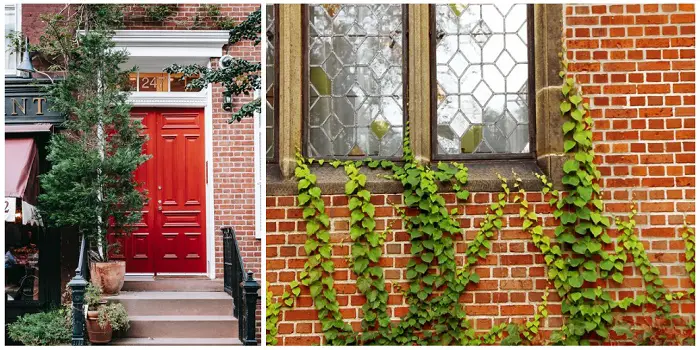 Red brick houses offer a lot of character and charm, but matching brick with the proper paint color may be challenging.
You want to pick a color that adds beauty to the red brick without detracting from the original home's beauty.
So, without wasting any more time, let's jump head-on to the eleven best paint colors that look amazing on red brick homes.
Try them out, and I am sure you will love them…
1. White
Whatever the subject, white is always first.
It is impossible to dispute that white always looks beautiful with any other hue.
The same is true when it comes to the exterior of a house that's made up of red bricks.
If you are seeking the proper paint color to modernize your home, the first paint color choice that we will propose is white.
The coupling of the white hue with the redness of the house is more than just about compatibility or the fact that it's neutral enough to pair.
It is more about the aesthetic effect that the combo may provide.
Red brick material may produce a classic effect when coupled with white paint.
It applies to any white color, from pristine to warm or even with a yellow undertone.
2. Brown
Do you want your red brick home's facade to be elegant?
If that's the case, why not incorporate some brick color into the design?
In this idea, you may use any shade of brown you choose.
You might, however, focus more on the dark options for an even more attractive look.
The best part is that the combo might provide you with an additional benefit.
It is a warm atmosphere that might contribute to the house's curb appeal.
Many people overlook the roof when considering what color to paint their homes. 
The overall external design will seem much more interesting if the color of the roof matches the redness of the house and the other complementing exterior paint.
3. Bright Blue
Do you want to make a statement with your brick home?
If you answered yes, the following suggestion is for you.
It's accomplished by splattering vivid blue paint on the house.
There are several blue colors from which to choose in this concept. 
This paint color has a very limited range of applications.
Using it to paint inappropriate sections, such as trim, will result in an unappealing appearance.
We also do not advocate utilizing this color aggressively because it works best as an accent.
It looks fantastic as the focal point, so you may use it to paint the front entrance of your home.
We recommend applying trim if you opt to use vivid blue paint on the door and windows.
This outside piece can help to connect the two hues by creating a stronger sense of form.
A variety of colors are appropriate for the trim.
Having said that, if you're at a loss for what to wear, white is always a safe bet.
White is a neutral hue that works well with both brick and blue hues.
It can also act as a link between the two hues.
4. Dark Red
Many people believe it's crazy to paint a brick house red and is a bad decision.
They claim that it will result in an unappealing appearance.
That is not always the case.
Everything depends on how you select the appropriate paint tone to mix with the red brick.
There is one thing to keep in mind when combining a red brick home facade with dark red paint.
It is not recommended to paint any accents attached to it with a dark red tone, especially if the brick and the paint color are quite close.
Trims are an example of an outside piece that should not be painted in such a dark red hue.
This will just make them invisible in the design, resulting in an unsightly outside design.
5. Black
Black is one of the most secure paint for the facade of a brick home.
The reason for this is that it looks amazing with any color.
It is more than something that may give boldness to the design; it also emphasizes, especially when used for external features like trims or shutters.
6. Blue-Gray
The next paint color may be used with a red brick house.
It is a greyish color with a bit of blueness.
If you look at the color wheel, you might never notice that the red brick tone and blue-grey have anything in common and assume they do not look good together.
The truth is that they both appear gorgeous when they are together.
The blue-grey paint hue can brilliantly showcase the red brick facade.
7. Grey
Redbrick is not simply a great complement to blue-grey paint.
It can also look nice when combined with grey paint.
This combo will offer you a relaxed and comfortable look.
The application of paint in this context is not restricted to adding highlights to the property.
It can also be used as the exterior's second most dominating hue.
8. Beige 
If you like simplicity with the exterior of the house, you may combine your brick house exterior with beige paint.
Simplicity isn't the only thing you can get from this combo.
Beige paint may provide a welcome impression when coupled with red brick.
It is something that creates a welcoming first impression for everybody who comes to see you at home.
Beige is also a very adaptable paint color.
It indicates that there are several ways to use it as a pairing for the red brick.
It also means that you may use beige paint as an accent color and the primary color.
9. Dark Blue
You may not consider it, but dark blue is another paint color that looks amazing with the brick house exterior.
They will collaborate to develop a new form of elegance.
Fortunately, there are a plethora of dark blue hues available right now.
You may even design your own if you want to match the red tone of your house's brick facade.
We believe that navy is one of the greatest dark-blue colors to complement the natural red brick style.
This is the ideal option for creating the maximum beauty in house exterior design.
10. Yellow 
If you don't like the vivid blue tint, another eye-catching color for the exterior of your brick house is yellow.
The function is the same, which is to bring a splash of color to the design.
Despite this, yellow is a pleasant color that may be used in the home.
The application of this paint color is likewise fairly similar to the ones we previously mentioned about the vivid blue tone.
Trim should be used to divide the brick wall from the yellowish door and windows.
11. Sage Green
This next paint color is a one-of-a-kind fit for your red brick home.
The reason for this is that it is a complementary hue to the red tone.
It has a green undertone with a grey undertone.
It is typically available in a variety of hues ranging from light to dark tones and they look amazing when paired with a brick house.
Final Thoughts
There are a plethora of colors for the exterior of your brick house available right now.
The alternatives we have given above are the finest.
Adding them to your brick home might lead to the property look more appealing and pleasing.
You should also keep in mind the roof tone, as described in several of the colors above.
The color of the roof can also have an impact on the facade of a red brick property.
When selecting the best color to complement your brick house, make sure that the hue appears appropriate even with the color of the roof. This can result in an amazing end product.
Share the post "11 Best Paint Colors for Red Brick Homes"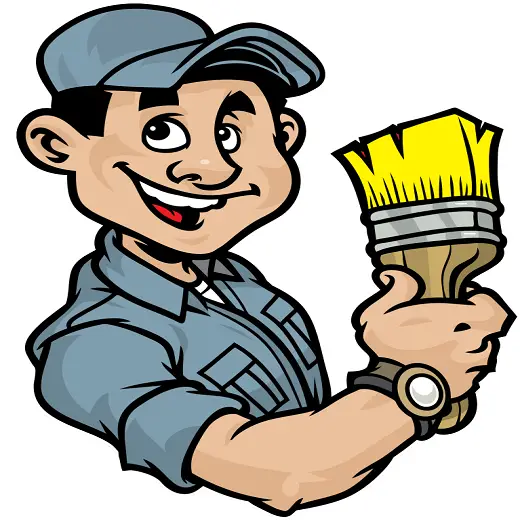 Douglas Becker (aka Painter Doug) has over twenty years of experience as a painter in Adkins, Texas. At present, he resides in Florida with his family.
From painting multi-storeyed houses, condos, and apartments to large commercial buildings and small offices, he had served various customers in areas not only in Adkins but also in Southwest Florida, Sarasota, Naples, and many more. To know more about him check here.