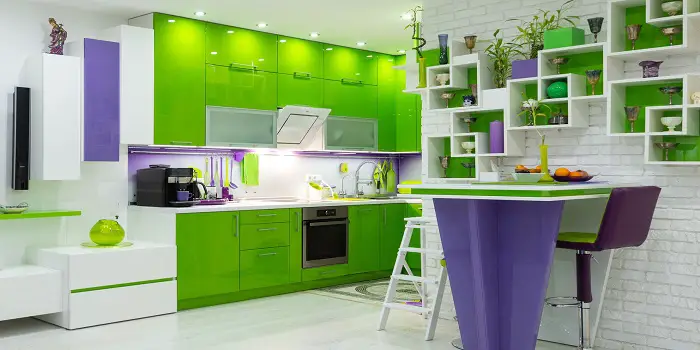 We understand that a green kitchen sounds strange, but the hue may be quite cool.
Bring the outside in with a vivid kitchen that will make you eager to roll up your sleeves and start cooking. Maybe even cleaning the dishes. 
From emerald to soft sage, these hues will inspire you to go green with your home.
Green is a color that may be relaxing, energetic, strong, or restrained. 
So, here are the twelve best green shades to consider if you want to employ this earthy color on your kitchen walls.
1. Dark Green
Given that the kitchen is where we cook and sometimes eat, it's a good idea to decorate it in appealing hues.
And dark green is one of the best options to paint your kitchen walls with to give them a modern and rustic look.
The abundance of white, wood, and gold accents keeps the area light, bright, and open.
2. Dark Gray-Green
This dark green has a lot of greys, making it function as a neutral green.
It's a little moodier than the preceding color.
It provides a beautiful, grounded contrast to the abundance of white and makes your kitchen area exquisite.
3. Bright Jade
This strong green isn't for everyone, but if you want to add dramatic color to a dull kitchen, try a rich blue-green jade.
This is such a vibrant hue that it's a beautiful option to make your kitchen walls a focal point and distract the eyes from any disagreeable components in your kitchen design.
And, because it evokes tropical settings, it can lighten and cheer up an area that lacks natural light.
4. Emerald Green
Another bold green, a genuine supersaturated green.
Despite its great intensity, emerald green is fairly adaptable since it does not veer yellow or blue.
It goes well with any hue of white, from sharp, bright grey to creamy warm.
Because emerald is so saturated, it works best in limited amounts; for example, it will be a perfect choice for countertops, islands, or a small partition wall.
It looks best in the kitchen with plenty of windows, especially if you get a view of similar appealing green colors outdoors.
5. Soft Blueish-Green
Colors that reduce stress are appropriate for stressful situations.
It's a soft, less bright version of the previous tropical jade color, and it's a fantastic choice for anybody wishing to add unique but subtle color to their kitchen.
6. Deep Blueish-Green
This is another gorgeous blue-green alternative that's deeper than the last one but still subdued.
It's green with a lot of blue and grey, which helps to balance it out.
It looks great in a kitchen with mild wood hues.
The deep blueish-green makes an excellent contrast with wood pieces, allowing them to pop, which adds excellent beauty to your kitchen space.
7. Lime Green
Do you want to spice up your kitchen?
Lime green would do the task beautifully.
Use tones of this color in areas that require a burst of brightness.
Or for those that like to keep the palette light, crisp, and clean while including some fun color.
8. Spring Green
This enticing green wall has a great fresh and organic atmosphere that complements a neutral green shelf cabinet.
Both hues are associated with spring, a season of faith, restoration, and growth.
The vegetal cabinet hue creates an inviting atmosphere in the kitchen.
It's a cool and refreshing color for kitchens in warm areas, but it also has enough warmth to function nicely in colder climates. 
It contributes to the cozy and welcoming feel of the kitchen.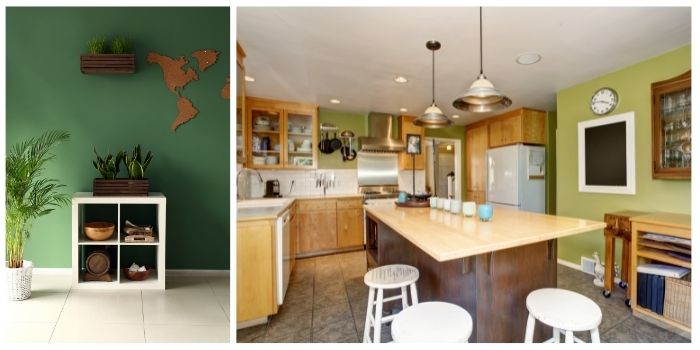 9. Soft Sage
Light sages, the quietest of them all, are among favorites to individuals looking for a delicate shade of green.
It has a little grey in it, which stops it from appearing monotonous.
It seems pleasant with light brown and white.
10. Neon Green
Neon green is an extremely brilliant green that works best as an accent color.
For ideal coherence, a deeper wood tone can be used to highlight this neon green kitchen wall. 
Adding a colorful new backsplash and a matching light to an existing kitchen installation effortlessly provides a dash of color.
11. Succulent Green
Succulent greens are quite appealing and have a springtime feel to them.
Their rich, subdued, sharp clover green looks fairly stunning on the kitchen wall. 
These yellow-green colors are more vibrant than mint or sage.
For a striking contrast, use it with white countertops.
12. Mint Green
Mint green is a sophisticated pastel tint of jadeite that works well in various conditions.
Adding the hue to the kitchen wall might create an eye-catching contrast with the other colors in the room.
To get a vintage look, pair them with white larder, vintage wooden furniture, pale green plates, and black & white tiles.
Conclusion
Aside from its natural qualities, green is fiscally sustainable, environmentally beneficial, and blends nicely with most house decor.
So, whether you are a conventional home designer or an experimentalist who likes the current trends, start painting your kitchen wall with one of these artistic green hues.
Along with cabinet designs that will envy your neighbors yet will survive the test of time.
Whichever green hue you choose, make sure it's one that you're enthusiastic about.
Consider the resale value of your house since bad design choices may not appeal to future purchasers.
And most of all, you must like it. It's the place you're going to spend your time while cooking and cleaning, and when the surrounding is amazing, you feel amazing.
Hope you found this article helpful and all the best for a kitchen that you will enjoy and feel amazing.
Share the post "12 Most Popular Green Paint Shades for Kitchen Walls"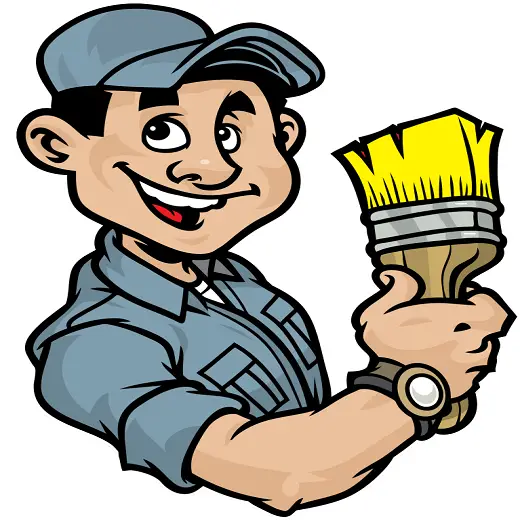 Douglas Becker (aka Painter Doug) has over twenty years of experience as a painter in Adkins, Texas. At present, he resides in Florida with his family.
From painting multi-storeyed houses, condos, and apartments to large commercial buildings and small offices, he had served various customers in areas not only in Adkins but also in Southwest Florida, Sarasota, Naples, and many more. To know more about him check here.