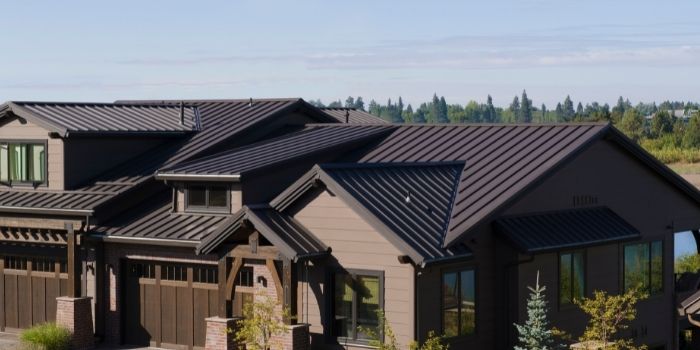 Metal roofs are normally made from galvanized steel, copper, or aluminum.
They are generally quite strong and highly resistant to the elements simply because they are treated with a rust-inhibiting coating to prevent corrosion.
However, this coating can weather and become scratched, which means that rust can form and start to penetrate the metal sooner or later.
If left untreated, holes can also develop in the corrugated metal roof due to exposure to regular moisture.
Fortunately, repairing and repainting such areas is easy if you have roof cement, a mesh patch, and the right type of paint to put on.
The best paint for metal roof panels is usually acrylic latex paints or oil-based alkyd paints that are specifically designed to paint corrugated metal roofing.
However, to ensure proper adhesion of the paint you must prime the surface first before painting.
The good thing is that the process is so easy that many homeowners can do this themselves.
Repairing & Painting Metal Roofing
Any areas of rust that start to develop should be treated and repainted immediately.
However, if you are too late in that regard, you can use roofing cement to address any holes that develop and then paint over them.
Below is a step-by-step process on how you can do that…
Step 1- Wash & scrub
Use a detergent and wash the entire roof first.
Then, scrub off any mold that has developed using a scrub brush. To speed up the work, you can use a pressure washer.
Use a wire brush to remove any rust you see on the roof. Then, sand the area with 80-grit sandpaper.
Once completed, paint the areas that formally had rust with a rust inhibitor primer.
Step 2- Repair your metal roofing.
Replace any rusted screws or washers that have deteriorated with new ones.
Repair any rusted hole before putting in a new screw.
You can use a combination of roof cement and acrylic or steel roofing mesh to repair any holes in the metal roof.
This means spreading a layer of roof cement using a putty knife around any hole cleaned of rust.
Spread the cement until it is at least one inch on each side of the hole. Now, press the roofing mesh into place that is also at least one inch wider than the hole.
Spread more roof cement on top and add another piece of roofing mesh the same size as the previous one.
Flatten it out and apply another layer of roofing cement and let it fully cure.
Step 3- Apply the metal primer.
Apply a thick coat of galvanized metal primer with a paint roller or a specialty paintbrush.
If you are using a roller, make sure you pick the one that is designed for corrugated panels.
Also, you will need to get an additional regular paint roller for standing seam panels.
During the application, ensure you cover the entire surface of your roof, including the holes and cracks you have repaired.
As much as possible – it's good to do all the work from a ladder rather than getting on the high steeped roof for obvious safety reasons.
After you have coated the entire roof, wait at least an hour for the primer to dry.
Step 4- Apply the roof paint.
Once the primer is dry to the touch, you can apply a coat of paint.
Apply it to the entire surface of the roof with a paintbrush or a roller as you apply a primer.
Again, wait for at least an hour for the paint to dry.
Then, you can apply another coat or two for a good long-lasting finish.
TIP: An airless paint sprayer will also get the job done if you want.
Especially if you have a large roof area to paint, it can be done in a fraction of the time with a sprayer. Plus, it will use lesser paint as well.
What about the paint color?
Metal roofs painted with lighter shades (like white, beige, sky blue, light gray, etc.) will do a better job of making the roof more energy-efficient, especially in hot climates.  
This is simply because lighter colors are more reflective and tend to reflect the sun's heat better in summers – keeping the house cool.
However, if you are in a colder place, it's good to paint your metal roofs darker with shades like brown, dark gray, dark bronze, matte black, etc.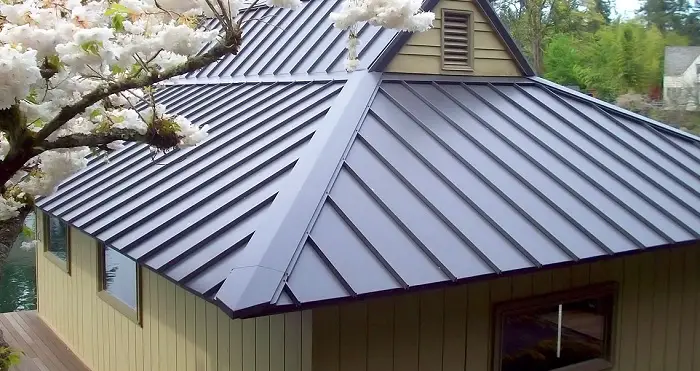 ---
Mistakes to Avoid when Fixing Your Metallic Roof
I have seen in my life many times; that people make mistakes when painting their metal roofs.
So, to make sure you do not repeat them and be safe, here I have compiled a list of the most common ones you should avoid…
Never apply the paint on a bare roof – use a metal primer or a paint sealer over the baked-on factory finish.
If it's an old roof, never leave the holes, cracks, and gaps as such – fix them well before painting.
Never use leftover paint that you may have used before for some other home area – always choose the one that is meant for metal roofs.
Finally, do NOT attempt to repair the metal roofs yourself unless you are confident and know exactly what you need to do and how.
It's better to get the help of a professional who knows the job well and is licensed.
Also, you should choose a nice day (with a good climate like in spring) to paint.
Metal roofs can get very hot during summer. And it can be tricky if you try to work on a roof during the winter months.
Related Questions
Can all metal roofs be painted?
Yes, you can paint all types of metal roofing, as long as they are allowed to weather for at least six months.
Unlike concrete tile roofs, newly installed metal roofs take some time to weather. And if painted early, they may not take the paint well or fade early.
However, if you can't wait and need to paint your roof before, make sure you wash and prepare the roof properly for better adhesion.
There might be oils and possibly other remains (due to galvanizing process) that need to be removed with cleaners like vinegar.
How much does it cost to paint a metal roof?
Painting a metal roof will cost you between $1.20 and $2.75 per square foot.
This will obviously depend on:
size and slope of your roof
quality of the paint you will be using
whether you will be hiring a contractor or doing it yourself
To get the exact estimates, I recommend you to get in touch with a roof repairing and painting company near you, or you can check online.
How do you maintain a freshly painted metal roof to last longer?
First of all, regardless of the kind of metal you have on your roofing, consider getting them repainted every ten years or so.
Cleaning your roof once every six months is also very important to keep your roofing material protected, shiny, and energy-efficient.
You can use a soft brush, gentle detergent, and warm water to remove all the debris, dirt, bird droppings, dry leaves, and vegetation.
These may get collected over time and may rot/corrode the metal roofing, giving it a chance to rust early.
The Bottom Line
Corrugated metal roofs are quite popular because they are strong, durable, and can last for many years (as long as 25-30 years).
However, they are subject to rust if the protective coating is compromised.
By repairing and then painting your metal roof, you can add years of protection to its surface.
However, this should not be attempted if the areas are difficult to reach. It's better to have a professional do the job under such circumstances.
But if you can reach the roof without putting yourself in danger, then with the right precautions, you can DIY repair a hole in your roof.
Share the post "What Type of Paint to Use on Metal Roof?"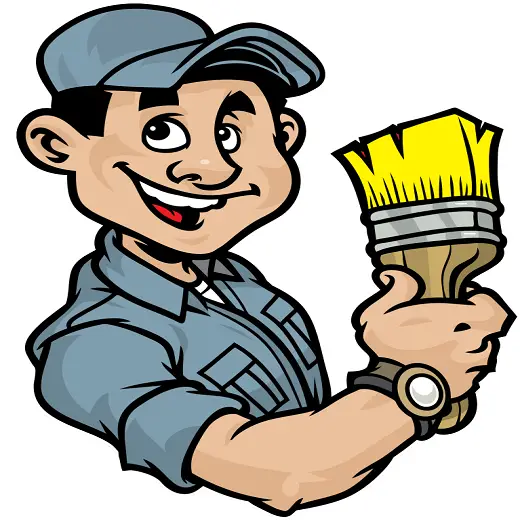 Douglas Becker (aka Painter Doug) has over twenty years of experience as a painter in Adkins, Texas. At present, he resides in Florida with his family.
From painting multi-storeyed houses, condos, and apartments to large commercial buildings and small offices, he had served various customers in areas not only in Adkins but also in Southwest Florida, Sarasota, Naples, and many more. To know more about him check here.