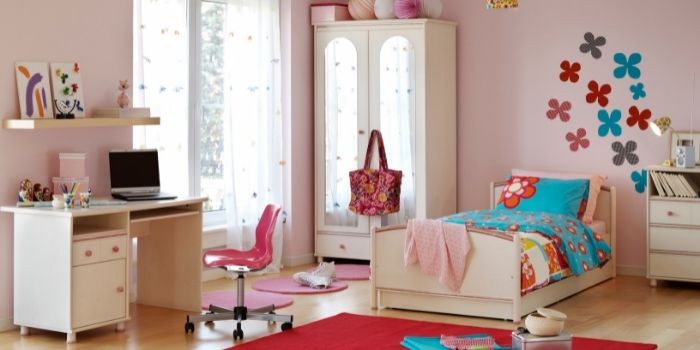 While it may seem trite to some, the reality is that many youngsters (especially young girls) like the color pink. 
As a parent, you want to be able to arrange your child's room in a manner that they like while still creating an environment that you think is lovely.
Pink may become sugary and overbearing in the wrong hands, and you don't want to be drowning in a vat of cotton candy.
Fortunately, if you know what you're doing, you can create a stylish kids' bedroom with many pinks.
Here are a few examples of the best pink paint colors to utilize effectively while designing a child's bedroom.
1. Pink Bliss by Benjamin Moore
This color emanates a bright radiance that does not overpower the environment as too pink. 
Even the tiniest bit of pink reads powerfully, so if you want just a trace of blush, this is a lovely choice for your kid's bedroom.
2. Ella Rose by Magnolia
Magnolia's Ella Rose is the ideal combination of blush and pink. 
It has warm undertones and is the ideal pink for children's rooms (or adult rooms, too!).
3. Pink Ground by Farrow & Ball
This is soft, warm, and tender, and it looks great with any color. It can be sophisticated and also very youthful. 
We love it with red and conversely with deep emerald green. 
It looks like its neighbors on the color wheel as well as its opposition. 
It's a flattering color for everyone, not just kids, especially when applied to the bedroom's ceiling.
4. Baby Blush by Valspar
Valspar Baby Blush paint can transform a child's bedroom from top to bottom.
And not just the wall, you can paint the ceiling too, and you'll surely going to love it as well as your little kiddos.
5. Bridal Pink by Benjamin Moore
We adore Benjamin Moore's Bridal Pink. It has exactly the proper amount of peach in it, is feminine but not too sweet, and looks great in any light.
This could be one of the best pink paint colors for little girls in their bedroom.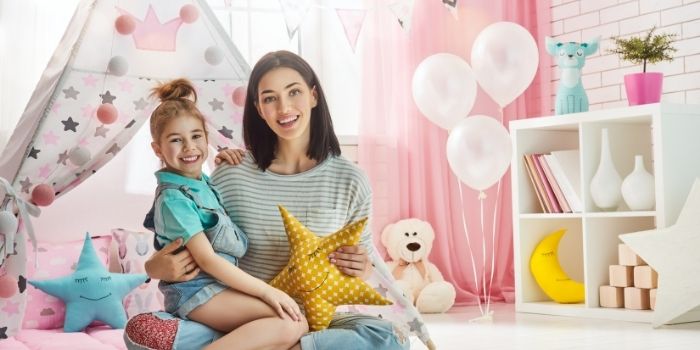 6. Paris Pink by Portola Paints
This is subtle, delicate, and gender-neutral. 
It also works beautifully on walls as well as the ceilings of the kid's bedroom.
7. Romance by Sherwin Williams
If you want elegantly strong pink for your kid's bedroom, you can safely go with this color.
This is amazing, and it adds vibrant energy to the environment, which keeps your kid positive and full of energy.
8. Stolen Kiss by Behr
Another great option is Stolen Kiss. It's light and gives just enough pink feel to the environment which makes the bedroom airy and more breathing.
You can paint just a single wall instead of 4 and see how its looks.
This is also a great choice if you just want to add a splash of color without committing to the whole area.
9. Intimate White by Sherwin Williams
If you like pink in lighter shades, then this hue could be the perfect choice for your kid's bedroom.
Having four walls painted with this color and a ceiling with white color can 10-fold the beauty and charm of a kid's bedroom, which are always appreciated.
10. Opal by Benjamin Moore
It is a very delicate shade of pink that adds a pearly shimmer to any decor. 
It's particularly effective on ceilings to provide radiance when light from a chandelier bounces on it.
Making it perfect use in the space where Chandelier is present, like your dining room or your little princess's bedroom.
11. Pink Peral by Modern Masters
It's iridescent and a lot of fun. It may be utilized as an accent ceiling or wall in an adult or child's bedroom. 
A girl's closet is another pretty location to utilize this color.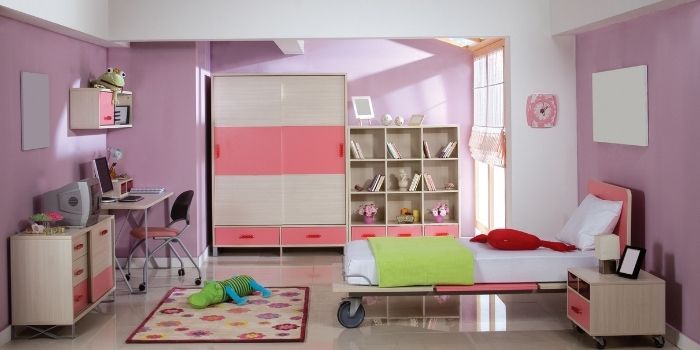 12. Raleigh Peach by Benjamin Moore
The hue seems modern while still feeling back to the palette of the late 18th century.
This is one of the best choices to add a classical and mature vibe to your kid's bedroom.
13. Fairest Pink by Benjamin Moore
This is the ideal pink–warm, but not too bubble gum, and suitable for both a child's bedroom and a formal living room.
It's vibrant and vivid, yet also soothing.
14. Bashful by Benjamin Moore
With a dash of peach and a balanced beige undertone, this color works well as a neutral and looks well with whites, greys, blues, and greens. 
It's also ideal for a kid's bedroom as well as a living room.
It's not too busy, so don't be afraid to use it in larger bedrooms.
Final Words
Colors will never seem the same in your environment as they do on the internet.
We can't emphasize this enough: utilize these tips for inspiration, as everything will seem quite different depending on your natural light situation, time of day, and the sort of lightbulbs you have in your own house.
We would highly advise you to always try a paint sample on the wall and live with it for a few days to see how it looks in all conceivable lighting settings.
Now we'd like to hear from you.
Which color are you going to consider? Is it Bridal pink by Benjamin Moore? Or Pink pearl by Modern Masters?
Either way, let us know in the comments. And also tell your personal favorite.
If your favorite isn't on this list, please let us know, and we will consider adding that to this list.
Share the post "14 Best Pink Paint Colors for Kids Bedroom"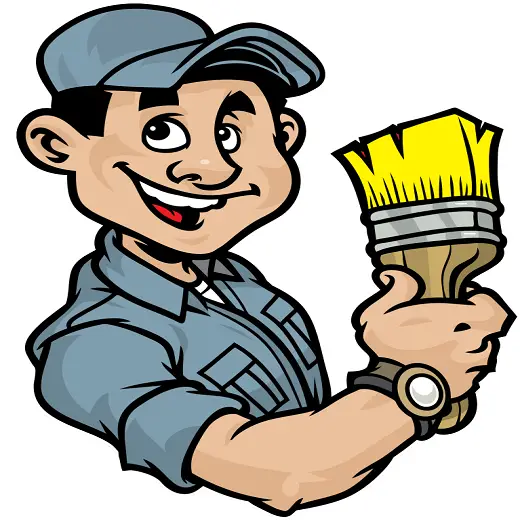 Douglas Becker (aka Painter Doug) has over twenty years of experience as a painter in Adkins, Texas. At present, he resides in Florida with his family.
From painting multi-storeyed houses, condos, and apartments to large commercial buildings and small offices, he had served various customers in areas not only in Adkins but also in Southwest Florida, Sarasota, Naples, and many more. To know more about him check here.