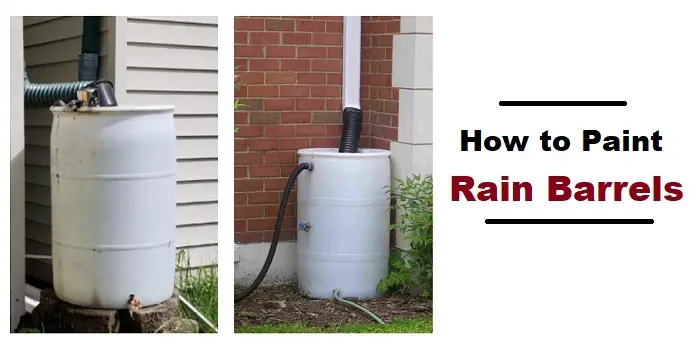 With the increasing problem of water these days, more people are now finding ways by which they can store natural water to utilize it whenever needed.
Installing rain barrels in your backyard or garden (in a clear area under a gutter) is no doubt one of the best ways of rainwater harvesting.
The water which would otherwise go wasted can now be saved for washing utensils, veggies, cars, and even for refilling your pool.
What is rain barrel?
The normal rain barrel is made of a 55-gallon plastic drum with a spigot for draining, hose, and an overflow outlet.
It also has a lid to keep out insects and falling leaves.
These rain barrels for water conservation do not have a pumping system, so it requires to be placed on an elevated platform to acquire maximum water pressure.
The rain barrels can help you save money on your water bill as well.
It has been estimated that in a month we spend quite a few $$$ for car washing.
All these types of expenditures can easily be lowered if you know how to install and make a rain barrel.
Types of rain barrels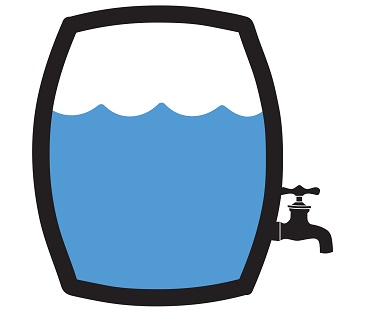 There are multiple types of rainwater barrels for holding the water.
Besides a standard 55-gallon barrel, that can be filled in just few minutes during heavy rain, there are also multi-barrel systems that can hold far more water.
Some of these are made of materials like metal, concrete, brick stone, wood, ceramic, glass, and even plastic.
Barrels made of plastic (PVC or polyethylene) are found to be the most durable ones.
They are easy to maintain and are also cost-effective.
And the best thing is you can paint on these plastic-made rainwater barrels to show your creativity and enhance the beauty of your place where they have been kept.
What follows is a step-by-step guide that can help you paint and restore your old rainwater drums into a new and more durable beautiful barrel…
Steps for Painting Your Plastic Made Rain Barrels
When spray painting your rain barrels outdoors keep in mind that you do not choose a windy day for your project.
The wind can distort the spray direction and can make painting difficult.
Step 1. Prepare the area
Before you start spraying or brushing your rain barrels in the yard, create a clean area where you can easily work in.
Focus on protecting your plants and veggies when painting – if you have grown them in your garden.
You can do this by cutting down some large-sized cardboard boxes to make a spray booth structure for keeping away the oversprays.
Step 2. Clean the barrel
After prepping your area, wash the old dirty barrel thoroughly with warm water and vinegar mixture (1:1 ratio).
Using a scrubbing brush, try to remove all the dirt and grime off your barrel to ensure that the primer and paint stick well on the surface.
If you spot black mold growing, you will also have to brace yourself for the mold growing behind it.
Because if you leave them untreated it's hard to paint over mold.
Plus, the mold will grow further and can impact your health and safety by causing various respiratory issues.
Step 3. Sand gently
Using a fine grit sandpaper roughen up the outside of the plastic barrel to make it look dull.
A sanding sponge can also do the job if you have just one barrel, but an electric palm sander can be fast if you have more than one plastic barrel to sand.
After sanding, wipe off the sanding dust using a damp towel and then allow the container to dry completely.
Step 4. Apply the primer
Now its time to apply the primer that is designed for plastic materials.
Shake the primer can well and spray it on the outside of barrel to apply a thin light coat.
Using a sweeping motion spray the primer back and forth to cover the entire barrel.
Allow 2-3 hours of time (or as per the manufacturer's guidelines on the label) to dry the primer completely.
Step 5. Apply the spray paint
When the primer is dried it's time to spray paint the plastic barrel using acrylic spray paint – choose the color of your choice.
Its important that you choose the paint that is specially formulated for plastic materials as other types will peel or chip away fast off the plastic surface.
Using the same sweeping motions as you did for applying primer, apply a thin coat to the barrel evenly.
After 2-3 hours of drying time apply the second coat of paint to get shiny finished look.
Step 6. Seal and decorate (optional)
Once you are satisfied with the paint color, you can seal the surface with a polyurethane spray sealer.
You will need to apply at least two coats of sealer to get good shining results and effective protection.
If you desire, you can decorate your rainwater plastic barrels. Make sure you do it before applying the sealer.
Using acrylic paints, paintbrushes, and stencils for rain barrels, you can show your best creativity to design the barrels in the way you want.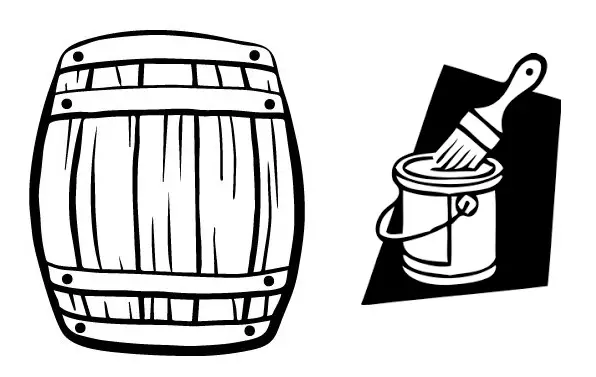 ---
Can You Paint Your Plastic Barrel to Look Like Wood?
If you love DIY projects, ornamental type homemade barrels can be made easily from food grade plastic at home.
The added advantage is you can decorate these rainwater collection systems and tanks by having a planter on top for flowers.
Since wooden rain barrels are a classic choice for many homeowners and DIY landscapers if you want you can camouflage unattractive plastic barrels to look like wood with faux wood grains.
These are more natural looking and appealing to the eyes.
Here we will look for steps on how you can turn your old plastic tanks into an expensive look luxurious piece for your garden.
Start by painting your rain barrel with a medium brown base color, formulated to use on plastic or vinyl surfaces.
If your rain barrel is made of metal like steel prime it first and apply oil-based enamel.
Allow the base coat to dry overnight.
And then mark the barrel stave lines carefully.
You can then use the darker "wood" color paint to highlight the marked areas.
It's good to use a woodgraining tool that can help you in carving woodgrains into the paint.
After you are done with painting, do not forget to seal the surface with shellac or other clear varnishes of your choice.
More detailed steps can be found over here. You can check them if you really want to achieve great results out of your DIY project.
Final Thoughts
Rain barrels are environmentally friendly and economical.
These can easily be employed for improving the health of your garden by utilizing the roofwater.
And that's the reason these are a must have for every house.
Since these plastic barrels will be on display on your property all the time, you obviously want them to look beautiful.
Simply by learning how to paint and decorate them you can show you creativity in a DIY way.
Hopefully with this guide, you can easily make your plastic rain barrels more durable and attractive.
Share the post "How to Paint Plastic Rain Barrels (Easy DIY Steps & Tips)"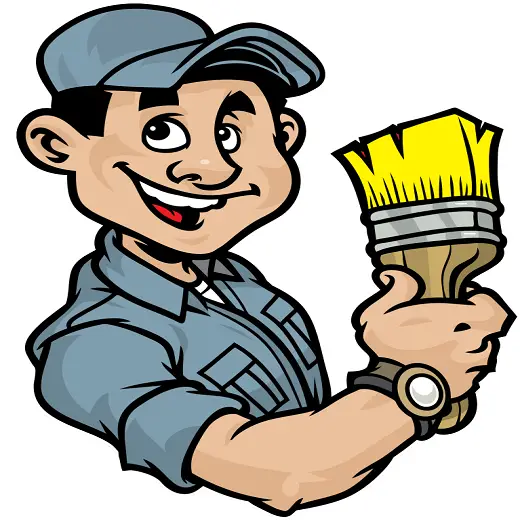 Douglas Becker (aka Painter Doug) has over twenty years of experience as a painter in Adkins, Texas. At present, he resides in Florida with his family.
From painting multi-storeyed houses, condos, and apartments to large commercial buildings and small offices, he had served various customers in areas not only in Adkins but also in Southwest Florida, Sarasota, Naples, and many more. To know more about him check here.