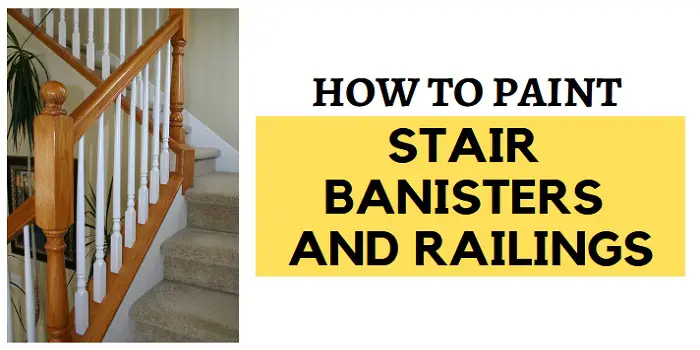 The railing is where your hand goes when climbing up or down the stairs. 
The balusters or spindles are the pillars or posts that support the railing. 
They often have the shape of classic columns, such as from the Greek or Roman era. 
The term banister is often used to describe the combination of balusters and railing. 
In other words, the railing and balusters which consist of both thicker and thinner posts, are called the banister when combined into one term. 
If you plan to refinish your oak stair railings and spindles, the fastest and neatest way is to:
Slip a plastic bag (such as your food storage food bag) over your hand
And then wear an old white sock over it and dip the covered hand into your preferred stain or enamel paint.
Now apply the paint lightly to cover all the hard-to-reach stair parts like railings, spindles, and other nooks or crannies.
Well, the process above seems to be easy and fun for DIYers, but it's not the best way out there if your stair railings are too dirty and need a thorough cleaning.
If you need to meticulously refinish every detail of the stair railings from top to bottom, you will need to invest a bit of time and energy in completing the project.
5 Easy Steps to Paint Stair Railings
Admittedly, the stairs are often overlooked or painted without consideration for the rest of the home décor. 
The stairs can stick out like a sore thumb, bringing down your efforts with the rest of your residence. 
This is where a simple use of paint color can really complement and bolster the appearance of your décor efforts when planning to paint wooden stair railing and balusters. 
What follows are the easy steps to paint your oak stair railings and banisters, along with the different color combinations you can try…
Step 1. Clean and sand lightly
Cleaning and sanding your banisters will not take more time, but you should do it right.
Start by unscrewing the banister (if possible) that is fixed to metal brackets so that you can clean and paint them properly.
If it cannot be dislodged, you should tape (and cover with a plastic sheet) the areas that you do not want to get the paint on.
Using dry rags, wipe the banisters (from top to bottom, including sides) to remove the dust
Using medium-grit sandpaper (I used 220), lightly sand the areas to make the surface rough and to remove the old paint from grooves and other areas.
When sanding, work in smaller sections and try to follow the wood grains to prevent any splintering.
If there is any old finish left (that is penetrated into the wood and cannot be sanded), use a bit of chemical stripper like 3M's Safest Stripper.
Step 2. Prime all the railing parts
Applying the primer (to balusters, handrail, and base rail) is important as it gives the paint a better surface to adhere to.
Apply a single coat of primer using a bristle brush and fill open grain
Allow half an hour to dry the primer, and then sand using fine-grit sandpaper to smooth away any bumps or drips
If you still see any gaps, cracks, or uneven spots in the wood, use white caulk to give it a smooth finish look before applying the paint
Step 3. Apply the paint to the balusters first
Before applying the stain or enamel, make sure you stir the can to mix the ingredients well. Then:
Pour the stain into a paint tray
Partially dip a soft clean cloth into the stain
Rub the stain over the balusters lightly without any drips
When applying enamel paint or stain, it's best to start with balusters and then move on to the base and handrail.
After you have painted the balusters, let them dry naturally for a couple of hours.
Step 4. Protect the handrail with a top coat
A bristle brush or disposable foam brush will be more convenient for painting handrails.
Also, you may need to use artist brushes to cut in dark paint around the corners.
These brushes are cheap and can sometimes be easier to work with depending on the design of wood railings you have.
Using your preferred paintbrush, apply the stain evenly across the entire oak handrail, making sure that the stain reaches all the smaller wood pores
As you apply the stain, keep wiping excess stain with a piece of rag, following the grain of the wood.
After painting, leave the railing to dry completely. And then apply a second coat.
Just in case you want a darker color, you can apply a third coat of stain to achieve the desired shade.
Step 5. Treat and finish your oak banister with varnish
Varnishing your painted/stained wooden stair railings is a way to come up with a clean, shiny, finished, and updated look for your staircase.
Applying a varnish (like shellac, polyurethane, lacquer, etc.) will protect the wood from dirt and abrasion and excess moisture problems – if you live in such high humidity areas.
This will ensure that your wood stairs railings look new for many years.
Especially if you know that the surface would be touched a lot, applying clear varnish should be an important step you should not ignore.
Mix the can of varnish well and pour it into the fresh paint tray
Using a China bristle brush, apply the thin coat of varnish to seal the wood
Make sure you follow the grains when brushing and avoid any drips running along with the wood
Allow the varnish to dry according to manufacturers guidelines, and then lightly sand the surface using a sanding sponge
Wipe away the sand dust and apply the thin second clear coat of varnish as you did before
After you have varnished the entire stair's wood railing, allow them to dry completely before you start using them again
While you can seal and finish your interior handrails with products like wood wax, wood polish, or wood oil, applying clear varnish-like polyurethane will give the staircase a shiny new look without the need for repeated waxing or polishing.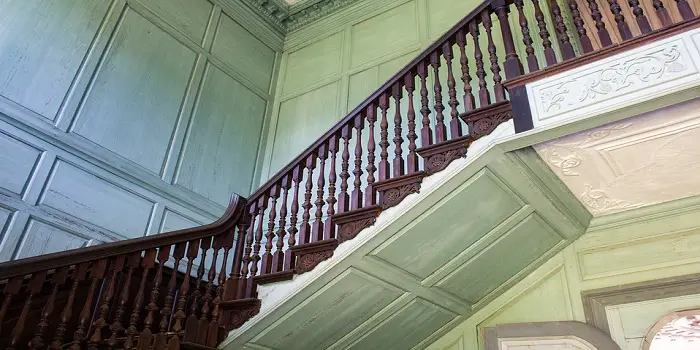 ---
What Color to Paint Stair Railing and Spindles?
Most often, railings are stained to retain the natural appearance of the wood. 
In addition, railings are often a darker color (than stair risers and treads) to hide the stains created by the hand's run or grip while going up or down. 
Because the railing is the place where the hands will go, it makes it slightly more difficult to paint against the expected dark color. 
Because the railing will take extra attention to clean, a darker color is often desired.
But that is not true in all cases, depending on your home décor. 
1- Black:
One simple color combination is white balusters that offset a black railing. 
This creates a stunning, modern look to the hardwood staircase, which goes against the standard stain used for railings. 
Plus, the black will hide the fingerprints and some dirt or stains until the railing is clean. 
However, such a combination is not suitable for all homes, so you may have to test it first before making a commitment. 
2- Gray:
You can choose an all-gray railing and balusters, as mentioned earlier. 
Or, you can keep the balusters white and paint the railing gray to create an open feeling for the stairs. 
By using a lighter color in gray, it does lessen the sense of heaviness that darker colors or stains usually provide to the railing.
However, before choosing the shades of gray make sure that the color matches well with your hardwood floor and other nearby areas.
3- Exotic:
It may not always work, but you can opt for a more exotic color to augment the metal railings of your staircase. 
To provide some balance, use a neutral color for the balusters, such as white, cream, or gray. 
This will provide a solid base for the more unusual color that you will paint the railing. 
Some color ideas include the following. 
Amber
Amethyst
Deep Sapphire 
Pastels 
Red 
Admittedly, red is a truly bold choice, so try for a mid-tone red to keep the railing from looking too garish. 
Other color choices include pastels that provide a softer appearance. 
This allows you to go for more subtle choices such as soft yellow, lavender, or even periwinkle that can be combined with white balusters. 
The balusters are quite prominent and often painted in white to offset the appearance of the railing. 
However, the different colors between the balusters and railing do serve a practical purpose in allowing the railing to stand out so that it can be more easily seen. 
Whites for the balusters can be cool, creamy, or ivory. 
Avoid yellow tints to the white as that creates a dull, worn appearance. 
Instead of true, dark black, you can go with a chocolate color that creates warmth in the room.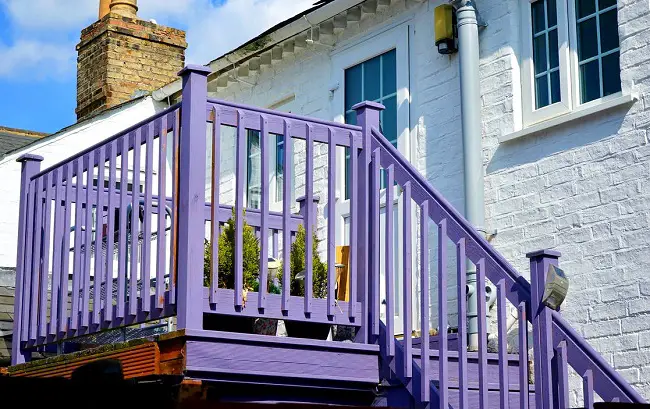 ---
Should You Paint or Stain Your Wooden Stair Railings?
Stairs and railings are a common feature in many homes.
Their main purpose is functional, but they can also be an attractive addition to your home.
However, staining or repainting the stairs and railings can provide an entirely new look for your entranceway.
But can you paint or stain them or perhaps do both?
It is important that you make the right choice that transforms the appearance of your stairs.
The wrong choice will make the stairs and railings stick out like a sore thumb.
So, to keep their appearance a pleasing one inside your home, a few tips will help you make the best-informed decision.
Matching the Stairs to the Home
Whether you paint or stain the stairs and railings will depend in large part on which method best matches the design of your home.
Generally speaking, older homes tend to look better with stained stairs, while newer homes tend to look better with painted stairs.
You can even combine paint and stain along with protected runners and treads to create a pleasing appearance.
Here are a few tips that will help you get the right look.
New Home:
Paint the railings with a new color that will accent the stairs. The goal is to draw attention to the handrails and spindles.
Paint Risers White:
If you are staining the treads, then using white paint on the risers is often the best choice, regardless of the stain color used.
Older Home w/Updated Elements:
In this case, consider staining the treads and painting the risers.
Stain is More Durable & Resilient:
Paint will tend to show scuffs and other light damage far earlier than staining.
Plus, stains tend to hold up better against marks and scuffing, which is quite noticeable on paint.
In addition, if you are using a dark stain, that will hide imperfections in the stairs or railing much better than paint.
Consider the Usages
Measure the amount of foot traffic which will also provide an answer.
If people are wearing shoes in your home, you have pets, and the stairs are located in a high-traffic area, then staining is probably the answer.
You can install protective treads and runners on stairs that use paint.
This is an extra expense but will limit the damage to the paint itself.
Consider the Amount of Prepping Work Involved
Keep in mind that the preparation for the stairs and railings may take longer than applying the paint or stain itself.
If the stairs only need a touchup, you can quickly sand and repaint the area.
However, if the stairs have layers of paint or have been carpeted, then you will need to allocate more time for preparation.
For Painting:
Painting is the most popular choice for stairs today.
However, because stairs and railings are subject to touching from shoes and hands, they require more prep work than the average wall or ceiling.
You will need to tape off areas that will not be repainted, sand away the coats of paint present, and then apply a special primer before adding at least two coats of glossy paint in the color of your choice.
For Staining:
Staining is an excellent choice as well. But if the stairs are currently painted, then the paint will need to be removed first.
This will allow you to stain the stairs evenly once the paint is gone.
Keep in mind that this can be a time-consuming process.
Plus, removing the old paint and staining the stairs is generally more expensive than simply adding new paint.
Final Thoughts
Well-finished, shiny, and beautiful stair railings, balustrades, and spindles can add a delightful look to the foyer in your house.
Given the popularity of using white paint on stair railing and balusters, it's not surprising that many people believe this is the only color to be used. 
But the fact is that you can select from a broad range of colors to paint these stair parts. 
Whatever color you plan to use, make sure that you follow the right steps to paint your stair railings with patience.
For such a project you can also hire a professional painter or a paint company to do the job.
You can shop around by asking for quotes, checking references, and getting a time estimate on when the job will be completed.
From that, you can choose the best professional painter or company that can do the best job for the lowest cost.
This will help you achieve the best-desired results without creating problems.
Share the post "How to Paint Your Oak Stair Railings & Banisters?"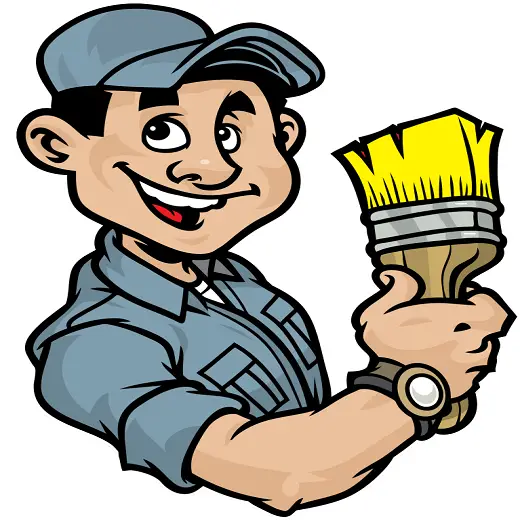 Douglas Becker (aka Painter Doug) has over twenty years of experience as a painter in Adkins, Texas. At present, he resides in Florida with his family.
From painting multi-storeyed houses, condos, and apartments to large commercial buildings and small offices, he had served various customers in areas not only in Adkins but also in Southwest Florida, Sarasota, Naples, and many more. To know more about him check here.