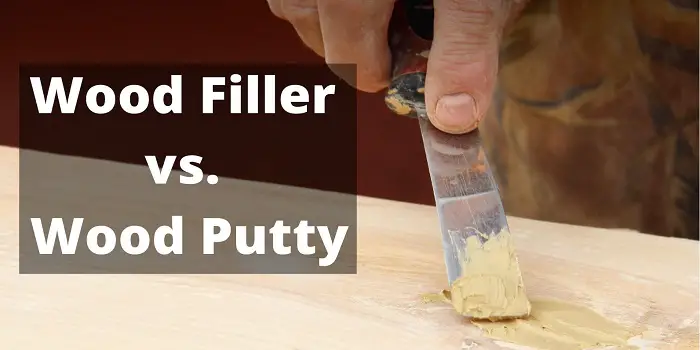 One thing which I have learned so far in my career is that people do make mistakes while renovating their homes – in fact, a lot of them.
But what's fortunate is you can always find a way to fix them.
You need to identify the mistakes and fix them at the right time.
The same thing applies to home improvement, woodworking, and furniture painting tasks.
If you are up for a home improvement project, remember it requires loads of patience and abilities.
But what if you end up making a mistake?
What if you make a hole larger than needed or larger than what it was while trying to fix it?
Unluckily, it means that the whole thing needs to be scraped and started again, right?
Wood Filler and Wood Putty: Why It's Important?
Wood filler and wood putty are two commonly used items to help you fix the defects or rectify errors when it comes to holes in the wood.
No matter whether it's a small nail hole or a larger one due to wood damage, you can use these products to fix them up before painting them again for a fresh new look.
But before you use them, it is essential to know the difference between the two so that you know when and where you can use one of them.
Here in this article, we will take a closer look at wood putty vs. wood filler, along with the basic differences between them.
This will ensure that you will end up using the right product for the errors or imperfections in your home improvement project.
---
What's the Difference between Wood Filler and Wood Putty?
The major difference between wood filler and wood putty lies in the ingredients of the product and their intended use.
While wood filler is generally water-based, wood putty is usually an oil-based compound.
You can sand wood filler and use them for unfinished wood, while wood putty cannot be sanded and is recommended for finished wood surfaces.
Plus, you can use wood fillers just for indoor woodworking stuff, which usually lies inside your home.
But wood putty can be used on wooden items and furniture outdoors – thanks to its oil-based material.
This also means that you can use wood putty for any kind of environment, even in extreme temperature conditions.
Wood putty is designed to hold its structure perfectly and also to stand against high temperatures and water.
One major difference between wood putty and wood fillers is also their drying times.
Wood putty takes more time to dry in comparison to wood filler.
While wood filler may take around 15-20 minutes before it is completely dry and ready for sanding.
You may need several hours to allow the wood putty to completely dry.
There may be instances where you may need 24 hours to let it dry.
| Wood Filler | Wood Putty |
| --- | --- |
| Water-based | Oil-based |
| Dries quickly | Takes time to dry |
| Can be sanded | It cannot be sanded |
| Ideal for unfinished wood | Ideal for finished wood |
| Good for indoor applications | It can be used for exteriors as well |
What is Wood Filler?
In simple words, wood filler is a substance that can help you fix broken wooden items.
However, remember it is majorly used to repair small mistakes such as cracks, dents, holes, or scrapes visible in the wood.
The major aim to use wood filler is to hide imperfections of the wooden item without affecting the look of the surface.
Usually, they are water-based; hence you can thin them out by adding some more water.
For larger projects, you can choose solvent-based fillers as they are usually heavy-duty and provide thicker consistency in comparison to water-based fillers.
Irrespective of the type of wood filler you choose, it can be used to fill in the holes in your wooden items.
Also, to repair insect holes, crevices, cracks, and smooth surfaces.
When the area is filled, allow the filler to dry and then sand it down.
Based on what kind of finishing you are expecting, you can repaint the object to give it a better finish.
Types of wood filler
Selecting the suitable wood filler for your wooden item depends on the kind of surface you are working on.
Regardless of what kind of wood filler you use, remember you may have to mix a small amount of sawdust to bring a natural look to the wooden item.
a) Latex
A commonly used wood filler is latex filler.
It can be used on several types of products like cabinets, doors, paneling, windows, and molding.
As they are water-based, set quickly, and simple to clean, these are much popular among both professional and home woodworkers.
b) Epoxy
Epoxy wood fillers are used on unfinished products, usually for raw timber, to fill the pores and cracks before they turn out to be problematic.
To get the best results, you will typically need to sand down the areas where epoxy has been used.
If you choose this type of wood filler glue, make sure you use a good sealant to protect it from getting brittle.
The good thing which I like about this filler is you can make your mimic wood plastic, painted or stained.
c) Polyurethane
This type of filler is used majorly on furniture indoors.
It helps in sealing the outer surface and protects your furniture from moisture, humidity, UV rays, and other climatic damages.
The only downside is it's hard to stain or paint over these wood fillers. And if you do, it will crack or peel off soon.
Other than the three popular fillers mentioned above, there are also cellulose-based wood fillers, gypsum-based wood fillers, and vinyl-based wood fillers that are less commonly used.
Why use wood fillers?
You have several advantages of using wood filler; take a look at some of them:
a) Fast drying
Though it is essential to create top-quality work, irrespective of what the project is, sometimes it is good to have a product that works fast.
Wood fillers dry quickly upon application and are therefore great for situations where you want to do things in a hurry.
Most of them can dry within 10 to 20 minutes of application.
However, the time of drying depends on the kind of wood filler you have used and the product on which it is applied.
b) Good for filling big holes
The best thing about latex-based wood fillers is that irrespective of how wide or deep the holes are, they will save your project.
It may be tough to look out for something better than this when you talk about mending cracks or holes in the wooden surface.
If you need to use them to repair a big hole, then just make sure you smooth out the surface before with the help of sandpaper or an orbital sander.
And once you have used the filler, let it dry and paint it again to get a smooth and perfect finishing look.
c) Can also be used for porous surfaces
Walnut, oak, and ash are some of the porous woods, and this is where water-based wood filler proves to be really beneficial.
If you notice that the surface you are using it on isn't uniform, sand it down before applying the wood glue or filler.
Remember that wood filler works great, particularly if you are dealing with unfinished wood.
If you use it on a finished project, you will see that the surface gets bumpy. And you may have a tough time smoothing it out.
However, when you use it on an unfinished surface with holes and cracks, you can use the filler, sand it down, and repaint/stain as desired afterward.
When should you not use a wood filler?
Before applying the wood filler to your project, make sure you keep one thing in mind wood will expand and contract.
The contraction of wood fillers and wood can depend more or less on weather conditions and other environmental aspects.
So, the main problem is wood filler will not offer the flexibility that is most of the time needed to adapt the expansion or contraction.
And therefore, it may break easily.
For these reasons, it is suggested to use wood filler only for furniture or woodwork that remains inside your home away from extreme climatic effects.

---
What is Wood Putty?
Unlike wood filler, wood putty is recommended to be used on stained and varnished wooden surfaces.
It is because of the chemicals it has, which shouldn't be applied to raw wood.
And that's the reason it's also called "plastic wood."
There are a number of methods used to make wood putty.
A large number of producers choose oil-based components and calcium carbonate to make theirs.
So, when you add water to it, the wood putty functions like soft clay.
The clay-like behavior allows the wood putty to remain moist for a long time.
This means that if you are working on something which needs a quick turnaround, you may have to look for alternate options.
Once you have used it for your woodwork, make sure you wash out the left-over residue and sand it down to get a clean smooth surface.
Why use wood putty?
There are several benefits to using wood putty on your woodworking projects.
Some of the most common ones are as follows:
a) Simple to apply
An amazing thing about wood putty is that it is easy to apply to almost any kind of wooden surface.
All you need to do is pick a putty knife and spread it over large areas.
You can use your finger to dab a bit on small parts.
If you notice any residue on the surface of the wood, just use a damp cloth and wipe it out.
Then allow it to dry till it sets in the areas.
b) No extra adhesive is needed
Wood putty is an amazing product for fixing cracks and holes but a lot of people don't know that it can work as a sealing agent too.
Why is it important?
Well, because it means there is no need to buy an extra adhesive sealer for the surface of the wood you are working on.
c) Available in a variety of shades
Stained and finished wood surfaces may have specific shades, tints, and textures.
And hence you need wood putty that matches it well.
When picking one in the market, it's essential that you choose wood putty with a similar shade and tone so that the repair doesn't seek any attention.
d) Cost-effective and can last for long
Another way wood putty proves to be advantageous is because of the savings it offers over a period of time.
Wood putty is long-lasting, which means you don't need to fix the rotten wood repair again and again.
The best thing about wood putty is that even if you buy one single small container, you will still have a lot of it left to complete your other projects. 
In that case, just make sure you store it in a dry and cool place.
Why shouldn't you use wood putty?
One of the most important reasons for not using wood putty is the potential harm it can cause to raw wood.
Because of its content, using it on unfinished wood can lead to damage to the surface before you stain it.
It may, however, differ from one brand to another.
So, you must avoid its use on unfinished bare wood surfaces.
---
So, Wood Filler vs Wood Putty: What's Better for Your Project?
Having discussed in detail both wood filler and wood putty, you are now well aware of when to use them and when not to use them for your woodworking project.
Even though they are similar items, they are different in the areas of use.
Based on the project and type of wood, it's more reasonable to choose one in place of the other.
While both perform the task of hiding and repairing damages, holes, and scratches splendidly well in the wood, remember it's the type of wood you are dealing with that is the major aspect in deciding whether you should choose wood putty or wood filler.
Also, it is essential to remember that if you are working on a woodwork assignment that's outdoor or indoor.
This will help you decide between wood filler and putty better.
Share the post "Wood Filler vs. Wood Putty – What to Use for Your Project?"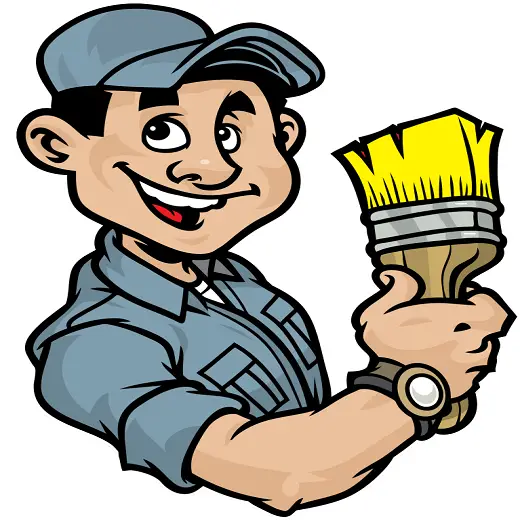 Douglas Becker (aka Painter Doug) has over twenty years of experience as a painter in Adkins, Texas. At present, he resides in Florida with his family.
From painting multi-storeyed houses, condos, and apartments to large commercial buildings and small offices, he had served various customers in areas not only in Adkins but also in Southwest Florida, Sarasota, Naples, and many more. To know more about him check here.