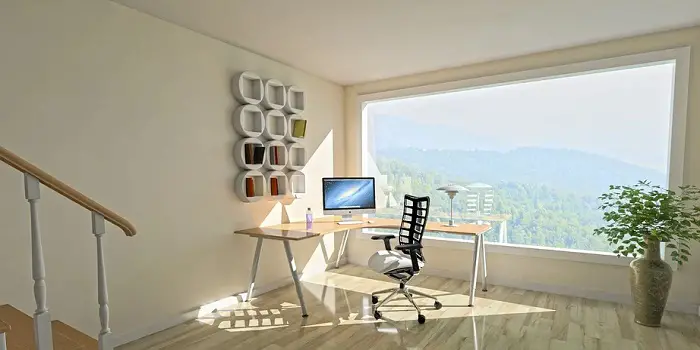 Never underestimate the power of the appropriate wall paint in a home office, especially now that our homes have replaced so many business cubicles.
Not only is color a simple way to spruce up a drab environment, but the appropriate paint color may boost productivity.
And yellow is such a color.
Because, as we all know, the workplace is about productivity, you should select paint colors that will keep your energy focused while also having a relaxing impact.
Yellow wall paint is a certain method to brighten up an uninteresting home office. It's bright and engaging.
The yellow hue can immediately cheer up your home office.
It fills a space with energy and optimism, boosts creativity, and that's exactly what you need in a home office.
And in this list, we're going to share with you the best yellow shades for a home office that you should consider, which are responsible for brightening up your working space and flooding your creative juices.
1. Bright Yellow 
These vibrant yellows are reminiscent of a spring day.
From intense to delicate, this bright yellow paint hue is a visual pick-me-up that will boost your happiness and creativity. 
The use of bright yellow astounds and thrills the place, especially when the space is small.
2. Cool Yellow
When selecting a yellow, consider the color temperature.
When matched with whites, greens, or greys, a color with cold undertones feels clean and fresh. 
To avoid overpowering the area with a more vivid yellow, combine it with lighter tones.
3. Warm Yellow
While this color scheme may not be what you think of when you think of yellow, the yellow tones in these paint hues provide a unique spin on the color. 
Warm yellow colors are inviting and soothing.
4. Lemon Yellow
This yellow is so bright and cheerful that even if the weather is miserable outside, you'll feel like you're working on a sunny day in your home office.
5. Sunny Yellow
You don't have to use all-white to achieve a brighter and airier atmosphere.
The bright yellow color adds to the wonderfully vintage ambiance of your home office.
6. Gold Yellow
With these maple gold colors, you may move to the richer side of yellow. 
Golden yellows are timeless, fresh, and inviting, and they perform well in both living and working environments.
7. Muted Gold
If you're choosing a darker shade of yellow, add some lightness and sharpness to the area with white and grey accents. 
Grays and white tones used throughout the area will assist in establishing balance while not clashing with the bright yellow splashes.
8. Behr Bicycle Yellow
If you paint a space with this color, you will always be smiling every time you will go in.
Bicycle Yellow is the hue of bright home offices (even when there is no sun) and warm guest rooms.
9. Behr Turmeric
It is not for everybody, but when used correctly, it adds a limitless amount of mood and individuality.
This dignified deep yellow is ideal for your home office and looks great with other bright hues like teal or orange.
This is the color to go for if you want something elegant.
10. Valspar Saffron Ivory
This delicate and graceful neutral yellow color is ideal for adding a splash of color to any space.
Nearly white, but not quite, and it is constantly dependent on the lighting of the room that reflects on the walls.
Saffron Ivory works well as the dominant hue in a room with warm and vivid accessories.
This calming color would be ideal for your home office, guestroom, or even your bedroom.
11. Benjamin Moore Hawthorne Yellow
This yellow is a classic medium yellow paint hue that is simple to apply.
Because of its presence and depth, this rich yellow hue is particularly popular among designers and colorists.
Hawthorne Yellow is a popular choice for front doors and windows as well as exterior paint.
It's just bright enough to offer a splash of color while staying classy and complex.
You can also use this hue to paint your home office's door and windows.
12. Annie Sloan English Yellow
This English Yellow color is ideal for creating bright and elegant poppy accents.
The hue matches most with the paints used in Chinese hand-painted wallpaper, but the good thing is it also looks well in a room with a vintage vibe.
Use this chalk paint to make a home office desk or bookshelves or to add a splash of color to another neutral or all-white area.
BONUS:
Yellow with Orange undertones or Amber Color
These yellow hues have hints of warm orange in them.
Combine them with vivid teals or calm navy to create a lively primary or tertiary color scheme. 
Introducing one of these yellow-orange hues into a living room or office area will help to brighten things up and encourage creativity.
Conclusion
Because a home office is likely to be a location you spend a lot of your day in; it's crucial to choose colors that you'll be glad to be around for extended periods.
The yellow colors mentioned above may help you create an enthusiastic and uplifting ambiance, as well as offer some sunlight to your home office.
These are the colors that can flood your creative juices and keep you energized.
We hope you found this article helpful; share your thoughts in the comment on which color you're going after to paint the walls of your working space.
And all the best for the new and energetic look of your home office.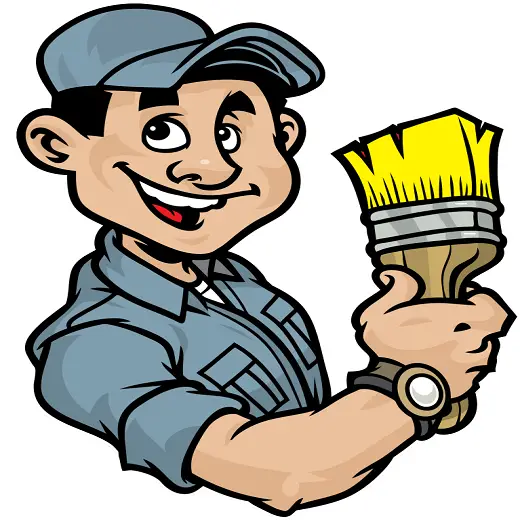 Douglas Becker (aka Painter Doug) has over twenty years of experience as a painter in Adkins, Texas. At present, he resides in Florida with his family.
From painting multi-storeyed houses, condos, and apartments to large commercial buildings and small offices, he had served various customers in areas not only in Adkins but also in Southwest Florida, Sarasota, Naples, and many more. To know more about him check here.